Get The Street Style Lowdown On Milan Fashion Week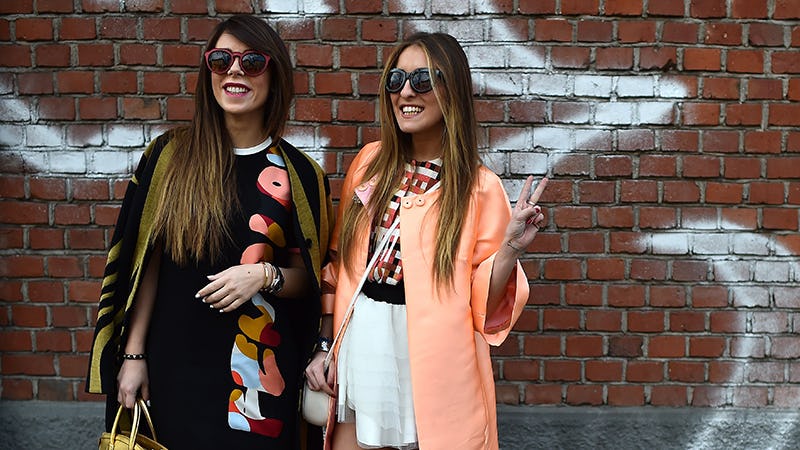 One could easily spend days scouring street style blogs for sartorial inspiration and attempting to suss out burgeoning trends, but the process can be an excess in futility. Fashion Week street style is a veritable free-for all, and for each enduring trend captured by a photographer there are 20 that should never again see the light of day. However, Milan Fashion Week street style (from both the menswear and ready to wear iterations) is lightyears ahead of the game when it comes to experimental fashion, and the sidewalks are just as important for trendcasting as the runways.
Unlike London or even New York, Milan's beloved street style icons have absolutely no fear where eccentric styles are concerned, nor do the majority sport ensembles which are so clearly a desperate bid for attention. Somehow Milan's show attendees, bloggers, and editors strike a happy medium between quirk and low-maintenance style. Case in point, none of the documented fashionistas appear outfitted for sunbathing in St. Barthes when the temperatures hovered around 35 degrees, and footwear was a mix of utilitarian Nikes and thick, platformed boots. If you're in search of the latest trends and street style hacks, read on for 9 lessons we learned from Milan Fashion Week.
1. Volume Is In, But Use Responsibly
Body-enveloping, ankle-grazing, oversized coats are taking the streets by storm at Milan Fashion Week, but buyer beware: One wrong step and you may appear like the Stay Puffed Marshmallow Man from Ghostbusters. Fashion Week attendees are tempering the extreme measurements of their coats by selecting toppers in subdued, neutral shades, and selecting more fitted pieces for the remainder of their ensembles.
2. Fancy Footwear Is Taking A Backseat To Flats And Sneakers
Milan's street style specialists have demonstrated favoritism towards foot-friendly shoes from old school Adidas to platform brogues and slingback flats. Not only are such kicks a wise decision for those sprinting from show to show, but laid-back shoes give even the most traditional pieces an avant-garde edge. However, the trend in no way signals that filthy gym sneakers should be paired with skirt suits for the commute to work. The trend is only passable if one's chosen footwear is intriguing, eye-catching, and most significantly, clean.
3. Flared Denim Is A Must If You Dare
Thank the '70s trend for the return of flared denim, because boot cut and bell bottom jeans are crowding the streets at Milan Fashion Week. Proponents of the trend have chosen both extreme cuts and tailored styles, but the most flattering by far are straight or skinny tailored styles with a jaunty flair at the cuff, paired with '70s-appropriate platforms.
4. Florals And Painterly Prints Are Non-Negotiable for Spring And Fall
Floral prints and paint splatters coated crop tops, frocks, and skirts during the first days of Milan Fashion Week, so now may be the time to conquer your aversion to bold prints.
5. Neon Brights Rule All When Done Correctly
Though a number of show-goers hit the streets in somber black suits and skirts, punchy brights broke through the grey weather and sea of subdued colors. The sartorial lesson of such vivid, riveting garments is clear: When you sport bright coral, hot pink, or fiery crimson, no one will pay any attention to under eye circles or the curling iron burn you accidentally suffered when styling your locks on two hours of sleep.
6. Suiting Separates Are Always A Genius Choice
Smart blazers, sharp tuxedo jackets, and crisp trousers are already an overwhelming trend on the Milan streets, and for a good reason: a well-tailored suit rendered in beautiful fabric is flattering to all silhouettes, skin tones, and styles. Some show attendees paired their jackets with cropped, distressed denim and pointy toe heels for an insouciant look, while others chose a more streamlined trouser and blazer pairing with bright statement accessories to eye-catching effect.
7. Mini Satchels And Clutches Are Here To Stay
However impractical the trend may be, the microscopic tote trend is not going away anytime soon. Whether by Edie Parker, Reed Krakoff, or Celine, the mini bag has been on parade at Milan Fashion Week. Though occasionally so tiny one needs a pair of glasses to spot it, the mini bag is admittedly a more streamlined choice of accessory — if you can bear to part with your various makeup items, iPad, notebook, and miscellaneous pieces of junk.
8. Get Yourself A Pair Of Zany Sunglasses Or Accept Your Fate As A Traditionalist
My most eccentric pair of shades features a jaunty plaid pattern and an oversized shape, but based on the styles seen at Milan I may have to rethink my sunglass game. Rendered in red, transparent with glitter, or modeled to look like Arnold Schwartzenegger's pair in The Terminator, Milan Fashion Week's sunglasses are anything but basic.
9. Cropped Pants And Gauchos Are In... But Perhaps It's A Trend To Skip
I will admit that frayed Bermuda shorts and gaucho pants make me physically nauseous, yet the cropped style is everywhere on the streets in Milan. More significantly, the "cropped" styles weren't hemmed just above the ankle for a vintage-inspired look, but actually hit at or well above the knee. Wear what makes you happy, but remember that not all trends need to be test-driven.
Images: Getty Images