Revisit These Jem & The Holograms Videos ASAP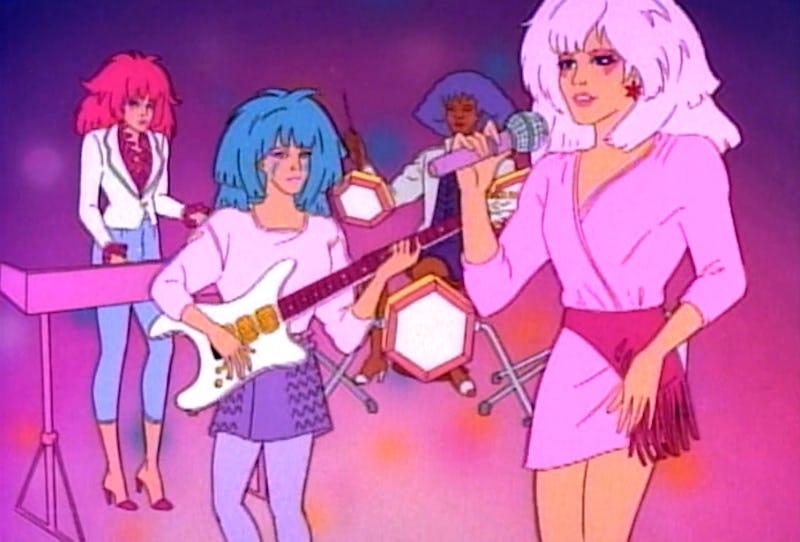 Prepare to have the glitziest of nostalgia attacks. Courtesy of the March 2015 issue of Elle Magazine, we got a sneak peak of what the new Jem and the Holograms movie will look like. Suffice to say it looks like The Holograms forgo the Aquanet in this iteration (buzzkill!) but at least they've committed to rocking out. I DO have to wonder if their songs will get a make-over too, because Jem and the Holograms' music is... probably best left to the '80s, gently put.
I have to admit, Jem was somewhat before my time, with the original series ending about three years before I was born. Basically I'm more of the Sailor Moon and The Powerpuff Girls generation of fierce girl groups. But when Jem was still streamable on Netflix I acquainted myself with Jerrica, Kimber, Aja, and Shana. With their manic panic hair and sense of justice they were pretty cool as a girl group, but as a band? Well, maybe The Misfits were right in suggesting they needed some work. Not that The Misfits were musical geniuses either. Also I really never saw the appeal of Rio, but that's neither here nor there.
My point is, Jem and the Holograms put out a lot of truly outrageous music videos in their three year tenure, and in preparation of the upcoming movie, I decided to revisit 15 of them. So jump on a star and follow the rainbow into 15 Jem and the Holograms music videos, reviewed in three sentences or less.
1. "Music is Magic"
Is it though? Jem's dance moves here are weird and almost exorcist-like, while the video itself is one of those "Live-in-concert" mock-ups a band quickly puts together to promote their latest single. Not their strongest effort.
2. "Deception"
So Jerrica's boyfriend Rio hates dishonesty, so Jerrica decides never to tell him about her secret lifestyle as Jem, and prolonging the lie indefinitely. The healthiest of relationships, ladies and gentlemen. Anyway, Rio's seen dancing with both Jerrica AND Jem here, and it's all too confusing.
3. "Twilight in Paris"
Instead of properly taking in one of the greatest cities in the world Jem just whines about her purple-haired boyfriend. An aggressively fine song otherwise.
4. "There's a Melody Playin'"
A hot mess of a song about how listening to another song reminds Jem's of a dude. Terribly vague, terribly written, probably became a hit single.
5. "She's Got The Power"
An well-earned ode to Synergy and all the hard work that she does. Wins points for an informal clothing montage and generally not being about Rio, thank God.
6. "Like a Dream"
A bona fide pop smash, and also one of my favorite videos because Jem and Rio, for no reason, ride unicorns down a rainbow Ron Burgundy style. Take me to Pleasure Town, Jem.
7. "Glitter and Gold"
While the "new look" the Holograms put together for their next album is hardly innovative, this video is still pretty good for putting Rio in a ridiculous white and gold tuxedo.
8. "Come On In, The Water's Fine"
The tone of the song doesn't fit in with the fun-loving video in the slightest, but at least there's mermaids.
9. "Can't Get My Love Together"
Minimalist video, heart-wrenching ballad, overall one of Jem's finest. Have it queued up the next time your boyfriend falls in love with your rock star alter ego.
10. "We Can Make a Difference"
Yes, we can make a difference if we all pitch in and pass bags of grain to one another. I think The Holograms are doing some kind of Farm Aid thing, and it's just not working for me.
11. "Show Me the Way"
The Holograms and Godzilla, what more can you need?
12. "Dear Diary"
Better than the uber uncomfortable Britney Spears song, but not by much. Also, what's with all the doves in these music videos?
13. "Time Is Running Out"
Jem uses her earrings to manifest a BALD EAGLE, what have YOUR slacker earrings done recently?
14. "Only the Beginning"
A star is born in this infectiously catchy gem of a Jem and the Holograms song. A truly riveting 40 seconds.
15. "Truly Outrageous"
Textbook Jem and the Holograms: unicorns, rainbows, doves floating in the air, making out with a clearly inferior man, etc. This wonderful song borrows lines from the theme song, and really lives up to it's name. Let's face it, it's The Holograms' "Stairway to Heaven."
Image: Hasbro/Marvel Productions (1)