Taylor Swift's First Tweet Ever Is Insane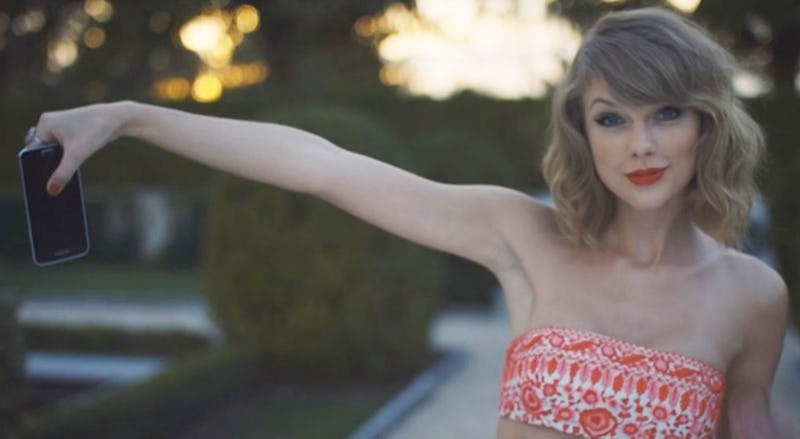 The year was 2008. It was a time of Angelina Jolie's Wanted, a time of Disney's WALL-E, and a time of Taylor Swift's Fearless. By that time, Swift was already a household name, but her name wasn't being said with the same reverence in the average household as it is now. In fact, most people had written her off as a writer of bubblegum fluff aimed toward every teenage girl with a diary. (Which, I mean, is not technically inaccurate, as many of her songs came straight from her own diary pages.) Of course, now that it is 2015, Swift has completely revised the common narrative of what people think they know about her and her musical talent — and that's not the only thing that's changed in the last seven years. Do you remember what Swift's very first tweet was about? It'll blow your mind.
Twitter is a resource that isn't exactly ubiquitously used by every celebrity, but that allows those who do make use of it to get their quick, everyday thoughts out to their fans. Kim Kardashian uses it to great effect to make sure that we all get to see as many of her selfies as possible, just in case we don't have Instagram. Swift, nowadays, mostly uses hers to stalk her fans. However, in 2008, when she first joined the website, it was not her fans making her explode with excitement. It was Justin Bieber. (No, really.)
As hard as it might be for some people to believe — including myself — Swift and Bieber used to be very close friends. So close, in fact, that, in the video that she is linking her first wave of followers to, he is serenading her with his hit single, "Favorite Girl." It's literally the cutest thing you will ever watch, taking place in a time when Bieber was still rocking his windswept bowl cut and had yet to get a single tattoo.
In our modern day, Bieber has gone off the deep end, had a whirlwind on-off relationship with Swift's BFF Selena Gomez, and is pretty much vilified by anyone who isn't a Belieber, the two pop stars don't really talk as much. When's the last time we ever even saw them hang out? But just seven years ago, when the world was young and Swift still had long, curly hair, the two were practically peas in a pod. My, how times have changed.
Image: YouTube