What's Ahead for Anna & Bates on 'Downton'?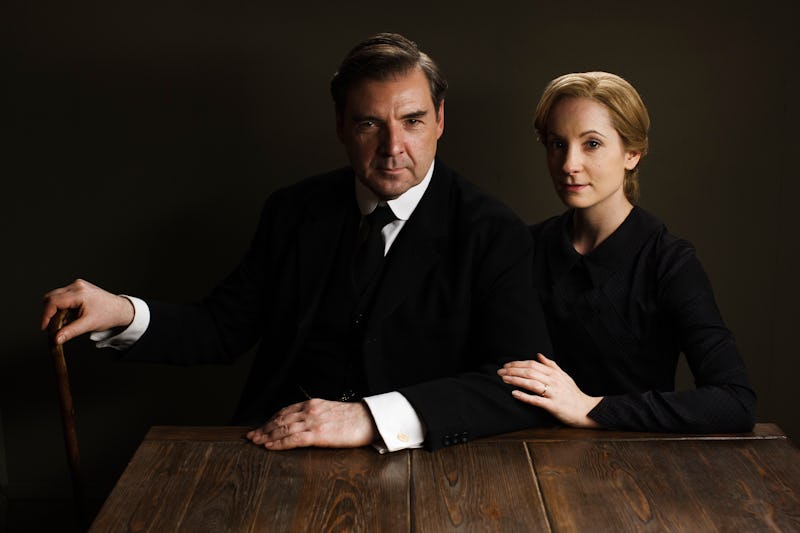 It's almost time for the return of the hit period drama on PBS! On Sunday, Jan. 4, Downton Abbey makes its Season 5 debut in the states, which means we will finally be reunited with our favorite folks from both upstairs and downstairs. The fifth season promises a "shaking of the ground," a fiery rescue, more troubling times for Edith (of course), and even more difficulties for Mary aka choosing between her five million suitors, because when is she not being pursued? Another favorite couple will continue to face actual hardship. Yes, I'm talking about Anna and Bates' trouble with the death of Mr. Green.
During Season 4, Downton fans roared with anger and sadness over Anna's controversial rape storyline. As we watched Anna try to cope and keep the sexual assault hidden from her husband, it wasn't long before Bates figured out what exactly happened and just who violated his wife. Before we knew it, Mr. Green (Anna's attacker) was dead and all signs pointed to Bates. Anna feared her husband might kill Green and after his death she couldn't help but wonder if Bates committed the crime. Meanwhile, Mrs. Hughes found a ticket in Bates' jacket pocket possibly placing him at the scene of the supposed murder, and Mary did what she thought was right by burning the ticket.
It might've seemed like all was well when Season 4 closed, but I have a feeling the Mr. Green story is not finished and will continue to haunt Anna and Bates. Obviously, sexual assault and being violated like Anna was is something you don't forget and move past easily. It will be a part of Anna for the rest of her life, and it will continue to impact her marriage. As Anna actress Joanne Froggatt told TVGuide.com:
There's a little spark missing from Anna as we find her. Nobody can move on from such a thing. It takes a great deal of time... The subject of Mr. Green they can't escape it really because there's a police investigation into his death and it keeps getting brought up.
As for Green's murder, Froggatt mentions there is a police investigation, so, yeah, that doesn't sound good for Anna, Bates, Mrs. Hughes, and Mary. It still remains an unsolved mystery. Last we saw, Anna didn't know about the ticket in Bates' pocket, so I have a feeling she'll soon learn of that. Also, Mary took a big risk by burning the ticket and showing the utmost loyalty to Bates and Anna. What will Anna think of Mary's decision? Will she thank her? Will she scold her? Will Anna once again suspect Bates and begin questioning him? What about Mrs. Hughes? Will she ever tell Anna about the ticket? Maybe Anna will just drop it and try to move on with her life, her marriage, and solidify her relationship with Bates once again. Basically, it's still a complicated and messy situation.
Also, we still need to find out if Bates truly did kill Green — and let's not forget about Baxter and Thomas' interest in Anna and Bates' business. Knowing Thomas Barrow, he'll start digging — or better yet, get Baxter to do his dirty work. There are just so many loose ends and open-ended questions foreshadowing troubling times ahead for Bates and Anna. For them to be happy and start a family of their own is too good to be true.
Of course, as we all know, nothing ever remains perfect and happy at Downton.
Images: Nick Briggs/Carnival Films 2014 for MASTERPIECE; Giphy (2)