Anyone Want To Buy A Haunted Mansion?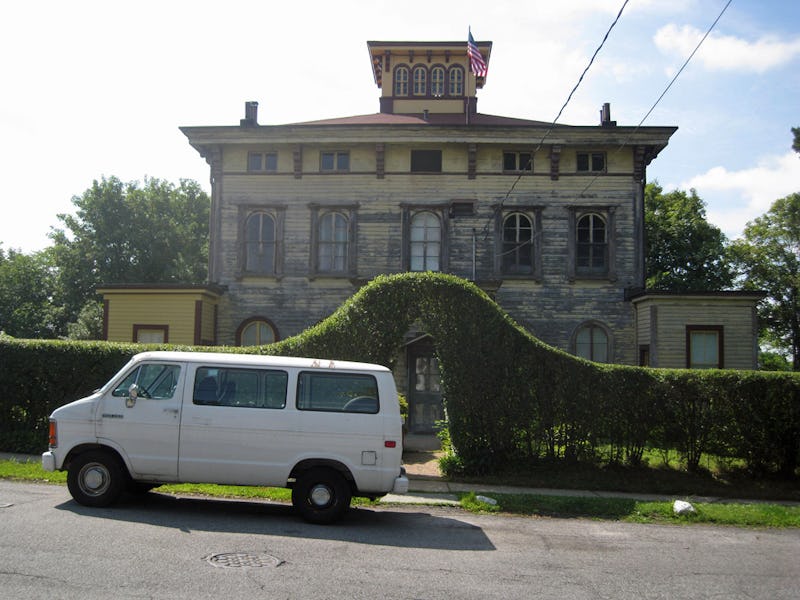 If I had $2 million to spare, here's what I would spend it on: An allegedly haunted mansion in Staten Island is currently for sale. I'm not kidding, you guys — either about the mansion or the fact that I would totally buy it if I had an unlimited supply of wealth. As with most "haunted" places, it's debatable whether or not there are actually spirits roaming the halls of this one — but even if there aren't, the house's history is the stuff of legend.
According to the New York Post, the mansion, which is located at 2475 Richmond Road, was once owned by Gustav A. Mayer; Mayer's big claim to fame is creating the sugar cookie recipe that Nabisco used when they began marketing Nilla Wafers. Although Mayer died in 1918, his two daughters, Paula and Emilie, kind of turned the house into a Grey Gardens type of situation: They lived there for their entire lives (which, by the way, were lengthy — they lived past their 100th birthdays) and never went outside. They didn't even go down the stairs, apparently; they lived their lives in two of the upstairs bedrooms, using a pulley system to bring in groceries, mail, and other necessities from the outside world. Spooky, right?
...But maybe not as spooky as that. That GIF is 2spooky4me.
Both the ghosts of Mayer and his daughters are said to haunt the mansion, although a "psychic lawyer" speaking to the Post noted that they're not malevolent ghosts. It's also become a popular place for photo shoots over the years; Mary-Kate Olsen, Amber Heard, and Ansel Elgort have all graced the house with their very stylish presences in spreads for magazines like Harper's Bazaar and V. The Post and the Daily Mail both have pictures as does the real estate listing, so head on over there to check out what it looks like. It's pretty cool in that "beauty in decay" sort of way.
First built in 1855, the 10-bedroom mansion was designed as an Italianate villa. According to its real estate listing on Citi Habitats, it sits on a half-acre lot; the house itself covers 7,700 square feet. It's kind of falling apart — as you might imagine, the Mayer sisters didn't exactly stay on top of the upkeep once they sequestered themselves in their bedrooms — but the first floor is livable; the current owner had admired the house from afar when he was a teenager and bought it 40 years later, restoring the lower level and moving in with his wife and daughters. He's also begun both exterior and interior renovations, with the costs of these projects ultimately getting deducted from the mansion's final price. Anyone have $1.75 million to spare? Anyone? Bueller? Bueller?
Oh well. Even if I can't own a haunted mansion, at least I can visit one. Who's up for a haunted spring break road trip?
Images: H.L.I.T/Flickr; Giphy