6 Ways to Wear 'Vikings'-Inspired Hairstyles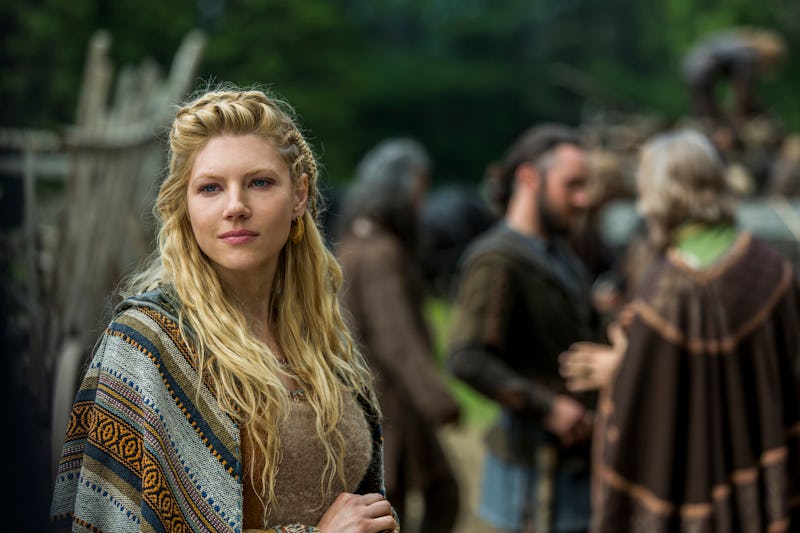 Okay, so I'm going to be honest with you. I've been watching the History Channel's Vikings on the down low and I'm obsessed. Aside from all of the awesome slashing and constant treachery, I can't get enough of the way the female characters are styled. From fresh furs (no pun intended) to the amazing jewelry when you least expect it, the show almost makes me want to be a viking. And then there's the hair.
One of the main female characters, Lagertha, played by Katheryn Winnick, is the queen of cool braids. She wears these intricately done hairstyles – crazy milk maid braid buns, one-sided twists, and braids with a half-up poof style – that fit so well in the scenery, I almost can't imagine them anywhere else. Almost.
After taking a deeper look, I actually realized that I have seen similar styles in our everyday wear. Although they aren't paired with the same fierceness donned by Lagertha the shield maiden, they can still be just as fierce for your street style ensembles. Check out these 6 ways to rock Vikings inspired hairstyles. And don't forget to channel your inner Lagertha.
1. Half-Up Twisted Bun
This bun is a lot less complicated than it looks. After sectioning your hair into two sections, braid tinier sections and then twist them all together. The red hair just makes it even more Vikings ready, amirite?
2. Braid Strands with Light Waves
This style comes directly from Lagertha's stylebook. And it's easy to pull off. Just add a few random braids to your already wavy hair, and leave it at that. Be sure to switch up the sizes for a fresh look.
3. Wrap Around French Braid
I feel like this would be a great and efficient hairstyle for fighting (or working out) because the braid sweeps everything away from your face.
4. Wrapped Braided Bun
This style is another one that looks a lot harder than it is. After making a few braids, wrap them up into a bun and secure with bobby pins. Fin.
5. Double Braid Bun
Although I don't think Lagertha would approve of the color, she would love this style. It's perfect for fancy feasts and celebrations.
6. Loose French Braid
This braid honestly reminds me of a loaf of challah bread, in the best and most beautiful way possible.
Images: Jonathan Hession/HISTORY, Dantaskelly/Instagram; Kimmers91/Instagram; Instahairblog/Instagram; Livingthehairlife/Instagram; Snuffdigital/Instagram; Maggiehancock/Instagram