Tinder's A Great Dating App For Ladies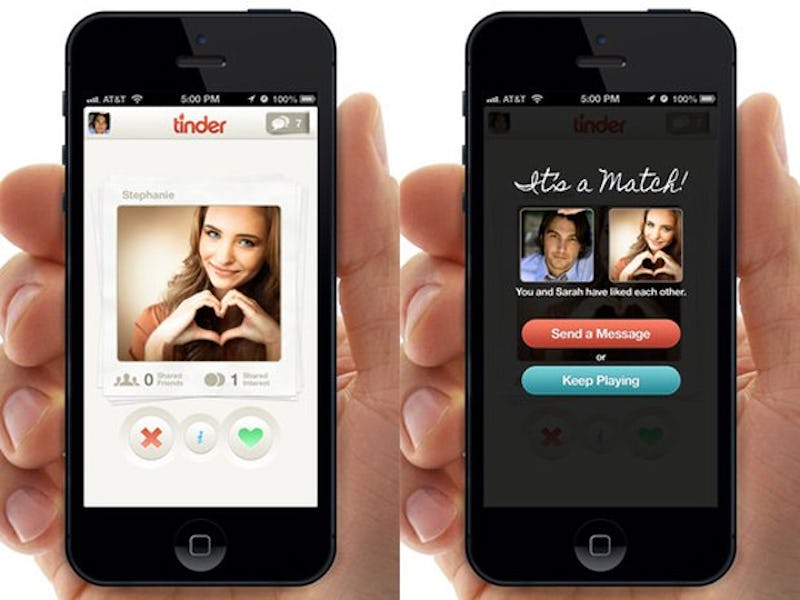 In August, I was catching up with a friend I hadn't seen in months when we had this embarrassingly rom-com-ready moment. "So are people in New York using Tinder?" she asked. I had no idea what it was. She pulled out her phone and showed me the app, which lets you accept or reject potential partners in the vicinity based on their Facebook photos. "So it's a sex app," I said, as she swiped me through some of her potential matches and men she was chatting with. She insisted it wasn't just a sex app.
It seems she might be right. Ann Friedman at The Cut says all her single female friends are using Tinder to find dates. Friedman cites the perils of online dating websites — creating those dreaded profiles, dealing with an influx of messages from people you're not interested in, meeting dates who look nothing like they did in profile photos. Tinder rights some of these wrongs with a few easy, clever adaptations.
Because you sign into Tinder with your Facebook profile, your photos are the same ones you would use for that wider audience. When you enter the age, gender and location you seek, the app will present you with matches, which you either accept with a swipe to the right or reject with a swipe to the left. Only people who both swipe right can contact one another, which means only the people you want to contact you can. This is an advantage for women, who get way more messages on traditional dating websites than men. With Tinder, women (and men) can only be contacted by people they marked as appealing.
There are also no inane questions about hobbies or pets to answer and no need for pithy self-descriptions. The flipside, of course, is that people are choosing potential paramours based almost exclusively on appearance. "This is exactly the sort of scenario that we've been told women don't want," writes Friedman.
"But 45 percent of Tinder users are women — and they seem to be just as comfortable with the app's low-commitment objectification as its male users.
Here is, for the first time, a dating app that has the same sense of lightness and fun inherent to picking up someone in a bar or flirting on the train. It has the ease and shallow leanings of Grindr (at the end of the day, you're judging someone's pre-chosen photos) without the straight-up sexual appetite.
One of Tinder's four founders, Whitney Wolfe, is female, Friedman points out. Wolfe told Atlantic Wire that Tinder works with Facebook in a "cleverly discreet" way. Though Tinder pulls your name and photo to Facebook, it doesn't publish or store any of the information itself. Nor will it publish information from Tinder to your Facebook newsfeed.
Image via ryot.org