9 Books That'll Get You Pumped About 'Mad Men'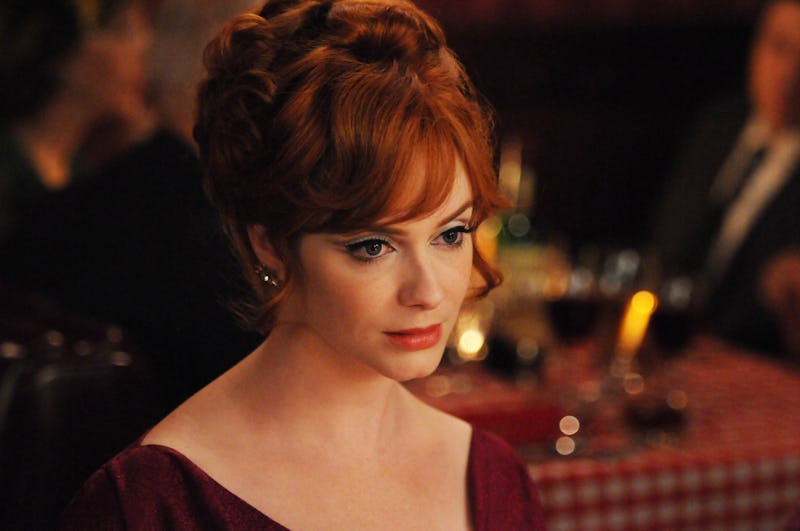 In the years that Mad Men has been on the air, viewers have been able to witness the culture of New York City change throughout the late 1950s and 60s. Through Mad Men, we've seen the peek of the sexual revolution, Kennedy's assassination, the Civil Rights Movement, and, most recently, the first moon landing. We've seen the role of women and people of color in the workplace change (even if ever so slightly). We've watched ad campaigns transform from print to television. We've seen what happens when Sterling Cooper Draper Price is introduced to its first computer.
But we've also seen so much more than that. Mad Men's vast range of characters has also changed drastically over the years. Peggy has transformed from a secretary living with her mother in Brooklyn to a copywriting powerhouse with her own apartment (owned, not rented!) in Manhattan. Joan has become an influential partner in the business. And we all know that Don has gone through his ups and downs with marriages, relationships, drugs, and self-loathing.
The last episodes of the show begin on April 5, and I can't wait to see how everything wraps up — especially because I don't have any real predictions for what could happen. To tide things over in the next month, I rounded up a list of books that have a certain Mad Men feel to them, whether their about life at home, life on Madison Avenue, or somewhere in between:
Revolutionary Road by Richard Yates
Frank and April Wheeler's relationship is almost frighteningly similar to Don and Betty Draper's. A must-read for Mad Men fans who are drawn to the life away from Madison Avenue and out in the surrounding suburbs — a life where the husband takes the train to work while his wife prepares for his arrival at home. Like Betty, April is just as smart, beautiful, and talented as her husband — but that doesn't mean that they won't betray each other.
Confessions of an Advertising Man by David Ogilvy
David Ogilvy (often known as the father of modern advertising) founded founded the New York-based agency that later merged to become what is now known as Ogilvy & Mather. In Confessions of an Advertising Man, Ogilvy shares techniques and concepts he deems essential for leadership in the advertising biz. Basically, this book will teach you how to do business like Sterling Cooper Draper Price.
The Astronauts Wives Club by Lily Koppel
One of the things I love about Mad Men is getting to witness historical moments of the '60s (soon to be early '70s), and see the culture change as the characters experience it themselves. Last spring, we got to watch them react to the first moon landing. The Astronaut Wives Club tells the story of the women who smiled on camera as their husbands were sent into space on live television, and became celebrities overnight. Through the good times (tea with Jackie Kennedy and magazine cover shoots) to the bad (coping with death-defying missions, divorce, and change), these women formed a club to provide support and friendship.
Jack Holmes and his Friend: A Novel by Edmund White
New York City was a big player in the sexual revolution of the 1960s, and Mad Men doesn't shy away from representing it. Edmund White's Jack Holmes & His Friend begins in the more straight-laced world of the 50s (not dissimilarly to Mad Men), and follows Jack, who hides his homosexuality from his friend Will, a straight man. As Jack explores his freedom and sexuality in the next decade, Will becomes the one who feels trapped — in his marriage and elsewhere.
Talk Stories by Jamaica Kincaid
Fans of Peggy Olson will love reading the story of Jamaica Kincaid, a columnist for The New Yorker in the mid-'70s and '80s who's career started after being told that Mademoiselle "would not hire black girls." After hearing that, Kincaid went on to work at Ingenue magazine, and was shortly introduced to George Trow of The New Yorker, who became her mentor. Talk Stories is a collection of her columns, that show both New York City life and how Kincaid, a young black woman, became a pioneer in her field.
The Best of Everything by Rona Jaffe
The Best of Everything has as wide a range of fascinating characters as Mad Men — but instead of advertising, this group works for a New York publishing house. From Caroline, a typist who wants to be in the editor's room, to April, a young woman who completely reinvents herself upon her move to NYC, this novel insightfully and sympathetically follows their first years as working women in the city.
The Space Merchants by Frederick Pohl and C. M. Kornbluth
Ken Cosgrove surprised all of his colleagues when his science-fiction stories were picked up by the Atlantic Monthly. The Space Merchants,a sci-fi novel in which businesses have replaced governments and is ruled by the advertising executives, is something that Ken Cosgrove definitely could have written.
Manhattan, When I Was Young by Mary Cantwell
Manhattan, When I Was Young is the true story of Mary Gantwell, a former writer and editor at Mademoiselle and Vogue, and a current writer at The New York Times.This book, which takes place in five different New York Apartments, new and lost relationships, and numerous career moves, beautifully shows both city life as well as a glimpse into the publishing world that exists for so many people within it.
How To Drink Like a Mad Man by Ralph Maloney
When I go to happy hour on Friday evenings I'm pretty much checked out after two beers. So how do Don Draper and Pete Campbell and Peggy Olsen have three-martini lunches and close deals and write industry-changing copy afterwards? This little book is a real documentation from Madison Avenue in 1962. It has all of the secrets of how to drink like a Mad Man (or Woman).
Photo: Michael Yarish/AMC