Travis Called Adam Levine an Idiot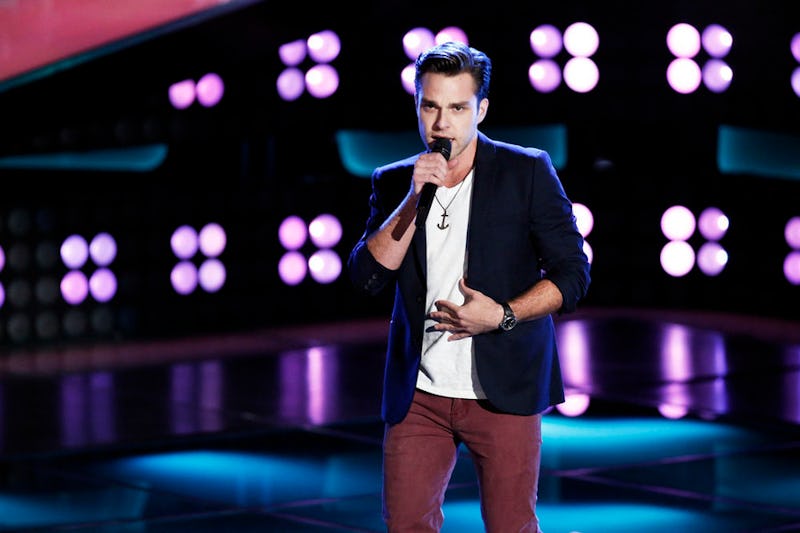 Travis Ewing was hoping to get The Voice coaches' attention with his slowed-down version of Destiny's Child's "Say My Name" — and he absolutely did. Ewing broke down and reworked the classic in the coolest way possible that I was beyond shocked he didn't get a four-chair turn. Adam Levine didn't hit his button for the Louisiana native and I'm seriously asking him why. Of all the coaches, Ewing fits most with Levine's style and would benefit greatly under his direction. Ultimately Ewing joined Team Pharrell, but only after he called Levine an idiot.
Okay, so Ewing didn't actually call Levine an idiot — he agreed with Levine's own comment calling himself an idiot for not hitting his button for Ewing. Let's face it, Levine deserved the insult and will be kicking himself later for not turning his chair. But despite not winning over the Maroon 5 singer, Ewing is a pretty talented 23-year-old. He graduated from LSU and pursued a career as a singer/songwriter. Ewing's had some success performing around Louisiana, but is ready for the next step — and he's definitely ready for it.
Ewing has some something special that no other contestant has — his own one-man-band. He created a loop-pedal style that allows him to play guitar, play the drums, and beat box all at the same time. Sounds impossible — and looks pretty complicated — but it is hands down the coolest thing I've ever seen. The only other artist I know of that uses this technique is Ed Sheeran, and I think we all can agree he's pretty brilliant. This unique quirk will set Ewing apart from the rest of the contestants this season and make him an asset and secret weapon to Team Pharrell. If he can make it through the tough battle and knockout rounds, there's no doubt that Ewing will make it far in this competition. Ewing's performance proved that he's a musical genius and is destined for greatness — and I hope we can see him achieve it. Will he win the title of The Voice? Guess we'll have to keep watching to find out.
Check out Ewing performing "Say My Name":
Image: Tyler Golden/NBC