Estelle Is Coming To "Conquer" 'Empire'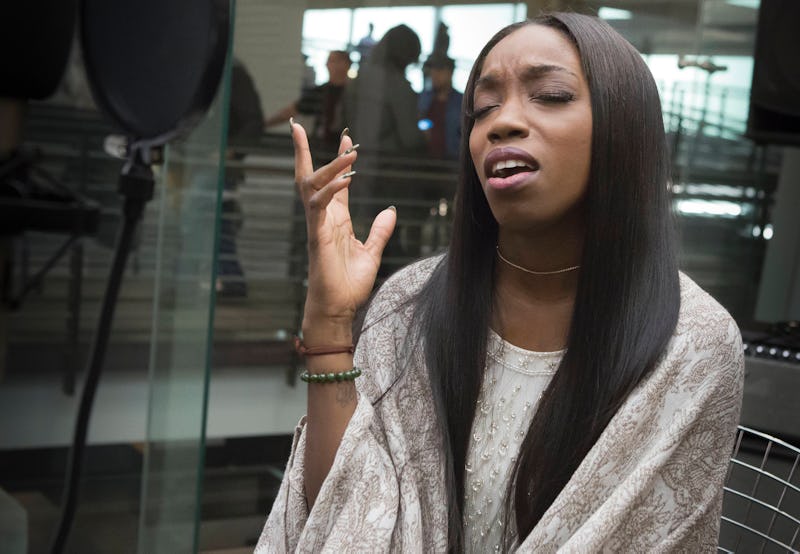 Over the course of its first eight episodes, FOX's Empire has played host to a number of very special musical guests, including Courtney Love (as singer Elle Dallas), Gladys Knight (as herself), and Jim Beanz (who also serves as co-music supervisor of the show with Timbaland). That stream of real-life musicians is only going to get heavier in Season 1's final three episodes, as big names such as Jennifer Hudson, Mary J. Blige, Patti LaBelle, and Snoop Dogg will be putting in appearances. But first, this Wednesday's episode of Empire , "Unto The Breach," will feature Estelle, as the Grammy Award-winning British rapper takes on a brand new character.
The singer-songwriter most famous for teaming up with Kanye West for her hit single "American Boy" will enter the show as Delphine, a "famous artist" who "Jamal gets close with," according to the episode's press release. That's about as vague as you can get, so let's go straight to the source for more info on Delphine. "The story was that [she] came to Empire before, and [Lucious] passed over her, and she blew up, and now they're trying to resign her as a superstar," Estelle revealed about her Empire character in an interview with The Hollywood Reporter. She also looked to some real-life musical legends for inspiration. " I was trying to channel Diana Ross and what I would imagine Shirley Bassey was like when she was younger," she said. "She's very real, but she has a very regal energy. I tried to channel that into the character."
So what will Delphine and Jamal be up to in the episode? As you can tell from the above promotional photo, their storyline will involve a collision of their prodigious talents. And — unlike most of the songs performed on Empire — the song Estelle and Jussie Smollett will be singing together isn't an original piece. In fact, they'll be duetting on Estelle's own recent single, "Conqueror." As for how her song relates to Jamal's story, Estelle had this to say to THR: "I understand that feeling of being passed over and being the underdog and always having to prove yourself. It's a very irritating feeling, but it is what it is, and this song kind of describes that and how man, I will fight for who I am, and what I believe I am. I'm not going to give up."
So Estelle gets to appear on the season's hottest new show, have a moving storyline with its most progressive character, and share her song with the world. But many viewers will want to know... Does she also get to act alongside instantly iconic scene-stealer Cookie Lyon (Taraji P. Henson)? "I [do] get to do a scene with the whole family [and] it doesn't seem like she hates me, so that's good!"
If you missed Estelle's Empire appearance or any of the Season 1 action, catch up with Bustle's Season 1 recap:
And check out Estelle and Smollett's performance of "Conqueror" right here.
Images: Chuck Hodes/FOX (2)