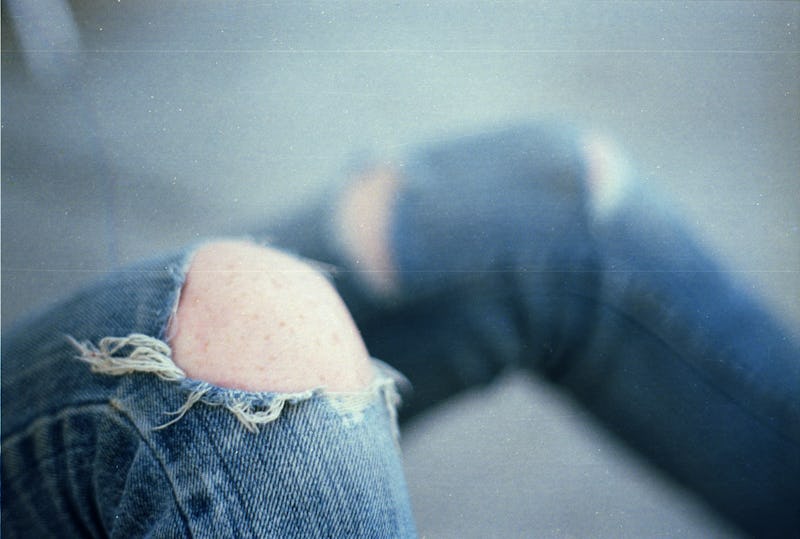 It seems like jeans have pretty much always existed, but I can assure you they didn't come out of thin air. In fact, the history of jeans is a long one, and the retro styles that are making a comeback (hello, '70s bell bottoms) in 2015 totally makes sense when you look at their life in its entirety. From coal mining to Western films to casual Fridays, jeans have come a long way since their inception.
Like us, jeans grew up. Today, with an array of colors, sizes, styles, and fittings, there's not really a wrong way to wear them — but our denim best friends have not always been so diverse. They come from a place of functionality over style, and it's doubtful that Levi Strauss could have ever predicted his creation would have a place in high fashion decades later. Heck, I'll bet that you've even seen your own share of denim evolution in your lifetime. With things like JNCO jeans happening, I'm personally quite glad nothing's stayed stagnant.
If you're curious about just where those skinny jeans came from, slip on your favorite pair of jeggings and travel back in time with us to discover the history of jeans, from their conception to mom-jeans and bellbottoms.
1853: The Birth Of Levi's
Twenty years prior to the birth of jeans, Levi Strauss launched his self-named business in San Francisco, California. At first, the company made "wholesale" clothing, such as handkerchiefs and blankets.
1860
Strauss began making "blue pants," which is what he called his first version of denim jeans. They were first worn by miners and cattlemen in the West. Interesting, because Derek Zoolander also wore blue pants when he was mining.
1873
Strauss and partner Jacob Davis received a patent on blue jeans. At first, they were but rather "waist overalls." LOL.
1886
A leather patent featuring two horses riding through a dust storm was sewn on the waist overalls in Japan. The horses were symbolizing the strength of the pants. And the patent is still used on the pants today. Seriously. Go check the pants hanging in your closet.
1914
Actor William Hart plays a blue jean-wearing Western hero in a silent film. It's believed that his fame also made the jeans famous.
1918
Levi Strauss & Co. makes its first denim garment for women. Called Freedom-Alls, the denim tunic overalls were meant for women to wear during housework or outdoor leisure. The word "freedom" was used specifically for the pants because of the Women's Rights Movement taking place in the West.
1940s
U.S. army men and marines inadvertently act as spokesmen for jeans internationally when they wore Levi's as they served overseas.
1953
Actor and singer Bing Crosby is turned away from an up-scale restaurant in Canada for wearing an custom made all-denim tuxedo. I personally think this is an amazing look.
1954
Marilyn Monroe gives denim a little sex appeal in the movie River of No Return. It's the first time a woman is seen wearing very tight jeans. She was like the OG Beyonce. #flawless.
1969
Woodstock helped bring bell-bottoms together to the sound of Jimmy Hendrix, Janice Joplin, and The Who.
1970
Enter, punk rock. And with it, super tight jeans.The Ramones cut their jeans at the knees and let the denim tear at the bottom. This was the first sighting of men wear tight jeans. Turns out, Monroe wasn't the only person who could pull them off.
1976
Gloria Vanderbilt makes her family's name even more famous by launching designer denim jeans. This probably explains why Anderson Cooper almost always wear jeans to report the news.
1980s
1981
Calvin Klein used 15-year-old Brooke Shields to introduce his line of Calvin Jeans. She also helped him trademark the phrase "You want to know what comes between me and my Calvins? Nothing." That line is still making jaws drop today.
1985
Designer Tommy Hilfiger helped show the extreme opposite of '80s jeans: extremely baggy. For points of reference, check out TLC's first album.
2000
Time Magazine named Levi's 501 jeans the "Fashion Item of the 20th Century." The jeans beat the mini skirt and the classic LBD.
2001
Britney Spears and Justin Timberlake went to the 2001 American Music Awards wearing matching all-denim everything. Spears wore a denim, patch-work dress and Timberlake wore an obviously denim blazer and patchwork Levi's 501 Jeans.
2010
Jeans stopped being made of denim, ditched the accessible front pocket, and became jeggings. Frequently found at your nearest Hollister store.
2014
Leandra Medine from ManRepeller brings back all styles of jeans, especially the 70s wide-legged, high-waisted, sans-suspenders styles. From high-res to mom jeans to the ultra-flare, Medine makes a point of saying jeans, whatever the fit, will never go out of style. And explains why she chooses to wear ugly jeans (because they're much more comfortable.) She has been the inspiration for seeing many retro denims during fashion month, both in street-style and even a few wider legged denims on the runway.
2015
The '70s are back, and that means bell bottoms for everyone. All throughout fashion month, we saw street style photos riddled with bell bottoms. Paired with a little fringe and mustard yellow, you'll be looking totally groovy.
Images: Wikipedia Commons; Getty (3); Giphy (13); Time Magazine; RawrDenim/Twitter; ManRepeller/Instagram; Ali Gilliams; will floyd/Flickr