Last-Minute Halloween Costume Ideas From Kickass Lady Cosplayers at New York Comic-Con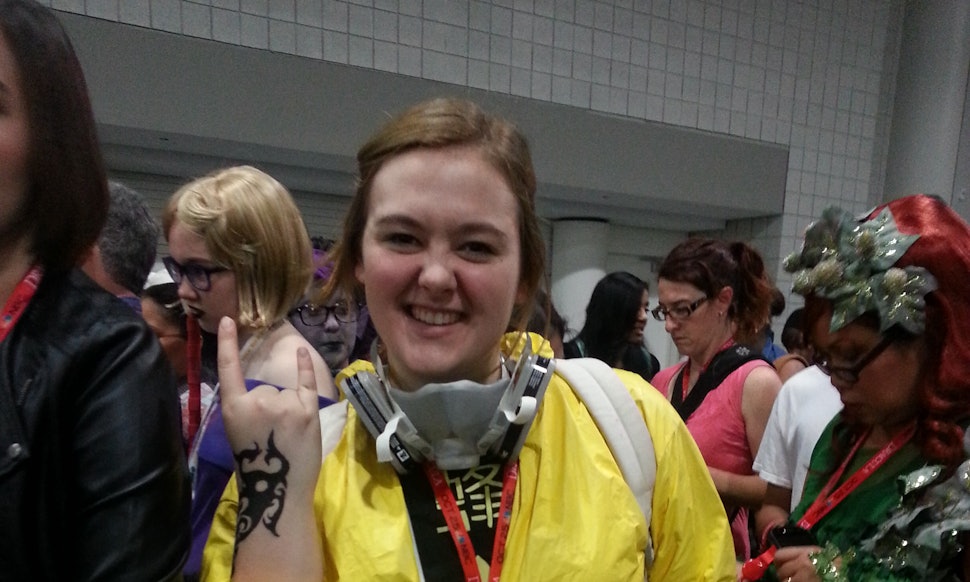 Bustle.com hit the halls of New York Comic Con over the weekend to bring you a few ideas for the upcoming Halloween extravaganzas you're sure to attend. In case Wendy Davis or Sexy Tonto don't float your costuming boat, NYCC was full of great impersonation inspiration, like this awesome and easy getup. Why not grab yourself a yellow jumpsuit and a chemistry lab gas mask and go as Jesse Pinkman? No, you don't have to be a dude to do it. This is Halloween, do your thing. (And if these costumes don't inspire you, be sure to check out Bustle's list of last-minute Halloween costume ideas!)
This Year, Break Bad
Bustle.com hit the halls of New York Comic Con over the weekend to bring you a few ideas for the upcoming Halloween extravaganzas you're sure to attend. In case Wendy Davis or Sexy Tonto don't float your costuming boat, NYCC was full of great impersonation inspiration, like this awesome and easy getup. Why not grab yourself a yellow jumpsuit and a chemistry lab gas mask and go as Jesse Pinkman? No, you don't have to be a dude to do it. This is Halloween, do your thing. (And if these costumes don't inspire you, be sure to check out Bustle's list of last-minute Halloween costume ideas!)
Crafty Costume? Here We Go!
This dazzling Princess Peach crafted her own Mario Kart in which to traverse the many halls and booths of NYCC. It just goes to prove that sometimes the best costumes are the ones you can't find on a hook that's probably going to fall out of the wall and smack you on the head when you breath near it at some ramshackle costume superstore overrun with last-minute shoppers. Take a page out of Peach's driver's manual and craft something of your own.
Strategy is Key
You're a strong, confident woman, so of course Daeneyrs Targaryen appeals to you as a Halloween costume option. But if you're doing this last-minute, resist the urge to dress as the Mother of Dragons in her new, Season 3 royal garb.
This Daeny opted for the Season 1 version, also known as the easiest look to replicate on a budget and in a pinch. Spoiler alert: this costume is just as striking as the pale blue gowns with stuffed dragons perched upon the shoulder pads. It's all about bringing your inner Khaleesi.
Resist the Urge to Use a Tube Dress as Your Costume Base
A big mistake many last-minute costume folks make is to assume that an American Apparel tube dress is the way to go. This is false. No one looks good in an American Apparel tube dress without loads of Spanx, and Halloween is a snacks occasion so Spanx are the enemy.
Instead, do what these ladies did and turn your already lovable wardrobe up a notch with the right accessories. Suddenly, that great yellow sundress doubles as the perfect body for Jake the Dog from Adventure Time. Mathematical!
"Great Costume" and "Simple Costume" Are Not Mutually Exclusive
If you want to keep things low-key, try on this Tony Stark look for size. Pretend to live the live of the Iron Man 3 playboy by throwing on a Stark Industries shirt with a ring of light underneath it. Boom: You've got Iron Man's life force and a killer T-shirt for the weekends. That's what we call a win-win, folks.
Rip Up Your Old Clothes — They're Just Clogging Up Your Closet Anyway
This Con-goer dressed up as her favorite character from The Walking Dead, Daryl Dixon, by spattering an old shirt with fake blood and ripping the sleeves off an old leather jacket. Sure, the toy crossbow was likely a tough find, but that's nothing a little craftiness and a touch of the Daryl Dixon charm can't solve. (Yeah, that means you might have to build a fake crossbow yourself, but when you're last-minute, it's about creating a vision of the character, not assuming their exact form.)
You can never go wrong with a superhero
Batgirl knows what I'm talking about. Superhero costumes are great because they involve spandex, which means leggings and leotards are key. Leggings and leotards also happen to be super easy to obtain in just about any American city or town, and if you pick the right hero — like Batgirl, a craft store could be your way to all the right cuffs, masks, and superhero logos you need.
Don't Be Afraid to Combine Costumes
So you're at the end of your rope. You're running out of time to dress up. There are like 30 minutes between you and your first Halloween party. You've got a few remnant of old Halloween costumes of years past in a box at the bottom of your closet and you need something now. Shake it up. Invent something new. Go as Sailor Mars Storm Trooper like this brave lady. Pro tip: you can pull off just about any costume when you're absolutely oozing confidence.