Celebrating Female Badasses Of Sci-Fi & Fantasy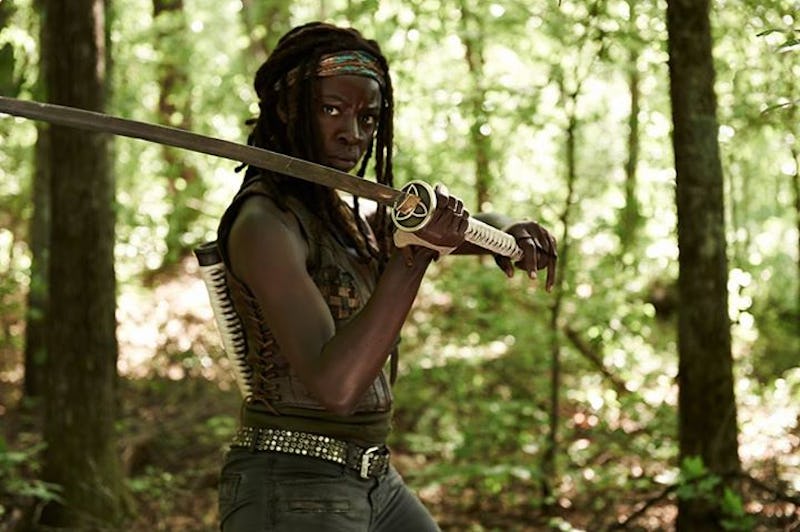 March Madness got a billion times more awesome this year with Suvudu's Women Warriors tournament, featuring 32 kickass female characters from science fiction and fantasy literature. Cage Match 2015: Women Warriors is the fifth annual March Madness-style bookish tournament from the division of Penguin Random House, but it's the first time ever all 32 slots are filled by women. And seeing all these badass female characters in one place is straight-up inspiring.
The women-centered theme this year was inspired by recent conversation around women in geek culture, and ensuring female fantasy and science fiction fans get their due, too. With advances in diversity in comics, from a woman taking up Thor's hammer, to Kamala Khan as Ms. Marvel flat-out dominating, Suvudu knew it was the perfect time to celebrate women in the genre. And once you see all of the incredible characters (both classic and contemporary) represented in the tournament, you'll know that we women in this industry already have a great jumping off point for advancement.
The Women Warriors tournament works like this: Each science fiction or fantasy character is seeded from 1 to 32, based on toughness and just how hardcore they are. Then, they are matched up — the No. 1 seed with the No. 32 seed; the No. 2 seed with No. 31; No. 3 with No. 30 and so forth — to see who would win if the characters were to meet up in some parallel universe and battle. And here's where it gets even more interesting: Famous science fiction and fantasy authors will write a scene describing the battle from their own imaginations, and then readers will vote on who should win. This goes on like this until an ultimate Woman Warrior is crowned.
(Here's the interactive bracket you can click through.) And you guys, Suvudu chose some intensely awesome female characters to battle. Here are the top five seeds.
Alice Quinn from Lev Grossman's Magicians Trilogy
Akasha, Queen of the Damned, from Anne Rice's Vampire Chronicles
Felurian from Patrick Rothfuss's Kingkiller Chronicles
Bellatrix Lestrange from J.K. Rowling's Harry Potter series
Death from Neil Gaiman's Sandman
Yes, Death herself rolls in a cool No. 5, which should say a little something about messing with the first four ladies. And if it helps, Tris from Veronica Roth's Divergent series comes in at 19. Katniss from The Hunger Games doesn't make the list, but the incredible Johanna Mason does.
Basically, these ladies mean business.
Other women you'll recognize include Elphaba from Gregory Maguire's Wicked, Meg Murray from Madeleine L'Engle's A Wrinkle in Time (whose "special attack is "Empathic Love"), Melisandre from George R.R. Martin's A Song of Ice and Fire aka Game of Thrones, and Michonne from Robert Kirkman's The Walking Dead, among so many awesome other women.
The authors tasked with writing the battle scenes between these fictional characters are some big names in the biz.
Tris and Johanna Mason are up against each other in round one, and the battle is written by Beth Cato. Tris is seeded at 19, and Johanna pulls in slightly ahead of her at 14.
Johanna tracked the younger girl through the underbrush. Not that this was a difficult task. The other contestant tromped through the woods with all the subtlety of a Capitol tank. An urban girl, for sure, but not a complete innocent. She had a gun in hand and the poise of someone who knew how to use it.Most interestingly, she had no fear.Johanna knew what to look for. Hell, she knew how she felt sometimes, not that she'd let anyone know. She'd watched the other kids who quivered and cried back in the 71st Hunger Games. This girl –Tris Prior, if Johanna correctly recalled from the match listings – was quite dauntless.
I have to admit, I love you, Tris, but I am team Johanna on this one. To get you in the tough woman spirit, Suvudu compiled a playlist full of girl power songs you can listen to as you read along.
Putting aside the battle and competition element for a second, it's truly awesome to see all of these female names listed in the same place. Over the years in comics and novels, women may have been underrepresented and, in the case of some comics, overtly sexualized, but this Women Warriors list shows that we have had some killer characters, too. Sure, some might be evil (I'm looking at you, Bellatrix), but they command attention and have the power in their scenes. It's a great reminder that while we still have a long way to go, there is hope for the future of tough, well-rounded female characters across science fiction and fantasy.
Images: The Walking Dead/Facebook; Suvudu; Giphy