9 Glorious '90s References from 'Kimmy Schmidt'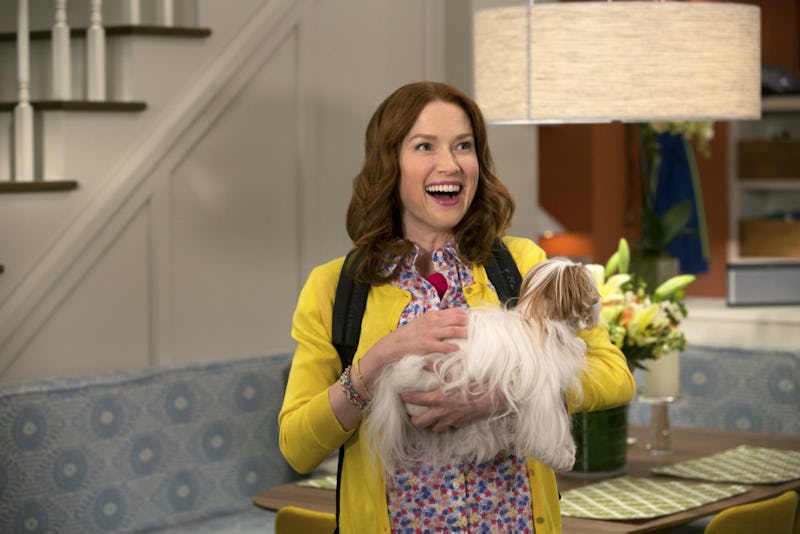 There are many, many reasons to fall head over heels in love with The Unbreakable Kimmy Schmidt. The Netflix show is the new comedic gem from Tina Fey, and its entire first season is now available for your binging pleasure, and lemme tell you: it's just what you need in your life. This show is a perfect harmony of dark admissions encased in lighthearted jokes, Ellie Kemper is a hilarious firecracker with a smile that's bigger than your entire head, and most importantly, ALL THE '90s REFERENCES.
Because the show is about a twenty-something girl who gets freed from a bunker after 15 years, all she knows is from the best decade of all, the 1990s. She was led to believe that the outside world was destroyed and that she, her bunker roommates, and their creepy kidnapper were the only remaining survivors.
When she is unleashed into the free world and decides to live the life she's always dreamed of having, she's lacking formal education, a wardrobe beyond her TODAY Show interview outfit, and a mental catalog filled with timely references. She only knows how to relate to new people on stuff that we stopped buying/consuming/discussing decades ago, which makes for brilliantly funny interactions. Here are all the best '90s references from The Unbreakable Kimmy Schmidt, Season 1.
9. When Kimmy Wants to Go to a Club Featured in Moesha
Because she just wants to rock out and Brandy was the last cool role model she knew.
8. When She Doesn't Know What a Selfie Is
She needs her photo taken and she asks if there's a Sears nearby.
7. When She Works Out While Wearing a Scrunchie and a Walkman
It's like a scene right out of Saved By the Bell, or a JCPenney catalog, and it's amazing.
6. When Her Bunker Mate Cyndee Pretends to Be Hulk Hogan
It's in a flashback, but it's clear that Cyndee has mastered her state of Hulk-o-mania. Even when she thinks it's a disease that needs a cure.
5. When She Wears Her Jansport Backpack to a Club
Oh yeah. There's nothing more '90s than a Jansport backpack, and Kimmy clutches hers tightly as she shakes her booty on the dance floor.
4. When She Requests Hanson to be Played at Her 30th Birthday Party
She wants good music, and to her Hanson is still MMMbopping in her head.
3. When The Only French Words She Knows How to Speak Are Names from Beauty and the Beast
To pretend she's classy in an expensive restaurant, Titus starts rambling in French. To keep up, Kimmy says, "Lumiere, Belle, Gaston!" As if it makes sense in context.
2. When She Receives a Package of Tapes from Columbia House
She somehow still has a subscription to this service and is utterly psyched to receive the Rain Man soundtrack on cassette tape.
1. When She and Dong Recreate the Friends Intro in Front of the Central Park Fountain
It's just as perfect and Friends-like as you hope it would be. Kimmy and Dong deliver.
Image: Eric Liebowitz/Netflix; Giphy (9)