Why Was Miriam Loeb On 'Gotham' So Familiar?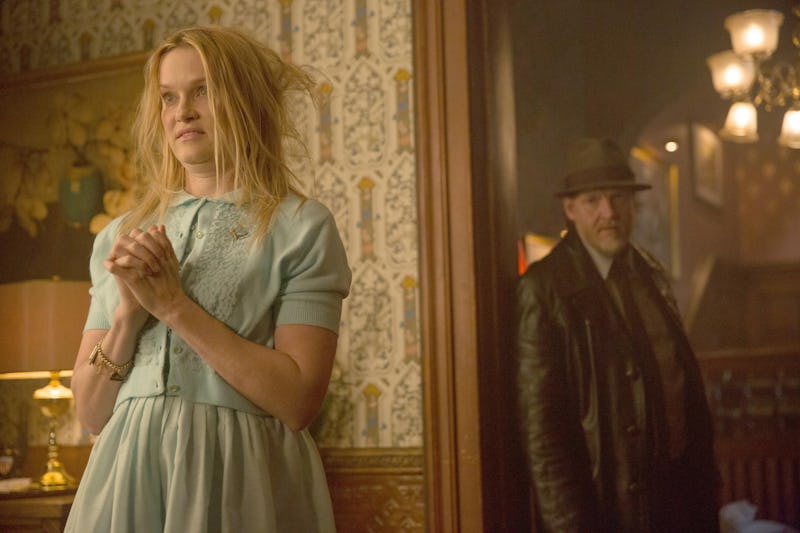 Remember the girl in the attic from last week's episode of Gotham? The commissioner's daughter seemed familiar for some reason that I could not place. Turns out, Miriam Loeb was portrayed on Gotham by Nicholle Tom, who was once known as the eldest daughter on The Nanny! No, not the girl from Au Pair — I know they have the same '90s bob haircut. Tom played Maggie Sheffield on the Fran Drescher sitcom for almost seven years. Her character on Gotham was so creepy and child-like that it seems fitting they cast someone that audience's recognize best from their own childhoods. Miriam Loeb was hidden from the public, dressed in clothes more fitting for an American Girl doll, and oh — she also killed her mother and makes necklaces out of bird bones. No big deal! It's a far cry from the sweet, nerdy Maggie who once dated James Marsden.
What else do you know Nicholle Tom from? She is a working actress with many guest appearances on shows like Masters of Sex, About A Boy, and a handful of procedurals that include Criminal Minds, Burn Notice, and Castle. You also may have caught her in The Princess Diaries. That said, she has a few big projects that are sure to jog your memory, and one is closer to home than you may think.
Beethoven
The former child actress played Ryce Newton, the eldest sister, in the first two Beethoven movies and the Beethoven television series. Did you know that those movies were written by John Hughes, of The Breakfast Club and Ferris Bueller, under a pseudonym? You're welcome. Tom was nominated for several Young Artist Awards for this role, as well as The Nanny.
Supergirl
Even if you didn't recognize Miriam on Gotham, you may have heard the actress' voice as a different costumed vigilante. That's right, Gotham isn't her first time in the DC Comics world. Tom has played Supergirl in not one, not two, but three animated television series — Superman and The New Batman Adventures in 1998 and the Justice League series in 2004. Her casting is a nice homage to an unseen DC veteran.
Stage & Screen
Finally, Tom has been in a lot of television movies. Lifetime and Hallmark really are the places to be. Her scintillating titles include Maternal Obsession, Something Evil Comes, and Fatal Performance.
She has also been seen on stage in California. See? It's not all bad for child actors and actresses. Tom is proof of that. I just hope her character returns to Gotham. As the daughter of the commissioner, she is integral to the future of many characters in Gotham City. Who knows? Maybe this Supergirl could become a super villain before the series is out.
Images: Jessica Miglio/FOX; Giphy (2); Getty Images