Team Blake's Rocker Chicks Had A 'Voice' Duel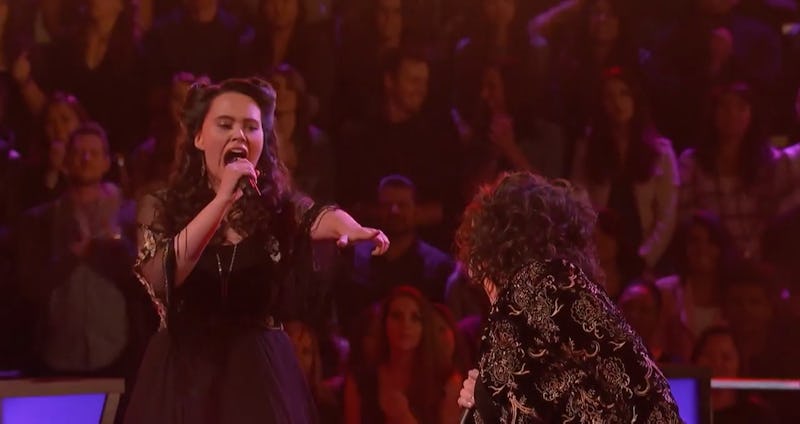 What do you get when you pin two bad-ass rocker chicks against each other in The Voice Battle Rounds? A "straight up duel." Aspiring pop singer Hannah Kirby took on experienced rocker Sarah Potenza in a power battle of The Rolling Stones "Gimme Shelter" in The Voice Battle Rounds — and it was nothing short of amazing. It was not an easy match, and that's what made it so intense to watch. Let's just say that both artists won tonight — Potenza won the battle, but Kirby got stolen by Coach Pharrell and will continue on in this competition.
Potenza was a tough performer to beat. She has a stronger voice and stage presence, and much more experience than 21-year-old Kirby. And though the coaches were ready to witness a slaughter, they were pleasantly disappointed because Kirby BROUGHT it in the battle. She figured out exactly how to be noticed over Potenza — Kirby used her wide range to cut through Potenza's power notes and channeled her inner rockstar to battle Potenza's incredible stage presence. This alone should have earned Kirby the win, but Coach Blake was smart to choose Potenza. Se was his first team member, and the two could definitely make it all the way to the finale together. But they better watch out, because Kirby proved she will do whatever she can to get in the way of them making it to the end.
Kirby deserved to be stolen, and her and Pharrell will make an amazing team. The Texan will benefit from Pharrell's expertise — she is a versatile performer and he's a versatile producer. They'll work together to find Kirby's niche and will use this to defeat any performer that gets in their path. Her new coach said it best, Hannah "came in her swinging her purse like a Southern Church Lady." This "strategy" is evident in her shocking Blind Audition performance and her out-for-blood Battle Round performance. She may not win, but she's definitely going to put up a fight.
Image: YouTube/The Voice