It's Getting REAL On 'Bates Motel' Says Highmore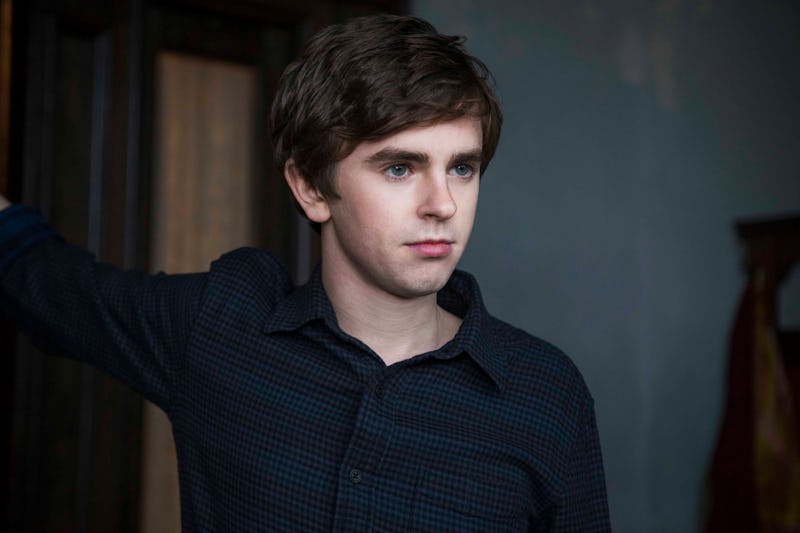 Fans of Psycho have known right from the start the kind of creepy and unhealthy relationship Norman and Norma share on Bates Motel , with Norman constantly cowering to his mother's will. But it seems Season 3 is looking to turn the tables on this dynamic duo and create a power shift that puts Norman, not Norma, in the driver's seat. During a recent conference call with reporters, Freddie Highmore (who plays the iconic killer-in-training) and executive producer Kerry Ehrin discussed this important shift, along with Norman's dark transition and how it will affect his relationship with Norma. Oh, and did I mention — we're finally going to get to see him donning some of Mother's clothing. Sounds pretty… well… psycho.
"Norman will seek to take more and more the control in the relationship and become the person who's more dominant by the end of the season," Highmore says. "He's become slightly more manipulative and capable of toying with Norma and using his knowledge about what he's capable of to gain things from her." That certainly doesn't sound like the innocent boy we've come to know over the past two seasons. Norma has always held the reigns in this relationship right from the start. In fact, that's why Norman hears her voice in his head during his blackouts, constantly coaching him on what to do. But as madness continues to take hold, a new form of Norman will emerge.
"He's starting to understand the chinks her in emotional armor," Ehrin hints, which will allow him to think of Norma as more of a pawn than a partner. But that won't be the only prominent shake-up throughout this season. Psycho enthusiasts will be pleased (or perhaps terrified) to learn that there will also be a slight change-up in Norman's wardrobe because — guess what? — he's going to start wearing mommy dearest's clothes.
"He gets to wear some of her clothes, so that's another side to him," Highmore shares, leaving viewers to wonder if that means Norma's inevitable death is growing closer and closer on the horizon. (We all know this story does not have a happy ending.) Is it bound to be super creepy? Absolutely. But it's so on point with just how much Norman's transition into darkness is continuing to grow. Say goodbye to sweet Norman, everyone. Because "Mother" is here, and she's mad as hell (in more ways than one).
Images: James Dittiger/A&E (2)