Kurt Cobain Doc Includes Many Revealing Moments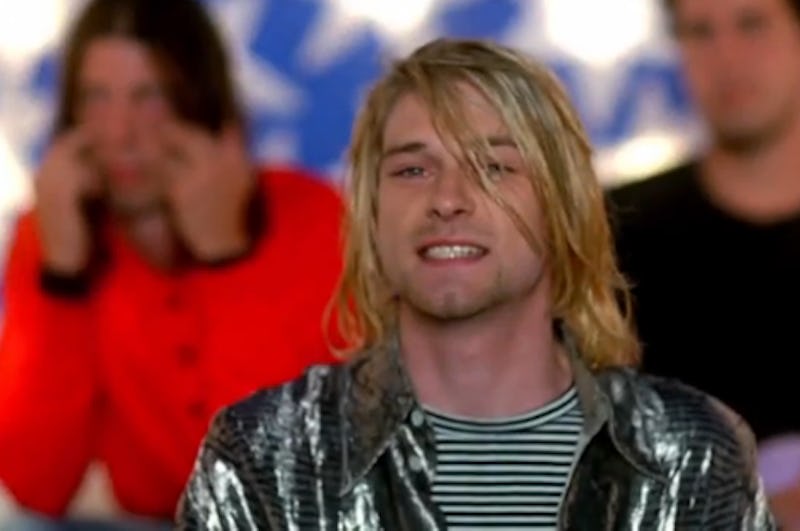 Only a few months ago, the announcement that a documentary about late grunge musician Kurt Cobain would arrive on HBO in 2015 proved that major progress was finally being made on the long-awaited project — and thanks to the first trailer for Kurt Cobain: Montage Of Heck, the wait for a sneak peek is now over. At two and a half minutes, the preview features a ton of revealing moments about the late rock star's life both on and off the stage, and, as expected, doesn't skimp on exposing Cobain in the midst of many personal battles.
Within the first moments of viewing the trailer, the amount of time and effort that went into crafting this documentary becomes quite apparent. The involvement of his former wife Courtney Love, their daughter Frances Bean, and many more of those who knew Cobain intimately appears to have given the film a very palpable rawness to the point that some of the scenes feel downright eerie and almost invasive to watch. With the undeniable authenticity of Montage of Heck, one has to wonder how it will stand next to Soaked in Bleach , the upcoming docudrama that purports to recount Cobain's story.
As strange as it feels looking into the life of a man who was notoriously private, Montage of Heck feels like it will be that sort of magnetic documentary that holds nothing back.
Check out 6 of the most revealing moments from Montage of Heck trailer:
Cobain's Baby Photos
At one point, a recording of a young Cobain can be heard saying "I'm Kurt Cobain."
A Young Cobain and His Guitar
Fans will also receive an intimate look at Cobain's musical start.
Cobain's Artwork
Much of Cobain's private artwork is displayed throughout film.
Cobain Off the Stage
In Montage, Cobain's loved ones reveal that satisfying his desire for normalcy was an ongoing battle.
Intimate Moments With Courtney Love
The documentary features several intimate moments and photos that highlight Love and Cobain's connection.
Francis Bean's Baby Photos
Family moments like this photo of Love and Cobain with their daughter Frances Bean only serve to enhance the realness of the film.Kurt Cobain: Montage of Heck debuts in the UK on April 10th and will air in the U.S. on HBO May 4th.
Images: HBO Documentary Films