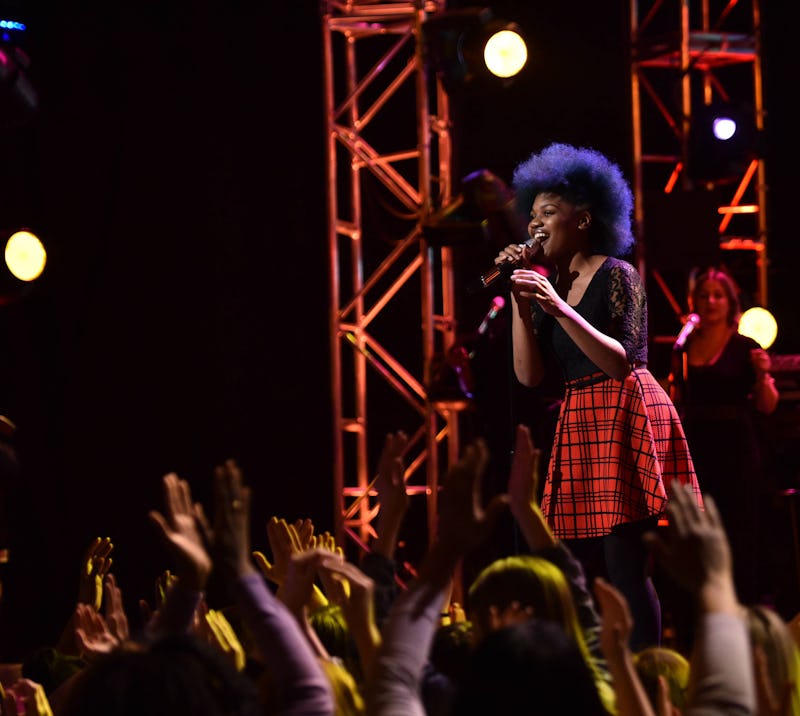 The American Idol producers have officially lost their minds. Not only are we finding out the contestants who made it to the Top 12, they will all get a chance to sing — all in one night. It's a crazy whirlwind of results and nervous singing, but a much-needed relief from the old format of long, drawn out results shows. One lucky contestant to earn a coveted Top 12 position is 16-year-old Tyanna Jones. Jones has wowed the judges week after week with her energetic performances and unique style. The young artist has the makings of a superstar, and is one of the best girls on this season of American Idol.
Jones' originality has blown me away week after week. After snagging the final ticket to Hollywood in her preliminary audition, she has captivated the judges and the live audiences were strong vocals and fun performances. Her Motown performance was definitely Top 12 worthy, and tonight's didn't disappoint either.
There's something really special about Jones that sets her apart from the other contestants. It could be her awesome blue afro, or just her captivating personality. Hearing the Florida native perform her audition showed how far she has come in this competition. "Wings" by Little Mix is one of my favorite feel-good songs, and she was able to take a cool new twist on the tune and really infuse her style into it.
Jones' energy is sure to get her far in this competition, and in the music industry itself. The judges said it themselves — Tyanna Jones is a star. She's much different than many young artists trying to make it in the pop industry, and that's what makes her so great. She doesn't try to fit the mold and that is evident in everything she does. Any producer would be lucky to have her because, since she is still young, her voice is versatile and she is open to learning and trying new things. This, mixed with her killer personality, will get her noticed in the music industry. Even if Jones doesn't win American Idol, she has a big career ahead of her.
Image: Michael Becker/Fox