3 Potential Matches For 'Shark Tank's Daymond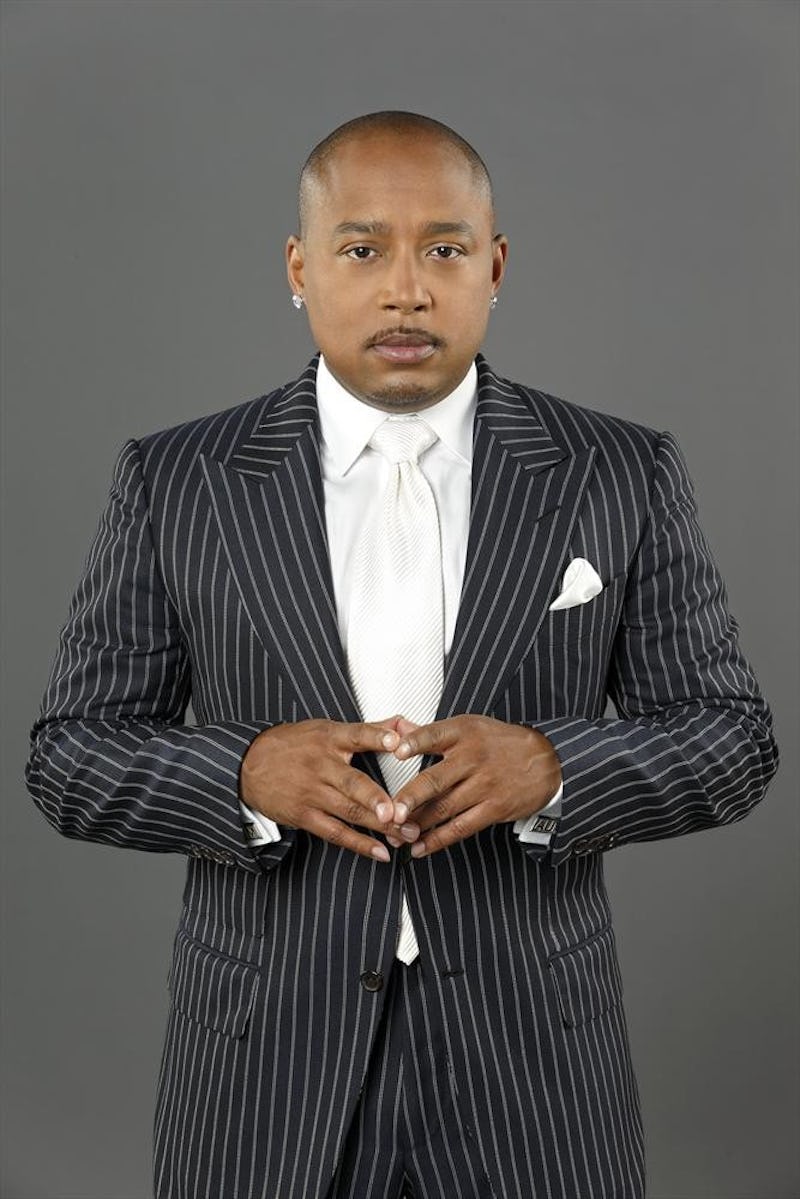 Out of all of the sharks on Shark Tank , you would think that Daymond John would have the best luck in the love department. He's insanely rich. He's without a doubt the coolest shark of the bunch. He's a snappy dresser. But the question remains: Is Daymond dating anyone right now?
It looks like Daymond doesn't currently have a parter of the romantic variety. From what I can tell, Daymond is neither married nor dating anyone at the moment, although he seems to prefer to keep his personal life private, so we may never really know if this shark has found a special fish in the sea right now.
We do know that Daymond was married at one time. However, he got divorced and "lost [his] family due to traveling and getting sucked up in the life of business," Daymond told Business Jet Traveler in 2013. However, it seems like things have been going much better with his two daughters as of late. You have to be a pretty great dad to sit through a Miley Cyrus concert, after all.
So Daymond, if you're still looking for the right partner, I've got four suggestions for potential dates for you that are so on the money.
1. S.W.A.G. Essentials' Lydia Evans
Lydia Evans appeared on Shark Tank earlier this season to pitch her line of male grooming products, S.W.A.G. Essentials, to the sharks. Though Lydia came up short in snagging a deal with any of the investors, she almost won a date with Daymond. The shark offered his number to the entrepreneur, and Lydia seemed pretty keen on taking a "long walk to the bank" with him. The thought of these two together is just so cute, I can't handle it.
2. Kenya Moore
I want Daymond and Kenya, of The Real Housewives of Atlanta and The Celebrity Apprentice fame, to date more than anything in life. I feel like there is not a better match on Earth. They're already friends. Clearly, Kenya supports Daymond's business endeavors. Plus, they both know what it's like to be entrepreneurs and on reality TV. These two should just put us all out of our misery and get together already.
3. Barbara Corcoran
You may laugh, but would it really be so crazy if Daymond ended up with his Shark Tank co-star Barbara? Sure, it doesn't look like the two have any chemistry on Shark Tank whatsoever, but did you ever think they were just trying to subdue the sexual tension? Barbara is married, after all. Plus, as evidenced by the above photo of Daymond's Halloween costume this year, he clearly has a thing for her. What that thing is, I'm not really sure, but it's something.
Images: Bob D'Amico/ABC; Giphy