'Shark Tank' Is Getting Handsy With EmazingLights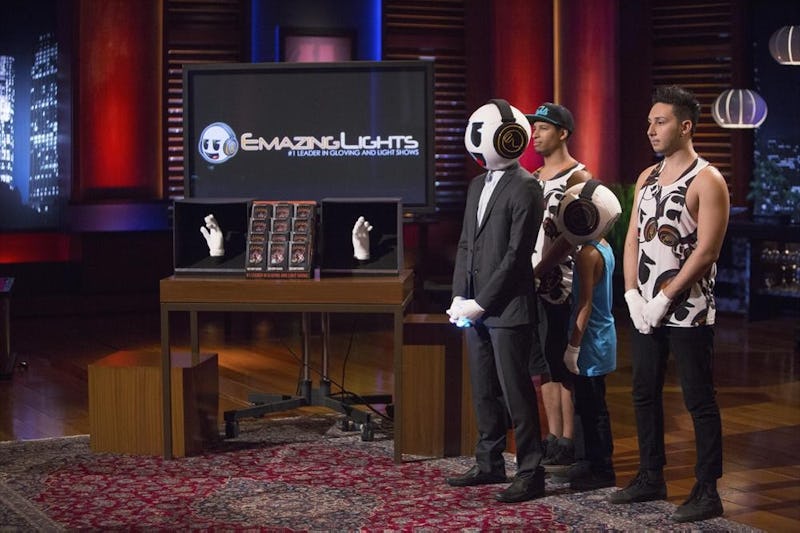 If you're not into the electronic dance music (EDM) scene, you may have never heard of the product EmazingLights. But the hugely successful company is coming to Shark Tank on Friday, March 13 and once you see what EmazingLights has to sell, you'll find the company hard to forget. Founded in 2010, EmazingLights calls itself the "# 1 Leader in Gloving and Light Shows." If you're unfamiliar with gloving and EDM, get ready to get your school on (and your groove on) while watching Shark Tank.
EmazingLights sells light-up hand gloves (and other dance gear) that can be used for raves and other dance events. If you don't think of gloving as a legitimate dance form, EmazingLights is trying to change that. On the company's Facebook page, they wrote:
EmazingLights is pioneering the new Gloving movement into a skillful expression of art no different from any other type of dance. It takes practice and dedication to master the intricacies of the dance form and the Gloving community is constantly innovating and expanding the Gloving experience.
Although EmazingLights sells super niche products, the company has been incredibly successful by focusing on a market that didn't have a brand leader before, which could really interest the Sharks. On the other (gloved) hand, EmazingLights seems to be doing just fine on their own, so the Sharks may not want to go there. But based on the promo video below for the March 13 episode, it looks like all of the Sharks are going to be digging on EmazingLights. (And I'm so excited to see the Sharks don the rave gloves.)
What else do you need to know about EmazingLights?
Love Got Founder Brian Lim Into Gloving
Founder Brian Lim met his fiancée at an EDM festival back in 2010. Later, she bought light-up gloves, but they were expensive and the company didn't have good customer service, according to Lim. He told Inc. that she helped get him into gloving and then he realized the business opportunity in front of him. Lim made his own gloves from LED lights from keychains and the company grew from there.
EmazingLights Is One Of The Fastest-Growing Private Companies
In its annual list of the 5,000 fastest-growing private companies in the U.S., Inc. ranked EmazingLights as 189 in 2014. Lim told CNBC that he projects the company will make $12 million in sales in 2015. The company has 43 employees and the glove pricing can range from $20 to $120 (with some products are even cheaper on sale).
It's Not The Company's First Time Being Featured On TV
Before EmazingLights got its Shark Tank opportunity, the rave gloves were featured on MTV's America's Best Dance Crew and Disney Channel's Shake It Up. Plus, the company has an active YouTube channel (along with Facebook, Twitter, and Instagram accounts) with tons of videos highlighting its light-up gloves. It will inspire you to get your hands dancing.
You Can Buy EmazingLights Gloves Online & In Person
EmazingLights isn't just online — the company has retail shops in Los Angeles, Dallas, and Miami. The stores appear to be a one-stop shop for all things rave and some of the locations even host "Friday Night Lights." When Lim was starting the company, he would host Friday Night Lights in the parking lot of an In-N-Out Burger where he'd play music out of his car and people would come and glove. Now that Lim has a successful business, he can go legit with a DJ playing music at his retail stores.
Lim is bringing gloving mainstream thanks to his company EmazingLights and it looks like the Sharks are going to help him continue on his goal. Now please excuse me as I try my hand in gloving.
Images: Michael Desmond/ABC; Giphy (2)