Is There Anything Real About 'The Royals'?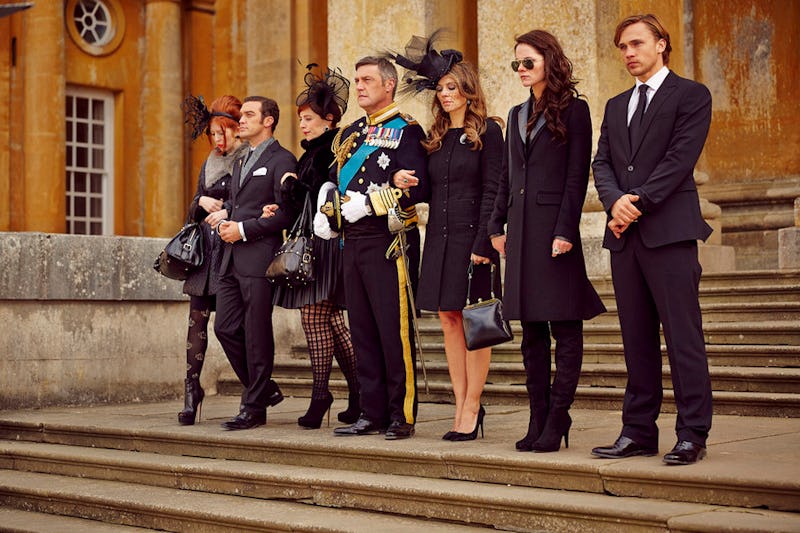 E!'s new original scripted series, The Royals, is ostensibly based on the lives of the British royal family. But the current Prince and Duchess of Cambridge, better known simply as William and Kate, aren't making headlines every weekend for their heavy partying. Actually, they barely make headlines at all, and even the coverage in the UK is pretty subdued, largely limited to basic announcements about places where they made appearances and what Kate Middleton wears. Even Prince Harry, who's better known for being a "crazy," rebellious royal, is practically comatose compared to the characters on E!. But is anything from The Royals based on facts? Well, there are some elements that try to be somewhat close to the lives of the real royals — the hats, mostly, and I suppose some of the pageantry that comes from a thousand years of tradition.
But there are way more elements that are pure fantasy, like the idea that a prince would ever date an American girl. There's not much in British history to suggest that would be acceptable, even as a secret. Just look at what happened to King Edward VIII when he fell in love with an American: The terrible Madonna directorial fiasco W.E., that's what. (Oh, and he was forced to abdicate the throne.) But there are a good deal of more accurate inspirations than the real royal family, and it seems like they'll add a lot more flavor than the largely stable royals.
Princess Diana
Technically, Princess Di was not a member of the royal family — she married into the Windsor family. But she's the only person even close to the royal family who's casually associated with the inspirations for this show, according to Vanity Fair.
Cruella de Vil
Yep, Elizabeth Hurley told E! Online that she wanted her character to have a little bit of Cruella. And not just because she loves to add a little fur to her costumes, either — Schwann says he loves having "Elizabeth has been very brave in approaching the more villainous aspects of the character." So this version of the Queen of England will be a little less prim and proper and a little more cutthroat. It's also good to know that she'll have a more adventurous fashion sense.
Hamlet
One element that's a little Shakespearian is the addition of an ambitious uncle who may have it out for Helena and her kids. That's a move right out of Hamlet, and let's hope it's able to wring the same amount of drama from that storyline as so many other storytellers have. Prince Liam's love interest is also named Ophelia, so...
Gossip Girl
The high fashion, old money, and soapy storylines are reminiscent of the CW series, and it's even been mentioned by Schwann as an inspiration for how to wend the high culture with the less-than-classy execution, according to Wet Paint. This proves the show might just be self-aware enough to make it work.
The Kardashians
When you think of the tabloids' most famous families, you don't have to even leave the E! Network. You actually don't even have to change the channel, because they're going to be airing back to back.
Image: Paul Blundell/E! Entertainment; Giphy (4)