5 Things I Need From Moschino's Bear Collection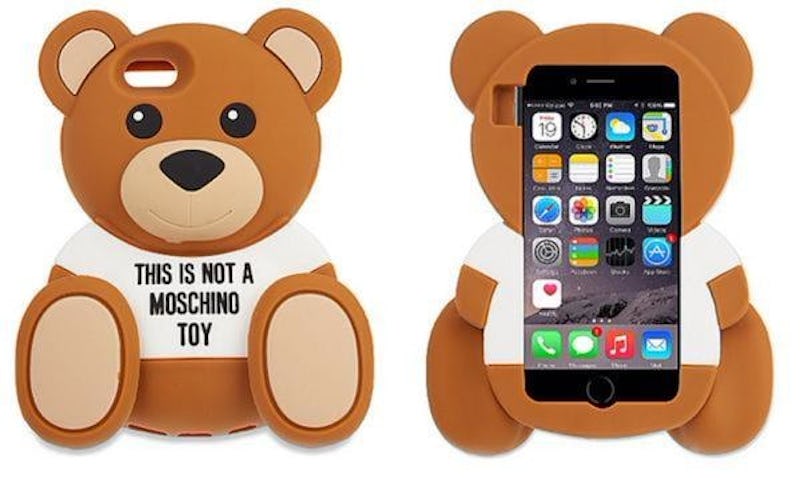 Jeremy Scott is back at it with his iconic, playful prints and this time it looks like a mix between Kanye West's Dropout Bear and the ever-so-adorable Paddington Bear. Whether you like it or not, here's my verdict: Moschino's 2015 fall bear collection is seriously too cute for anyone to hate on. That's right haters, just keep moving along.
Moschino's fall capsule includes eight different bags, a pair of earrings, a virgin wool scarf and a 3D iPhone case (compatible for the iPhone 5 and 6). The bags all vary in shape, design, and size so you've got some choices to make. Six out of the eight bags have a quilted print of the bear while the other two give you a fuzzy feeling. Literally. They're both made from cuddly polyester that just makes you want to bring your purse to bed with you. I'm definitely eyeing the Teddy Bear crossbody, but my favorite piece from this collection would have to be the iPhone case. I know, I know. It's super bulky looking, but I mean, lookatit! It's freaking adorable. But for real, here are my top five faves from the bear collection:
1. Virgin Wool Scarf
Imagine a monochrome outfit and having this scarf be your statement piece. So perfect!
2. Biker Jacker Shoulder Bag
The edginess really balances out well with fuzziness. I wish there was an actually biker jacker like this. I'd totally wear it everywhere.
3. Teddy Bear Earrings
I love the simplicity of these!
4. Teddy Bear Crossbody
Even though people might tell you to grow up while rocking this purse, I don't think I'd really bear, I mean care. Wink wink.
5. Teddy Bear iPhone Case
You can't possible lose your phone if it's this cute, right?
Images: Nordstrom (5)