A Ranking Of The 'RHoMelb' Witch Hats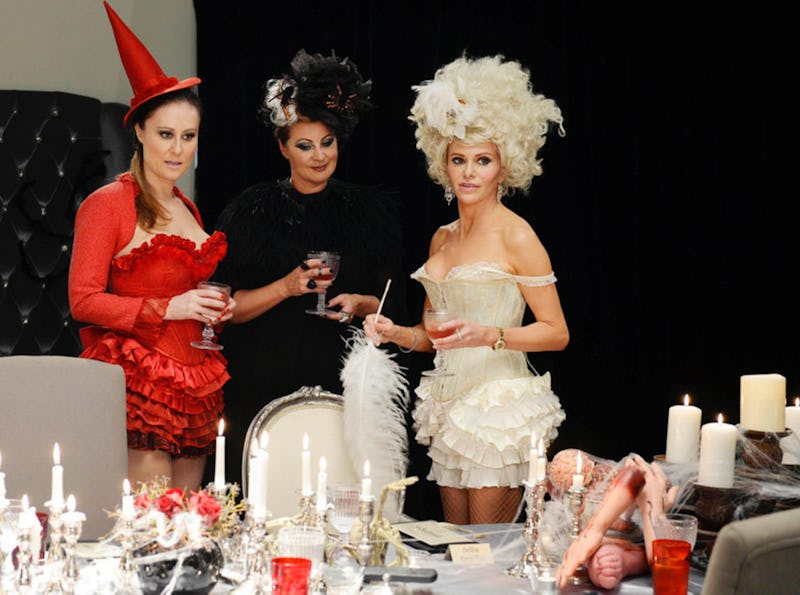 It might be because it's 90 degrees in my apartment (shoutout to springtime in Los Angeles!), but I was PERSPIRING by the end of Thursday night's episode of The Real Housewives of Melbourne. So many special things happened: Pettifleur said she wants a mirror on the floor of her car she so she can see her, and I quote, "landing strip" while she drives; Janet and Gamble argued about some stripper rumors, some call girl rumors, and some "sex party" rumors; all of the Housewives tackled a variety of accents during the dinner party; Gina placed an enormous fake spider on her head during the the dinner party; Chyka brought not one, but TWO fake cats to the dinner party.
What is this dinner party I speak of? Oh, it wasn't your run-of-the-mill, potluck-y get-together. New Housewife Gamble threw a witch-themed murder mystery party. I repeat: It was a witch-themed murder mystery party. It's as if this show knows the direct route to my heart. At the party, the Housewives, wearing their witchy finest, sat around a spooky dining table. They ate gourmet food made to look like intestines and severed limbs. They played a murder mystery game. They rolled their eyes at each other.
I realize what I'm about to say is a bold statement, but I'm going to say it anyway: The witch-themed murder mystery party might've been the most spectacular dinner party in Real Housewives history.
Anyway, I have some serious business to attend to. And that business is...
THE OFFICIAL RANKING OF THE HATS WORN TO THE WITCH-THEMED MURDER MYSTERY PARTY
#7: Lydia — I don't think she wore a hat. If she did wear one, I totally missed it. :(
#6: Gina — She also did not wear a hat. However, at one point, she did stick a giant fake spider atop her hair, so that counts for something.
#5: Janet — Really dug her classic witch hat + Morticia Addams wig combo.
#4: Gamble — Her actual feathered hair clip was underwhelming, but HER WIG! My goodness. What a glorious sight.
#3: Jackie — A classic witch hat, BUT RED. So fearless, so eye-catching.
#2: Chyka —There were MULTIPLE SPIDERS stuck in her wig. BEAUTIFUL.
#1: Pettifleur — She wore not one, but TWO hats. Never forget: Two hats are always better than one.
Images: Martin Philbey/Bravo (2)