Rebekah & Klaus Team Up On 'The Originals'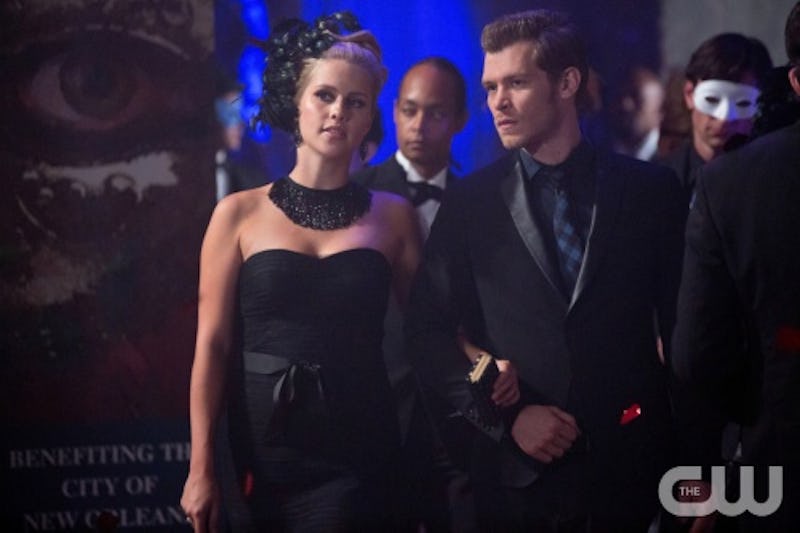 On this week's The Originals, Klaus still wants to rule New Orleans, and Rebekah still wants Klaus to fix the existing Elijah problem (i.e., go rescue him from Davina's lair). Predictably, 1) asking Marcel for Elijah politely won't suffice, and 2) Marcel looks very handsome all episode. We are then treated to an hour of Rebekah and Klaus's schemes. YES. The brother-sister duo teamwork is the stuff Hallmark Channel movies are made of… for a hot minute. The younger Mikaelsons can be oh-so Machiavellian at times (especially that Klaus), so this plotline was my bread and butter. Here's a rundown of the sibs' sinister plans:
Klaus knows there will be a "rousing of the witches" (don't ask) the night of Marcel's masquerade fundraiser, so he uses that to his advantage. Katie, the witch who runs the magic shop, is the object of vampire Thierry's affection. Thierry is Marcel's BFF, and Klaus is like, "watch me wedge my way in between you two n00bs." Enemies closer, et cetera. During the "rousing," Thierry pretends to give Katie grief, they say the L-word, and he leaves her to her magic shop.
Klaus has been creating new, compellable vampires. He compels one of his vampires to attack Katie right after Thierry leaves. Thierry rushes back and KILLS that vampire. I see what you did there, Klaus. Impressive. Marcel will have to punish BFF Thierry (he made the Quarter rules!).
Katie seeks out Sophie's help. Witchcraft may be illegal, but Katie loves Thierry and she must saaaaave hiiiiim. They do some magic and Katie is this close to exonerating Thierry AND killing Marcel… when Klaus swoops in and kills her instead.
Marcel eats this up and is like, "no new friends, THIERRY. Klaus is the only friend I need. I doubt he wants to overthrow me. Go stay in the torture garden for 100 years, THIERRY." Marcel promises he'll release Elijah, and Klaus can't stop patting himself on the back.
My number one lady, Rebekah, makes some big moves, too. She knows Marcel loves Camille the mortal bartender, so she invites her to the masquerade fundraiser. Don't fret, Rebekah isn't acting this way because she feels guilty about her initial interaction with Camille. She wants to use the mortal bartender to distract Marcel during the "rousing" mayhem/Davina madness. REBEKAH, you SNEAK!
Rebekah joins forces with the witches to mess with Davina, save Thierry, and locate Elijah. I wish I understood how this magic works, but I don't. I just know that it does. Until dumb Klaus mucks it up. Katie's death infuriates Rebekah and she is too pissed off at Klaus to congratulate him on his freshly-acquired status as Marcel's BFF.
Klaus counted his Elijah before he hatched from his coffin, unfortunately. Davina tells Marcel to bug off about the "let Elijah go" idea. Davina won't let Elijah go until she figures out how to conjure up a "original vampire-begone" hex. New BFFs mean nothing to Davina. She's got witchy shit to do. Will Davina get a spinoff? Davina should get a spinoff.
I miss Elijah, as does Hayley. When Klaus asks her why she admires Elijah so much, she replies, "he was nice to me." Well, that's a bummer. Here's another bummer: Hayley's unborn hybrid hybrid baby causes Sabine to chant in an unknown language. I'm going to go out on a limb and predict that that is the opposite of stellar news for Hayley (or the hybrid hybrid).
Photo: Bob Mahoney/The CW