Chris Soules Is In Mixed 'Bach' Company On 'DWTS'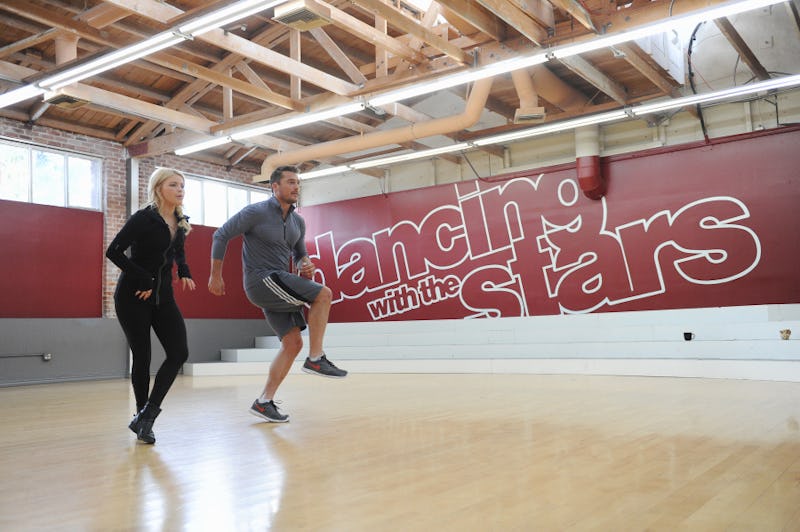 By agreed to join Season 20 of Dancing With the Stars, Chris Soules is joining a mixed bag of Bachelor stars seeing as he just completed a "successful" circuit on The Bachelor. The crossover history of The Bachelor and Dancing With the Stars has a varied range of success with the four other former Bachelor(ette)s who've donned sequins to dance with the likes of Tony Dovolani and Peta Murgatroyd: One made it to the semi-finals and then took home the championship in an All-Star season; two were eliminated early but are still married to their chosen Bachelor(ette) partner; and one was pretty disastrous on both fronts. It could be Chris who finally gives us the ABC Biathlon gold medal — a successful Bachelor(ette) relationship plus a Mirrorball trophy, of course — that I'm sure we've all been dreaming of.
Chris himself called his inclusion as the mystery 12th contestant on DWTS ' 20th season, "the worst, best secret ever" along with the announcement on Good Morning America following The Bachelor finale. He could mean that he's rightfully terrified of learning professional-level choreography on live national television, but more likely he means that everyone and their Bachelor-watching mom knew that Chris was going to be the final "mystery" contestant. Chris doesn't exactly have a huge name to live up to in the dance department as a Bachelor crossover contestant, so he stands a pretty even chance to reach anywhere from the highest heights of former Bach contestants (a former Dallas Cowboys cheerleader), the middlest middles (y'know, Sean), and newly-discovered lows...
Trista Sutter
As of now, Trista Sutter is the Bachelor Nation alum to have finished the lowest on DWTS, which hardly counts because she was on the first season of DWTS when no one knew what was going on, and she was coming off the first season of The Bachelorette when the show was yet to be considered a national love sport. And everyone loves Trista. Everybody seems to like Chris too, but that could go south pretty quickly if his moves prove to be as disjointed as his syntax.
Melissa Rycroft
Melissa Rycroft is actually the only DWTS crossover to ever not hold the title of Bachelor(ette) herself. She was merely the chosen final contestant on Jason Mesnick's season of The Bachelor. So what could have earned her to spot over him? Well, somewhere around the time that Jason proposed to Melissa, then decided he'd rather get with runner-up Molly Malaney, broke up with Melissa, and started dating Molly, the tables really turned in favor of Melissa as the protagonist of the season. And the turn of fortune followed her to DWTS. She placed third in her original season with partner Tony Dovolani, and the two were partnered back up again for Season 15's All-Stars when they finally took home the Mirror Ball.
Jake Pavelka
Never forget Jake "On the Wings of Love" Pavelka. His Final Rose represents the regret that Chris was trying to avoid all season long, as we can safely say, Jake's choice of romantic partner was kind of a disaster in the end. During the time that his engagement to Vienna Girardi was blowing up in his face, but shortly before his run on Bachelor Pad, and way before his stint on Rachel vs. Guy Celebrity Cook-Off, Jake Pavelka was eliminated fifth on Season 10 of DWTS with partner Chelsie Hightower. Jake really wasn't that bad of a dancer, but unlike on The Bachelor, the fanbase of DWTS plays a role in who stays and who goes.
Sean Lowe
Which is why it was a little surprising when sparkly-eyed Bachelor extraordinaire, Sean Lowe, was eliminated sixth in Season 14 of DWTS. Sean was plenty likable but the professional moves just weren't there. Sean's finish (Mirror Ball, no; ABC wedding, yes) seems like the likeliest outcome for Chris, but the farmer promised on Good Morning America, "I can dance better than I can sing."
Yes, but how do you look in sequined fringe, Chris?
Image: Aaron Poole/ABC