Tom Schwartz Gives Katie A Ring At 'VPump' Reunion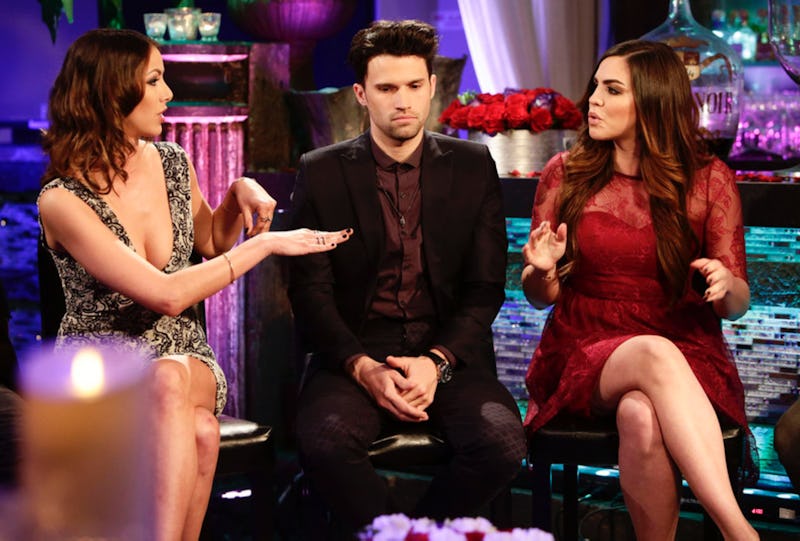 Tom Schwartz is 2/2 for the proposal fake out. Approximately five and a half months before they taped the Vanderpump Rules reunion, the cast filmed the Season 3 finale/SUR 10th anniversary party. And at that SUR party, Katie presented Tom Schwartz with a ring on a string. Wait, no. I jumbled things up. Let me try again. At that SUR party, Katie presented Tom Schwartz with an ultimatum: propose in six months...OR ELSE.
Fast-forward to Monday night's reunion special: Andy Cohen brought up The Ultimatum. Tom Schwartz acknowledged that the time limit set by his longtime girlfriend was almost up. Without missing a beat, he took Katie's hand annnnnnd...
...put a cocktail ring on her finger. He asked if she'd continue to be his girlfriend. Well, then. And so it is. At the very least, I hope he warned Katie beforehand.
What's that? You want to know if I've imagined how that conversation might go down? Funny you should ask! Here's a Katie/Tom Schwartz pre-reunion convo that I totally made up:
T: "Hey, you know they're going to ask if we're engaged yet. I don't want to propose at the reunion, because come on, but I think it'd be good TV if I pretended like I was going to do it. Is that OK? Let's at least have a little fun with this."
K: "Seriously?"
T: "Hey, at least I didn't do it without warning you. I learned my lesson with the ring on the string: No more proposal fake outs! No more getting your hopes up only to smash 'em into smithereens!"
K: "Let's just say we're not engaged and leave it at that. I don't want to make this a thing. I'm so sick of this being a thing."
T: "No, no! Turn that frown upside down, Bubbie. I promise I'll pop the question eventually, Bubbie."
K: "But when? You keep putting this off. I'm a patient person, but I have my limits."
T: "Come on! I can't tell you when. I want it to be a surprise."
K: "Fine. But you know the longer you wait, the higher my expectations are, right?"
T: [Holds up Gordo the dog] "Do you hear that Gordo? She expects a lot out of us! That's a compliment!" [Waves Gordo's paw at Katie]
K: "Don't drag Gordo into this. He had nothing to do with that ring string debacle. This is all on you, buddy."
T: "Wait, can I see your hand? I want to make sure this pinky ring fits your ring finger.
K: "We're really doing this fake out?"
T: "Come on, just give me your hand. If it doesn't fit, the gag won't work."
K: "You are lucky you are so cute."
T: "Bubbieeeeee, you're the cute one!"
G: "Woof woof!"
THE END.
Image: Nicole Wilder/Bravo