Is This The New 'Fault In Our Stars'?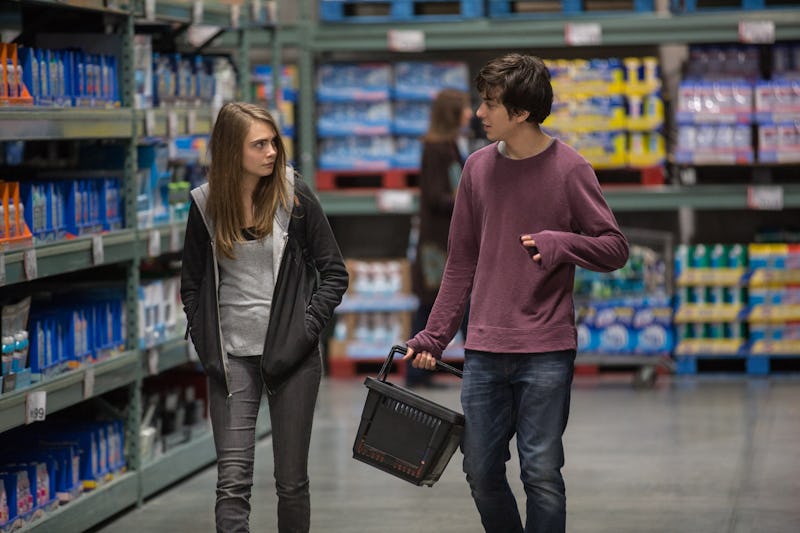 John Green made a name for himself with The Fault In Our Stars, the coming-of-age/romance/too-emotional-for-words tale of two damaged teens falling in love. The film version starring Divergent stars Shailene Woodley and Ansel Englort brought us all to tears (assuming you weren't painted black and listening to Evanescence at the time) and boosted the celebrity stock of both of these actors. So, what's next for John Green? An upcoming Paper Towns adaptation that's already looking like it'll be the next TFIOS.
The third novel from this best-selling author is getting a movie adaption come July 24. Instead of a 16-year-old cancer patient falling in love with her fellow support-group mate, however, we get a young man learning the harsh realities of first crushes. Instead of Woodley, we get model-turned actress Cara Delevingne as a untamable wild child. Instead of Englort, we get his Fault co-star Nat Wolff as her previously mentioned lover from afar. We got our first look at the duo today through stills from the film and a quick tease of the trailer, but we'll get more meatier footage tomorrow.
The teaser:
And the stills...
In anticipation of what we might see from the highly anticipated film, here's everything you need to know about Paper Towns and why this should be on your must-see list for the year.
1. First of all... It's John Green!
Now, I'm not saying that anyone could ever replace Nicholas Sparks... but John Green is the new Nicholas Sparks. Hollywood is only in the beginnings of adapting his work for the big screen, but as more audiences — especially the young-adult crowd — digs their claws into these modern tales of romance and coming-of-age angst, industry execs will practically be begging for more.
2. This Is Not A Rehashing of The Fault In Our Stars
While I'm sure many fans are pining for Hollywood to make a sequel to The Fault in Our Stars, that's not what Paper Towns is. As Green told USA Today, "Hollywood is so used to franchises. But this is not a series. [Paper Towns is] an unrelated story that's beautiful and funny, and has a big heart."
3. It's a Warm Up for Ms. Delevingne
Delevingne has sashayed down some of the most highly sought-after runways as a model, including alongside Kendall Jenner for Karl Lagerfeld. But she's now pursuing more acting gigs, notably landing a star-making role in David Ayer's DC comics movie Suicide Squad , in which she'll play the magic-wielding Enchantress. Paper Towns will allow audiences to get better acquainted with Delevingne's dramatic side before she bands together with the likes of Jared Leto (The Joker) and Margot Robbie (Harley Quinn).
4. Nat Wolff Is Finally Getting More Screen Time
You might not know the name, but we're sure you've seen Wolff in something over the years. If it wasn't in Fault, it was likely in that small James Franco- Emma Roberts-led Palo Alto, Stuck in Love with Greg Kinnear and Jennifer Connelly, or — and this is a blast from the past — the Nickelodeon TV series The Naked Brothers Band. Wolff is all grown up now and ready to be taken as the serious actor he is.
5. This Is Not Your Typical Love Story
As we move further into what can be referred to as the post-Frozen age, moviegoers want to see more realistic portrayals of young love. Spoiler alert: the classic fairy tale ending most often doesn't work out that way. Instead of the age-old "boy meets girl" love story, Paper Towns takes a unique look at young love: Q (Wolff) secretly loved his longtime next-door neighbor (Delevingne) from a distance. After one adventurous night, it seems like they become closer than ever. However, when she vanishes without a trace in the harsh light of the next morning, Q realizes that "girl of your dreams" trope might be a red herring after all.
6. The Same Guys Who Wrote Fault Are Back
Green may have teenage audiences wrapped around his finger, but if you fell in love with the film adaptation of The Fault In Our Stars, you're gonna want to thank Scott Neustadter and Michael H. Weber. This is the duo who had the arduous task of writing the screenplay for Fault from the beloved book, and they did the same thing again with Paper Towns. Of course, Green had his influence as the creator. But after seeing their first attempt, I'm on board for whatever they cook up.
7. Delevingne Is Just Delightful
It's hard to believe Delevingne is only 22. (Let's chalk it up to the fact that she looks so fierce when she "smizes" down the catwalk.) If you need a reminder, check out her popular Instagram. In addition to posting our first preview of the upcoming Paper Towns trailer, she is constantly showing off her lovable quirks and incredible model lifestyle. She even got to meet Ben Stiller and Owen Wilson after their Zoolander 2 stunt at Paris Fashion Week. Seeing Delevingne in more projects is not a bad thing at all.
Images: 20th Century Fox