Cure 'Broad City' Finale Blues With The Web Series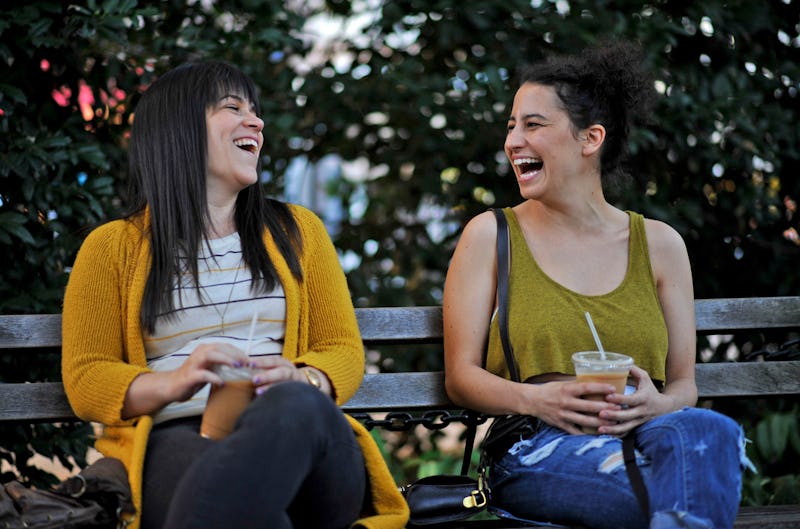 A terrible thing is happening in the world, dear readers: Broad City Season 2 is coming to an end. The finale airs Wednesday on Comedy Central, and it means we've got a long, long wait until Broad City graces our lives with its beautiful presence for Season 3. The show's had a remarkably strong first two seasons on our televisions, but perhaps the closing of another chapter in the series' history can be used as an excuse — to look back at where this series came from. Because Broad City did not just burst forth perfectly formed on Comedy Central: The road to air was long and complicated, and it all started when Abbi Jacobson and Ilana Glazer started their very own Broad City web series — with tons of genius episodes — about 5 years ago.
So let's look back at that web series now, because while the Comedy Central series may be a blessing itself and has undoubtedly brought the world great joy, the web series was great in its own right as well. And now, looking back, the videos preserved on their YouTube channel feel like a tunnel to an origin story we should all embrace. It's rougher, but the show we love is nestled right at its center, just waiting to happen.
So now's the time to re-explore some of the most memorable episodes of Broad City the web series. We've gotta fill our pining time until the Season 3 somehow.
The Very First One
Broad City: Origins.
"Abbi Gets Back Into Pot"
Some of the plot lines from the original web series very much mirror what would eventually go down on the show. Case-in-point: When Abbi decides she has to be responsible for buying her own pot.
All The Apartment Parties
We've seen Abbi and Ilana go to parties both awkward and amazing.
Dog Sitting Shenanigans
Another plot that would make it to Comedy Central in the first season: Tales of the girls dog sitting.
The Awful Couple
And if you want an early glimpse at Jacobson and Glazer writing their specific kind of New York wackadoo, look no further.
"Laundry"
One of my favorite of the original web series, in which Ilana starts sleeping with a guy solely because he has a laundry machine in his apartment. Girl's got priorities.
"The Things They Carried"
One of the most real depictions I've seen of best friends going through a rough day full of obligations and just deciding to ditch it.
Brunch With the Moms
One of the things Jacobson and Glazer are great at writing: Moms, even when it gets ugly. This episode also features Paul W. Downs, who plays Trey on the Comedy Central show.
That Do The Right Thing Homage
Another personal favorite. Dare I say it's a classic? Rarely have creepy strange men been portrayed so accurately, with such a colorful payoff (which happens to be a callback to Spike Lee's Do The Right Thing).
Subway Funtimes
That Season 2 opening sequence of the girls making their way through subway cars called back to the web series' "I Heart New York," which featured (Broad City TV show executive producer) Amy Poehler and Kristen Schaal and a whole lot of New York City. Oh, and watch out for that cameo for a pre-SNL Sasheer Zamata and a pre-Bevers John Gemberling.
Image: Comedy Central