A Rare 'Catfish' Happy Ending Is Happening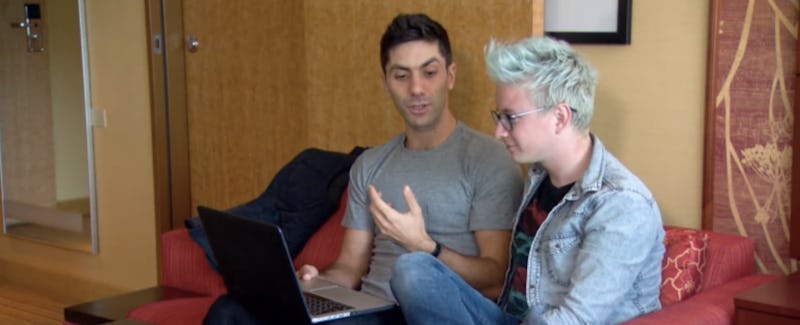 I haven't been crazy about the Catfish guest hosts so far this season, but Tyler Oakley is the exception. On this week's edition, Tyler complemented Nev perfectly — especially since the show tackled an even stranger situation than usual. Daisy, a sweet girl who was looking for a lasting relationship after dealing with the deaths of her sister and her father, has been talking to a cute guy she met on Instagram named Marcus for years, and despite the fact that she's sent him thousands of dollars in gifts, he refuses to talk to her on the phone or video chat her. This obviously sounds like bad news from the get go, but for once, this show actually surprised me. In "Daisy & Marcus," Catfish gave us a very rare happy ending.
For a long time, it didn't look like that was going to happen, though — like, at all. Nev and Tyler were prepping Daisy for the worst, especially since Marcus backed out of meeting her twice before he actually showed up at the park he was supposed to meet them at. A dude who won't talk on the phone, won't video chat, and doesn't want to meet the girl he's been talking to all these years? Um, yeah, he's totally not who he says he is. Except for the massive surprise at the end: Marcus is actually exactly who he says he is, he's just a little shy.
There was only one heartbreaking moment in the episode, and it was finding out that Marcus is only interested in Daisy as a friend. It's a bummer, since she started out the episode saying she was hoping for a ring from him, so even though she didn't let it show, it's clear she probably had to deal with some hurt feelings after the fact.
It's true that Daisy might not have the support at home that she needs (especially from her mom) but it definitely sounds like she's found a lifelong friend in Marcus. It's a bummer that it didn't blossom into a relationship like she was hoping it would, but at least she wasn't being lied to!
And for the record, I can't blame Daisy's mom for getting a little sassy. If my adult daughter was hitting me up for cash to send gifts to a random dude she met on the internet — including but not limited to a camera that cost $1,000 — I'd be pretty pissed, too. Daisy, go hug your mother. And, um, maybe work on paying her back.
Image: MTV