Ranking The 18 'Bachelor' Finale Dresses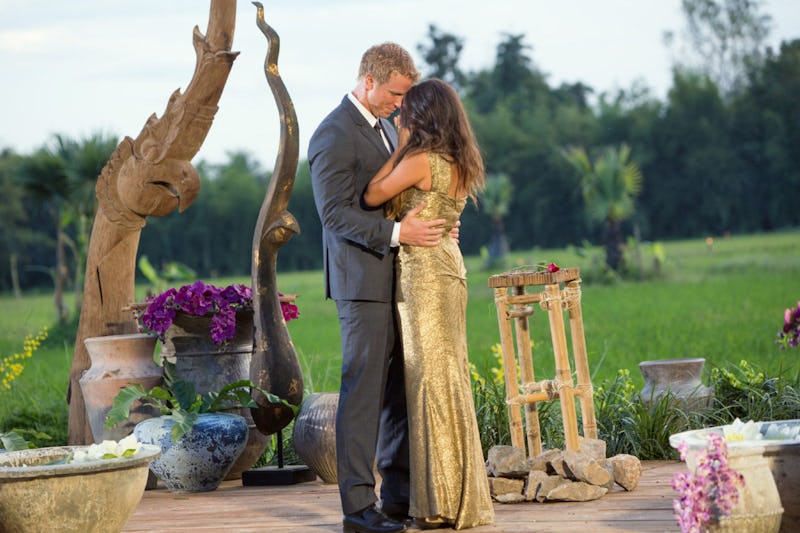 One of the best parts of any Bachelor finale is seeing which dresses the contestants are given to wear to their possible proposal. It's the only time during the show that an outfit is provided for them, and, as such, it's usually a lot nicer than the average rose ceremony attire. With 19 seasons of extravagant gowns under its belt, what better way to celebrate the show's stunning fashion than by ranking The Bachelor finale dresses?
Usually, the women on the show are allowed to wear all their own clothing for dates, rose ceremonies, pool parties, etc. But for the final episode, the show provides the final two contestants with glamorous designer dresses, instead. In recent years, producers have even used the gowns to tell a story, like during Sean Lowe's finale when Lindsay Yenter wore a silver dress and was runner-up, while Catherine Giudici wore a gold dress, and won the show. OK, so that was a coincidence. But maybe it was also a psychic at work.
There have been a lot of lovely dresses over the past 19 seasons, each emblematic of the changing fashions as the years have gone by. Here's my definitive ranking of the best of the finale outfits from each of the winning ladies.
18. Shayne Lamas
Usually, Bachelor finale gowns are red-carpet appropriate, but Season 12 had contestant Shayne Lamas go really short. As a result, the outfit felt kind of high school dance-esque, though she still looked beautiful.
17. Amanda Marsh
This burgundy crochet dress feels very 2002, which is when this Season 1 gown hit the screens.
16. Estella Gardinier
Season 4 marked the first of many times that the finale dress was a basic black gown. Gardinier's dress is certainly pretty, but it's also fairly average. (Though you gotta love those 2003-style spaghetti straps.)
15. Jessica Bowlin
Bowlin kept things boho-chic in Season 5 with this creme lace dress (and no shoes)!
14. Jennifer Wilson
Season 9 played with texture, giving the little black dress a glittery, beaded makeover.
13. Whitney Bischoff
Bischoff's navy gown in Season 19 was certainly stunning, but felt a little out of place for her barnyard proposal.
12. Courtney Robertson
Although Robertson's Season 16 Alberto Makali dress is one of my favorite of the black Bachelor gowns, the leather gloves make this look a little over-the-top.
11. Sarah Brice
Brice's plunging Season 7 dress was basic, but had just the right amount of detail to make it shine on screen.
10. Tessa Horst
For The Bachelor's 10th season, the show branched out a little and went for some color with this soft mint gown.
9. Jenn Schefft
Season 3 took place in 2003, which makes total sense when you look at this chiffon slip dress with tiny straps. It's a blast from the past, but also just a really pretty gown. I especially like the subtle branch pattern around the waist.
8. Emily Maynard
For Season 15, Maynard was pretty in pink, and the dress suited her complexion perfectly.
7. Sarah Stone
This emerald dress literally shone during Stone's Season 8 finale episode. It was a definite statement gown.
6. Nikki Ferrell
Season 18's Nikki Ferrell went bold with this blue dress and a thigh high slit. She didn't win a ring, but she looked gorgeous.
5. Catherine Giudici
For Season 17, The Bachelor went big with this shimmering golden gown. I love when the show uses color for their finale dresses because they pop so much more.
4. Mary Delgado
Season 6 put Delgado in this slinky black gown. She wore the number really well, keeping it classy and sexy at the same time.
3. Vienna Girardi
In Season 14, Girardi expressed her desire to have a dress inspired by the ocean and the sky. Of all the finale dresses, I think this flowing blue gown fits the proposal scenery the best. She looks like a true ocean princess.
2. Helene Eksterowicz
I love how unique this Season 2 dress is. While she looks casual, she also looks elegant, and the red piping makes the black dress pop.
1. Melissa Rycroft
She may not have kept Jason Mesnick's heart, but Rycroft's Season 13 Grecian gown was stunning. That color on her tanned skin, and the silhouette, were so flattering. So, all other finale drama aside, at least Rycroft had the winning gown.
Images: Craig Sjodin (9), Nicole Kohl, Adam Larkey, Dave Hagerman (2), Mitchell Haaseth, Mark Brendel, Mark Wessels, Rick Rowell, Nick Ray, Matt Klitscher/ABC