Relive 'The Bachelor's Most Shocking Finales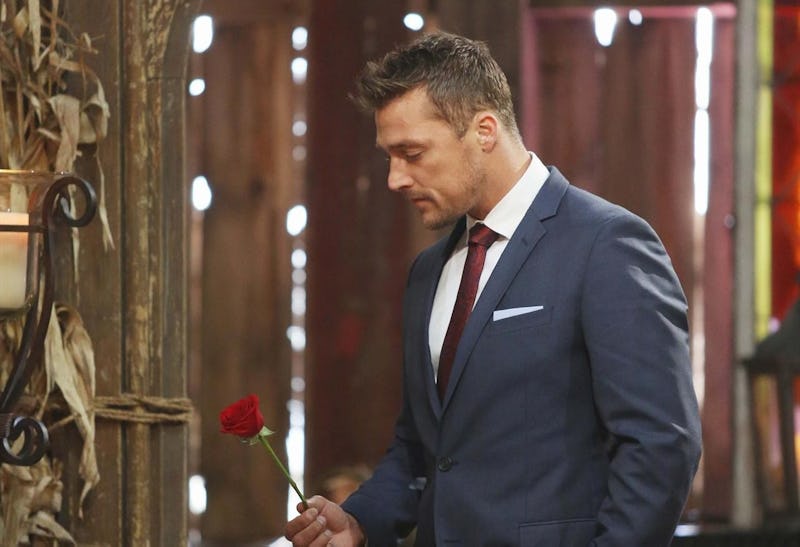 Every season The Bachelor host Chris Harrison promises that the show will deliver drama and shocking twists like fans have never seen before. Sometimes he's right, and sometimes he's wrong. There really have been some shocking Bachelor finales over the years. But there have also been some predictable (though still sweet) proposals through the show's 19 seasons.
Being a Bachelor fan, you know that seasons can go in a number of directions, depending on who's steering the ship on this journey to love. Sometimes you get someone who is a total shocker of a Bachelor (like Juan Pablo); other times you think you know what the Bachelor is about only to find out that the women are the ones rocking the boat (like on Chris Soules' season). And as much as Bachelor Nation loves all those shocking proposal twists, occasionally it's even nice to just see a happy couple emerge from the final rose ceremony (hey, Chris & Whitney!).
But with 19 seasons under its belt, and with Chris Harrison always promising new and exciting twists, I decided to take took a look back at the Bachelor finales and rank them according to their drama factor. Here are all the biggest rose ceremony moments, from least to most shocking:
19. Season 6: Byron Velvick
Velvick proposed to Mary Delgado in a super romantic way. He learned Spanish so he could tell her his feelings in a language her Cuban parents would understand. It was precious, and one of the sweetest Bachelor proposals ever. Although it ultimately didn't work out, the pair did date for five years which is a pretty long time in Bachelor-land.
18. Season 19: Chris Soules
He may not have had a bilingual proposal, but his words to Whitney were still pretty sweet. "It's not work; it's natural and we both want the same thing," he said before proposing. "It feels so right and so perfect. That's what I want for the rest of my life. I love you." The pair seems to be happily engaged and the finale didn't break our hearts because runner-up Becca seemed pretty at peace with things both during her elimination and on the After the Final Rose special.
17. Season 2: Aaron Buerge
Helene Eksterowicz became the proud recipient of a two-carat engagement ring during her finale, which was a big deal because Buerge purchased it himself rather than rely on the show-provided ring. Unfortunately they didn't go the distance, breaking up a few weeks later. But it was nice while it lasted!
16. Season 10: Andrew Baldwin
Baldwin proposed to Tessa Horst during the drama-free finale. "I've always imagined this day, and this is beyond my wildest dreams. Tessa, will you marry me?" he asked. When she said yes he scooped her up and spun her around. It was a Bachelor proposal of fairy tales, and just the third-ever proposal on the show. They didn't make it much longer, but they were really happy for a little while!
15. Season 17: Sean Lowe
Although he started things off on a bad note when he told the eliminated Lindsay Yenter that he did love her (ouch), his proposal was more sweet than it was shocking. He and his new fiancee Catherine set off into the sunset on the back of an elephant and appeared even more in love during their After the Final Rose special. Although Lindsay was disappointed and confused at her rejection, she handled everything with grace. This finale went about as well as it could possibly go.
14. Season 3: Andrew Firestone
His finale was pretty average with a nice, sweet proposal to Jennifer Schefft. "Jen, I love you. I think that we fit perfectly together and I look forward to a life of adventure, happiness, and family," he said when he got down on one knee. The finale did pack a little bit of a punch, though, when the eliminated Kirsten Buschbacher sobbed all the way home. She had a rough finale, with Andrew's family suddenly questioning whether she was really over her ex-boyfriend.
His brother Adam grilled Kristen and then reported back to Andrew that he didn't think things were done between the two, despite Kristen's protests. Ultimately Andrew sent her packing. "I have so many pieces to pick up right now," she said during her limo exit. "Right now he's proposing to Jen and it makes me want to throw up."
13. Season 12: Matt Grant
Grant's family really put his eventual choice Shayne Lamas through the wringer during the emotional finale. "When I first saw Shayne I thought, 'Wow, beach blonde hair...'" his brother Simon said. "To be honest, I didn't think she was very 'Matt' at all." But Shayne handled the third degree the family gave her very well, and eventually said "yes" to Grant's proposal on one condition, "That you will never look at another woman for the rest of our lives. Because you have looked at way too many during our relationship." (That ultimatum probably wasn't the best idea, as they broke up a few months later.)
But the runner-up Chelsea was not nearly so gracious when she was rejected, straight-up arguing with Grant. "I don't understand! To me [Shayne] was the falsest person here!" she shouted. This led to an uncomfortable back-and-forth where Grant was forced to defend his soon-to-be-fiancee: "You know what? She isn't," Matt said brusquely. "The individual that I know is fairly different from the individual you know." Yikes!
12. Season 14: Jake Pavelka
His finale shocked fans because Pavelka walked away from fan-favorite Tenley Molzahn and instead proposed to the season's "villain" Vienna Girardi. They seemed pretty happy at the time though, so it still wasn't the most dramatic finale.
11. Season 4: Bob Guiney
Rather than proposing to Estella Gardinier, Guiney just offered her a promise ring saying that he wanted to continue his relationship, but not commit to marriage quite yet. His promise lasted only a few months before he dumped Gardinier via phone call. Ouch. At least they always have that touching non-proposal to remember fondly?
10. Season 9: Prince Lorenzo Borghese
Poor Jennifer Wilson didn't get a proposal during her finale. Instead Prince Borghese offered her the final rose and a "family ring" (one his mother had designed, but decidedly not a promise ring) and asked to keep dating her back in New York. After admitting that everything was "so overwhelming" she accepted his offer. (They ended up breaking up a couple of months later.)
9. Season 1: Alex Michel
The original Bachelor didn't set a proposal precedent for the show. In fact he proposed to neither girl and rejected America's sweetheart Trista Rehn Sutter. It was a move that shocked even host Chris Harrison who had been told hours before the proposal that Michel was planning on picking Trista, only to change his mind and pick Amanda Marsh at the last minute.
8. Season 5: Jesse Palmer
Palmer didn't give a promise or engagement ring to either girl, but that's not what made this finale shocking. Usually the loser arrives first to be dumped, and then the winning lady arrives second so the Bachelor can end his day on a good note. Unfortunately, runner-up Tara Huckeby had asked her limo to stop so she could throw up, and the winner's limo arrived first. Palmer explained to Jessica Bowlin that while he couldn't propose he wanted to keep seeing her, and she agreed. Then he sent her into the mansion to wait while he broke up with Tara. Things went from bad to worse when Tara arrived with Jessica watching the whole scene unfold from the window of the mansion.
Tara foolishly told Palmer, "I don't want you to say anything." Then she barrelled into a speech about how perfect they were and how much she loved him and wouldn't let him get a word in edgewise to tell her he'd already made his pick. When he finally did fess up, Tara got angry. "I really wish that you wouldn't have led me on the way you did and said things that you did," she said before dropping hints that the two had gotten intimate in the Fantasy Suite by berating him for his "inappropriate" actions.
It was a dramatic and shocking finale all the way around, and in the end it wasn't even worth it because Palmer and Bowlin split several weeks after the finale aired.
7. Season 8: Travis Lane Stork
Stork set a record when he became the first Bachelor whose relationship hardly even made it to the finale. (They broke up a week after it aired.) Stork didn't propose to Sarah Stone, instead choosing to keep dating. But the pair couldn't even make it to the After the Final Rose episode, and broke up while the show was still airing. The pair cited the time apart as what did them in. Despite the fact that they both lived within walking distance of each other in Nashville, they were forced to ignore each other in public. Stork told The Tennessean that this ate away at the romance they had.
I remember one day Sarah was running down the street, and I walked out my front door on my bike and I instantly saw this person darting across the street, through traffic. I'm like, "That's Sarah. Do I look, do I not? What do I do?" Of course, what do I do? I bike in the opposite direction. It's strange to have to live that way.
6. Season 15: Brad Womack (The Second Time)
During his second stint on the show, Womack had the opposite problem from his first season. He was falling in love with both the women and couldn't choose. Ultimately he did end up picking Emily Maynard, and everything looked like it was going to end well. Then came the After the Final Rose special.
It was during this that America got to see how broken the pair's relationship was. Not only was Womack really awkward around Maynard, but she couldn't see herself moving to Austin to be with him, or even marrying him at all any time soon. Add to that the fact that Womack seemed to get along much better with runner-up Chantal O'Brien, and it was just bad news. "It's certainly not all roses," Maynard said in the understatement of the year. Shortly afterwards the pair split for good and Maynard became the next Bachelorette.
5. Season 18: Juan Pablo
Oh, Juan Pablo. Surprisingly, his finale is not the most shocking of the series, but it did have its moments. Like when he said something so sexually graphic to Clare Crawley that it made her question her entire future with him. (Basically he told her he loved having sex with her, but he didn't love her.) But things got even worse when he rejected her and then tried to go in for the hug. She didn't let that happen, thankfully, but she did leave very angry.
Then Juan Pablo told Nicki he liked her... a lot. But he didn't say the L-word or propose. During the After the Final Rose special things got super uncomfortable when Juan Pablo was rude to Chris Harrison and refused to say he loved Nicki. Juan Pablo made the finale rather awkward, but it did end in a relationship. Plus Nicki seemed kinda happy, so that lessens the shock factor a bit. At least she had a good night!
4. Season 16: Ben Flajnik
Flajnik ignored the warning signs all season and proposed to Courtney Robertson during his finale. She was dubbed the villain early on in the season, but of course Flajnik didn't see that side of her until things aired, and then their relationship went swiftly downhill. Robertson later admitted that they broke up before The Women Tell All, but got back together before the After the Final Rose special to give things a shot.
It was a hard reunion to watch. It was clear Flajnik was still very angry at his fiancee and the tension in the room was depressing. Instead of celebrating a happy union, the two of them were teary-eyed as they explained they didn't know what the future held for them. They actually ended up lasting for a while, but in the end, broke things off for good.
3. Season 11: Brad Womack (The First Time)
Womack pulled a stunt no one had done before, and that no one has done since: He rejected both the women. That's right: no engagement ring, no promise ring, no hope that they could keep dating. He sent DeAnna Pappas and Jenni Croft home in tears and became one of the show's most-hated Bachelors until he kinda redeemed himself in Season 15.
2. Season 7: Charlie O'Connell
O'Connell decided that as the Bachelor, he could make up his own rules, and so he proposed to both women. While he didn't give them both rings, at the end of the show he told them that he wanted to keep dating both of them. For some reason the women said "yes" to this arrangement, and they dated for another few months while the show aired. Then on the After The Final Rose special he made his selection with his informed knowledge and extra time. But he still didn't propose, instead asking Sarah Brice to keep being his girlfriend. Again, for some reason, she said "yes" and the pair dated on and off for the next five years.
1. Season 13: Jason Mesnick
Good old Jason Mesnick pulled one of the most shocking finale moments ever. Although he originally proposed to Melissa Rycroft, during the After the Final Rose special he conceded that he made a mistake. Then he proceeded to break up with Rycroft on live national television and told runner-up Molly Malaney that he'd rather be with her. She accepted his new offer because she was still very much in love with him. It was a startling finale to watch, but Jason and Molly are so happy today that I've kind of forgiven him for truly being the most shocking Bachelor in history.
Images: Craig Sjodin (8), Nicole Kohl (2), Adam Larkey, Dave Hagerman, Mitchell Haaseth, Mark Brendel, Mark Wessels, Rick Rowell, Nick Ray, Matt Klitscher/ABC; Screengrab/ABC; Getty Images