Good News For Qaasim on 'Idol'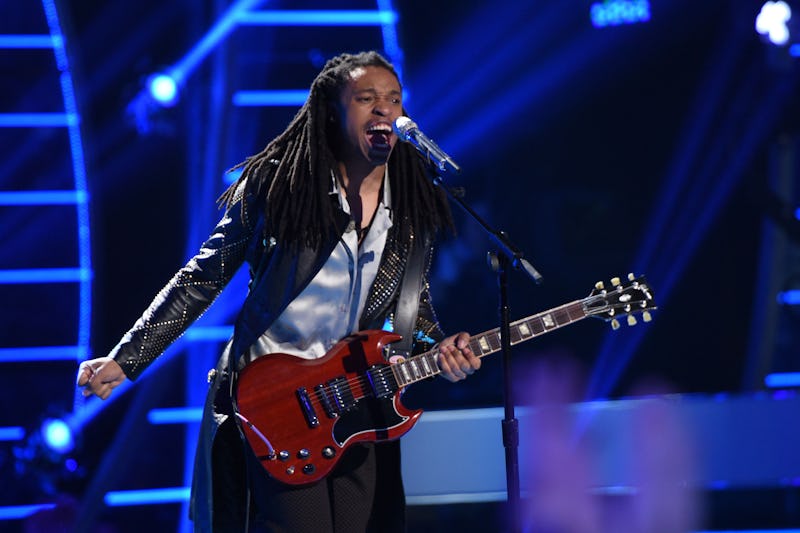 The American Idol judges get one save of the season — and they just used it. Qaasim Middleton received the least number of votes after last week's Top 11 performance and had to sing for his life on tonight's live show. The 20-year-old took a risk in performing a Beatles' classic, but it totally paid off. His performance blew away the judges and earned him the coveted the save — and he totally deserved it.
Middleton has been in a league of his own this entire season of Idol. His performances are always over-the-top, but in the best way possible. Tonight's performance was no different, and that's what ultimately earned him his second chance. His performance of "Come Together" of Across the Universe was truly movie worthy — the vocals were good, but the theatrics were even better. From the props to the microphone stand drag to the MIC DROP, Middleton put on a true rockstar performance and left everything he had on the stage. His performance was insane but amazing, and that's what earned him the title of the best performance of the night from the hard to please Harry Connick, Jr.
The Brooklyn native's save was well deserved. Middleton brings an originality to Idol that it's really lacking this season. So many of the contestants are young, inexperienced, and boring — and Middleton is none of those things. Sure, 20 is pretty young, but not in the music industry. He has professional experience under his belt — and even an IMDb page. And we can all agree that he is the farthest thing from boring. Middleton will not win this competition — it's clear that the voters are not fans of his unique style — but it speaks volumes that the judges believe in him enough to use their save this early on in the competition. Hopefully Middleton can survive a few more weeks on the show, because I'll never get tired of his crazy performances.
Image: Michael Becker/FOX