Maddie and Rachael Battle for a Top 24 Spot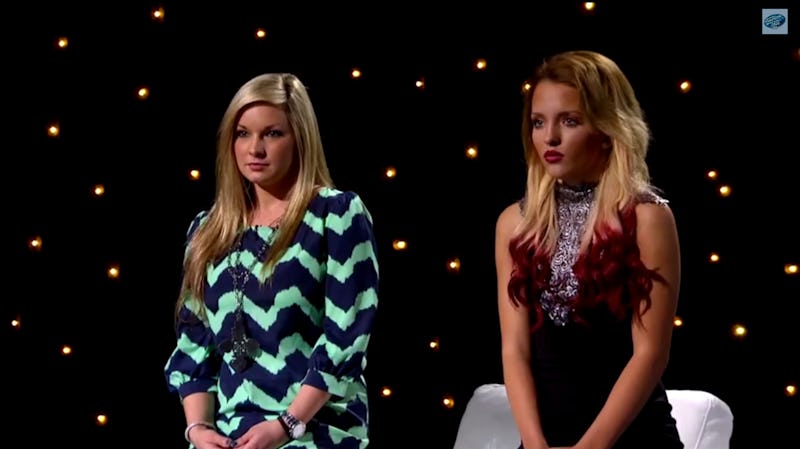 It wouldn't be the Top 24 with out a heavy helping of drama. The American Idol judges couldn't live with their choice to send Maddie Walker home after her showcase performance at the House of Blues. So instead of being forced to live with doubt over whether or not they made the right decision, they decided to put Walker in a sing-off battle against Rachael Hallack. Thankfully they did, because Walker won the sing-off and earned herself a spot in the Top 24 — and I have a lot of problems with that.
I can see why the judges put these two singers against each other — they're both country singers, have a similar look, and have clear weaknesses in performing. Though 16-year-old Walker performed consistently well during the audition process, she was forgettable — which is not a good thing to be when trying to become famous. Twenty-one-year-old Hallack, on the other hand, was inconsistent — she gave a poor group round audition but nailed her showcase performance. The two blonde beauties were evenly matched, sure, but that's not the problem I have with the impromptu sing-off.
The real issue here is that the contestants should have been judged off of their showcase audition like the rest of the Top 48 contestants. Hallack was the clear winner with her rendition of Miranda Lambert's "Gunpowder and Lead" — her performance was strong, sassy, and pretty perfect on the vocal side. Walker's performance of Fergie's "Big Girls Don't Cry," on the other hand, was flat, slow, and all around pretty boring — which is why the judges were sending her home. When it came to the sing-off though, Walker was strong while Hallack seemed nervous and uneasy — and I really don't blame her since she obviously knew they were battling for her spot and was taken completely off guard by the surprise battle.
I guess Walker's victory can be chalked up to her ability to perform well on the spot, but I don't see her going far in this competition. There's crazy talent this season, and her lack of confidence will keep her from making it to the end. Hallack might not have made it far, either, but she was stronger and more confident than Walker, which would have given her a fighting chance.
Image: YouTube - American Idol