11 Songs Inspired By Books For Your Playlists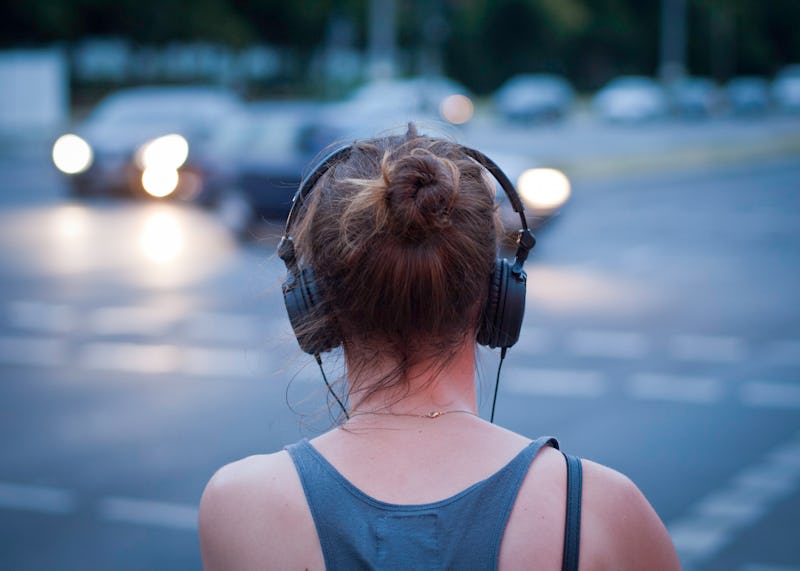 You may not know it, but there are lots of songs inspired by books. It makes sense why, though. Musicians and novelists have a lot in common: they have artistic souls, pay close attention to what's going on in the world around them, and use inspiration from other artists (those that they admire, whether consciously or subconsciously) when creating their own work. So, it'd follow that sometimes that inspiration will come from a different medium — novelists inspired by pieces of art (re: The Girl With The Pearl Earring), painters inspired by music (Picasso's Three Musicians), and finally, musicians inspired by literature.
While some are more obvious, like Kate Bush's "Wuthering Heights" and Ryan Adam's "Sylvia Plath," others are more in the subtext (or is it sub-lyrics?) of the songs. From full albums (like Lana Del Ray's Ultraviolence) to individual songs ("Breezeblocks"), there are hundreds of songs inspired by all kinds of literary works. Just like the range of songs, the literary inspiration comes in a wide range as well — this list shows everything from Sophocles to Anne Frank to children's books like Where The Wild Things Are.
As a writer and reader, one of the things I love most about music is listening to the lyrics over and over until I think I've gotten a sense for their deeper meaning (if there even is one). I know that I can never really know the true meaning of a song unless the artist talks openly about it (which doesn't always happen). To celebrate the beautiful merge of songwriting and literature, here are 11 songs that were mostly likely inspired by books:
"In The Aeroplane Over The Sea" by Neutral Milk Hotel
Jeff Mangum — he lyricist, vocalist, and guitarist for Neutral Milk Hotel — stumbled upon a copy of Anne Frank's diary not long after the release of his first album, On Avery Island. In an interview with Puncture magazine, Magnum admitted that he was so consumed by her journal that he started having dreams about having a time machine and going back to save Anne Frank. He channeled those visions in Neutral Milk Hotel's next album, In The Aeroplane Over The Sea. Mangum sings, "Anna's ghost all around/Hear her voice as it's rolling and ringing through me," in the album's title track.
"Breezeblocks" by Alt-J
Guitarist/vocalist of Alt-J, Joe Newman, told Interview that their Alt-J's hit song "Breezeblocks" is "about liking someone who you want so much that you want to hurt yourself and them, as well." This idea brought them to the end of Where The Wild Things Are, when the beasts say "Oh, please don't go! We'll eat you whole! We love you so!"
"All Along The Watchtower" by Bob Dylan
Inspired By: Frankenstein by Mary Shelley
Bob Dylan may have never directly said that "All Along The Watchtower" was inspired by Mary Shelley's Frankenstein, but some of the lyrics make others (myself included) wonder. The lines "All along the watchtower/princes kept the view/while all the women came and went/barefoot servants too" seem like they could very easily be referencing the scene in Frankenstein when the monster kills Dr. Frankenstein's wife while he's in his watch tower.
"Soma" by The Strokes
In Aldous Huxley's 1932 forward-looking novel Brave New World, "Soma" is the name of the "ideal pleasure drug." Its chemistry is undefined, but is described in the book as resembling a hangover-less tranquilizer or opiate. The Strokes' song "Soma" from their album Is This It is a direct reference to the drug: "Soma is what they would take when/Hard times opened their eyes."
"2+2=5" by Radiohead
Inspired By: 1984 by George Orwell
"2+2=5" is the first track on Radiohead's Hail. The title is a direct reference to George Orwell's 1984. In the book, self-aware citizens are taught to engage in doublethink — a rejection of logic — by the authoritarian "Thought Police." Under the threat of death, they teach that 2+2=5 that logic does not matter when no one else is willing to agree that two plus two equals anything else. This rejection of what was once known to be true is reflected in the song: "Are you such a dreamer/To put the world to rights?/I stay home forever/Where two and two always makes up five."
"Come On Feel The Illinoise" by Sufjan Stevens
It makes sense that Midwestern indie rock singer-songwriter Sufjan Stevens and Carl Sandburg would go together — Sandburg was one of Chicago (and the greater Midwest's) most renowned poets. The second half of the album Come On! Feel The Illinoise is subtitled "Carl Sandburg Visits Me In A Dream" and includes the lyrics (over violins): "I cried myself to sleep last night, and the ghost of Carl, he approached my window/I was hypnotized/I was asked to improvise on the attitude/the regret/of a thousand centuries of death."
Ultraviolence by Lana Del Ray
Why did Lana Del Ray name her latest album Ultraviolence ? Based on the Droogs' milk-powered tendencies for ultra-violent actions in A Clockwork Orange. When the International Anthony Burgess Foundation found out, they were excited. Claire Preston-Pollitt, events and marketing officer at the foundation told MTV News, "We picked up on it some time ago and we were intrigued by it … It's fantastic that 'A Clockwork Orange' is still providing inspiration to such a diverse range of artists around the world over 50 years since its original publication."
"Ramble On" by Led Zeppelin
Black Sabbath, Rush, Pink Floyd, and so many other rock 'n' roll legends have written songs inspired by Lord of the Rings. Led Zeppelin is no different, and perhaps one of the most extreme. Not only do the opening lines of "Ramble On" paraphrase an Elvish poem, but the narrator of the song goes on to describe himself in a version of Middle Earth and sings, "T'was in the darkest depths of Mordor, I met a girl so fair/But Gollum, and the evil one crept up and slipped away with her, her, her, yeah."
"Jocasta" by Noah & The Whale
Inspired By: Oedipus Rex by Sophocles
Some of indie rockers Noah & The Whale's songs might sound pretty twee (let us not forget how catchy the whistle is in "5 Years Time"), but they reference some pretty heavy stuff in "Jocasta." Named after Oedipus' mother, "Jocasta" is a direct reference to Odeipus Rex: "Oh but now the love you found/Is raising you from muddy ground/And oh the death will let you down/'Cause your curse will still go on the same."
"I Am The Walrus" by The Beatles
Inspired By: King Lear by William Shakespeare
Fans across decades and generations (including myself) have all wondered at one time or another of one of The Beatles' trippiest songs, "Who is the walrus? Who is the egg man (coo-coo-ca-choo)?" Well, according to John Lennon, "the words don't mean a lot." Which is partially unfortunate, but also partially amazing because it means that listeners get to make up their own meaning. It might not be "inspired by" Shakespeare per se, but if you listen closely to the end of the song you can hear a snippet of a BBC broadcast of King Lear, which Lennon heard while he was working on the song.
"Killing an Arab" by The Cure
Inspired By: The Stranger by Albert Camus
The opening lines of "Killing An Arab" — "Standing on a beach with a gun in my hand/Staring at the sea, staring at the sand/Staring down the barrel at the Arab on the ground" — reference the scene in Camus' The Stranger (sometimes also translated as The Outsider), in which Mersault murders an Arab for no good reason (other than that he's partially sick from the heat of the Algerian sun). Singer Robert Smith now performs the song as "Kissing an Arab."
Photo: Skohlmann/Flickr