James Corden Got A Little Help From Meryl Streep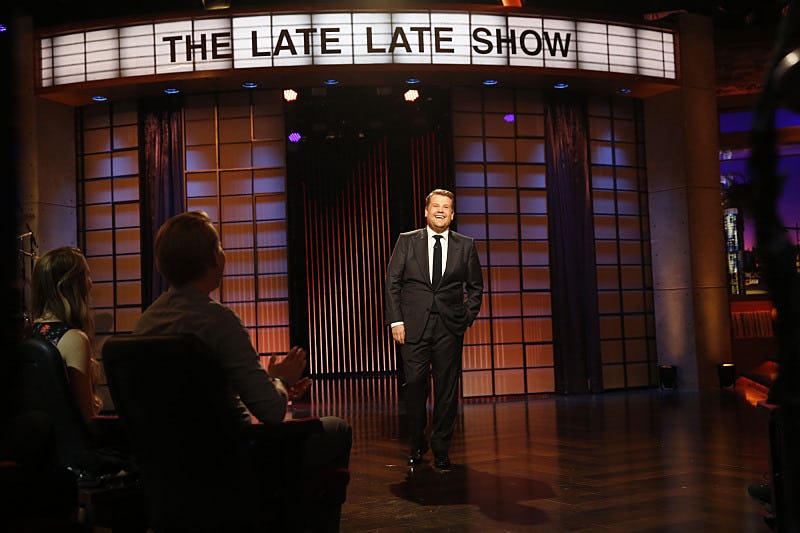 Tom Hanks and Mila Kunis weren't the only stars to show up on the premiere of The Late Late Show With James Corden on Tuesday, March 24. Corden, with his charming modesty, explained how he landed the role of host during the first episode of The Late Late Show With James Corden. Americans who hadn't seen Corden before were sure to be wondering how this British man came to replace a Scottish man on American TV. And Corden acknowledged how lucky he was to have landed into this amazing job — and credited it to picking up a golden ticket.
According to a video he showed, Corden won the gig of The Late Late Show in a Willy Wonka-like contest against Simon Cowell, Joel McHale, George Lopez, Lena Dunham, Billy Crystal, Eddie Redmayne, Katie Couric, and Chris Rock (all in amazing cameos). And only when Chelsea Handler dropped her chocolate bar containing the golden ticket, did Corden get the job. But a random man ("random" at least to the American general public) off the street can't take over The Late Late Show without a little help. He went to late-night training school, where Jay Leno was gatekeeper and headmaster.
And that's when the stars decided to help get Corden ready for his big American television debut. Leno trained Corden on how to speak American and how to deliver monologues — and went all J.K. Simmons in Whiplash on him with chair throwing and all. Allison Janney taught him about laughing at celebrities' lame anecdotes. Arnold Schwarzenegger got him buff. Shia LaBeouf showed him how not to fall asleep during an interview. And then the woman herself — Meryl Streep — appeared as if in a vision to quote Lady Gaga song titles to him for inspiration. (She also pretended not to know Corden's last name, although the pair starred in Into The Woods together.)
Of course, seeing all of those celebrities for his Late Late Show premiere was great, but Corden's likability on his own was undeniable almost immediately. His funny giggle, his humbleness (he compared himself to Andy Richter), and his sincerity were all highlighted in his monologue. He told viewers that were surprised to see him hosting that, "You will never be as shocked as I am" and teared up when he thanked his parents (who were in the audience).
Corden also didn't forget to give credit where credit is due when he thanked his Late Late Show predecessor Craig Ferguson, saying, "It is an honor to follow in your footsteps and I hope to look after this show for you."
With only one episode under his belt, it's hard to say where Corden will fall on the late-night show host success spectrum. But after a strong first showing, I'm optimistic that he'll make a great host. And Leno and Streep must be proud of their pupil too.
Images: Monty Brinton/CBS; Walt Disney Pictures