The 18 Weirdest 'Bachelor' Limo Exits Ever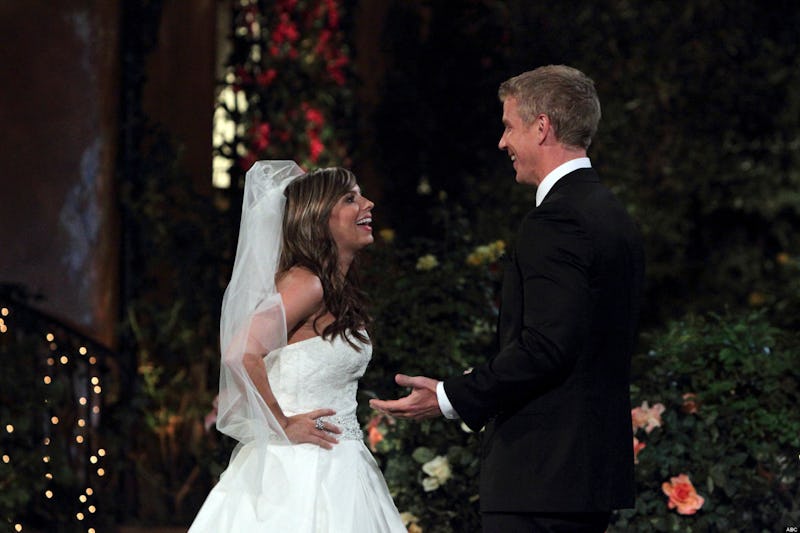 On a show as popular as The Bachelor, the women are encouraged to make a good first impression on both the leading man, and the audience. As a result, many Bachelor contestants pull strange limo exit stunts in order to be remembered. Most of these backfire, and the women end up being sent home pretty early on in the process. But fans always appreciate a good limo stunt. After all, these are the women you remember long after the season is over.
Maybe it's not the best way to be remembered in the franchise, but it's all in good fun. Besides, at least they made an impression at all — even if it maybe wasn't the most flattering one. It takes a lot of courage to put yourself out there and start off your time on reality TV with a bang. Fans adore when women step outside of the box by singing a song or trying a backflip or bringing an odd prop.
And, while sweet intros have their place too, it's the funny ones that everyone will be talking about the next morning or even years later. Throughout 19 seasons of The Bachelor, here are the 18 weirdest limo exits ever.
Season 8 — Travis Lane Stork
Real Life Cinderella
April had an accidental Cinderella moment when she stepped out of her shoe on the way out of the limo. But she quickly put it back on herself, no thanks to Prince Travis, who was not so (prince) charming.
Season 10 — Andy Baldwin
Singing Tina
Tina decided to show off her voice and picked none other than the National Anthem to sing for Andy. It was an odd song choice for sure, which he picked up on right away. "No one has ever sung personally to me," he said when she was done. "Especially the National Anthem."
Getting the Party Started
Nicole and Tiffany W. went halfsies on their limo stunt, making Andy a birthday cake in which they replaced the eggs with tequila. Later, they practically shoved their gooey mess down his throat. Oh, I love this show.
Season 11 — Brad Womack
Say "Aah!"
Kristy went all medical on Brad, examining his tongue and pronouncing him "under some stress." Can you blame the guy?
Season 13 — Jason Mesnick
Smile Pretty!
Shannon drew on her background as a dental hygienist for her limo stunt. She got out of the car claiming she was "a tooth Nazi," and wearing a fake pair of overgrown chompers. It made a statement, that's for sure.
What's In a Hot Dog?
Before Jillian Harris was the Bachelorette, she was getting out of a limo and asking Jason what his favorite hot dog topping was. "It's very important, I have a very specific theory about individualist people and what they have in common [with hot dog toppings]." It was a really random first question, but she did have a pretty developed theory:
A ketchup guy is a good loyal guy, he calls his mom a lot.A sauerkraut guy is the one all women want; kind of the bad boy. An onion guy never gets married.A mustard guy is the one all women want to settle down with.
For the record, Jason was a mustard guy.
Season 15 — Brad Womack
The Slap Heard 'Round the World
Chantal O'Brien took it upon herself to punish Brad for his first season failures. Upon greeting him she told him she had something for him "from every woman in America." Then she proceeded to slap him.
Season 16 — Ben Flajnik
Brittney & Her Grandma
This suitor sent her grandma Sheryl out of the limo first, thoroughly confusing Ben, who thought ABC was adding her to the line-up. But it turned out she just wanted to talk up her granddaughter as grandparents love to do. Then she hung around in the mansion for awhile. It was a big night for Grams.
A Strut Is Worth a Thousand Words
Anna tried a bold new tactic on Ben's season and waltzed right past him and into the house without saying anything. Perhaps she was hoping he'd be left wanting more, but he just seemed turned off at her rudeness.
Season 17 — Sean Lowe
The Failed Backflip
Poor Robyn tried to make an impressive gymnastic entrance, but couldn't quite make it happen. It's not her fault though. I couldn't do that in that dress either. (Or at all.)
Here Comes the Bride
Lindsay decided to let Sean know exactly what she was there for: marriage. For once, a stunt didn't hurt a contestant, and she actually went all the way to the final two.
Fifty Shades of Cray
Mere seconds after meeting him, Ashley P. revealed to Sean that she had an inner Ana Steele, and she couldn't wait to try things out. She even whipped out a silk tie from her boobs. Unfortunately for her, Sean was a born-again virgin, and he sent her packing on night one.
Season 18 — Juan Pablo Galavis
Clare is Pregnant
Clare stuffed her dress to make herself appear pregnant. JP didn't actually seem too concerned by this, but Clare revealed that her belly was just a symbol of her desire to one day have children.
Here, Have Some Pills
Before she went on Bachelor in Paradise, Lacy gave Juan Pablo some pills to help him deal with all the women in the house. But the joke was on him because they were just red hots.
Season 19 — Chris Soules
If You Only Had a Heart
Reegan intrigued me from the start because of her odd job. She is a cadaver tissue saleswoman (the selling of dead flesh, yes) and, as such, brought Chris a heart as part of her intro. It wasn't actually real, but I think it still freaked him out because she went home soon after.
Farmer Jokes
Kaiyltn, who is now beloved by all, started off her season pretty badly when she announced to Chris that he could "plow the f*** out of [her] field." Just goes to show that the first impression isn't always the right one. Now we know just how charming she actually is. Good thing he kept her around!
Oink, Oink!
In an ode to Chris and his farm, Nicole showed up with a pig nose. Unfortunately, Chris didn't seem to like the gesture as much as she wanted, and he sent her home that night.
Cruise Ship Carly
Carly, in a pink prom dress, got out of the limo with a karaoke machine and a song in her heart. It was flawless, but very, very weird. But that's what The Bachelor does best!
Images: ABC screengrab (6); giphy (2); Martha Sorren; huffingtonpost; stubbornthoughts; pixgood; amandashoesmaker/Wordpress; tenpointstogifindor/Tumblr; mic; Rick Rowell/ABC (3)