The 20 Best 'Bachelorette' Limo Intros Ever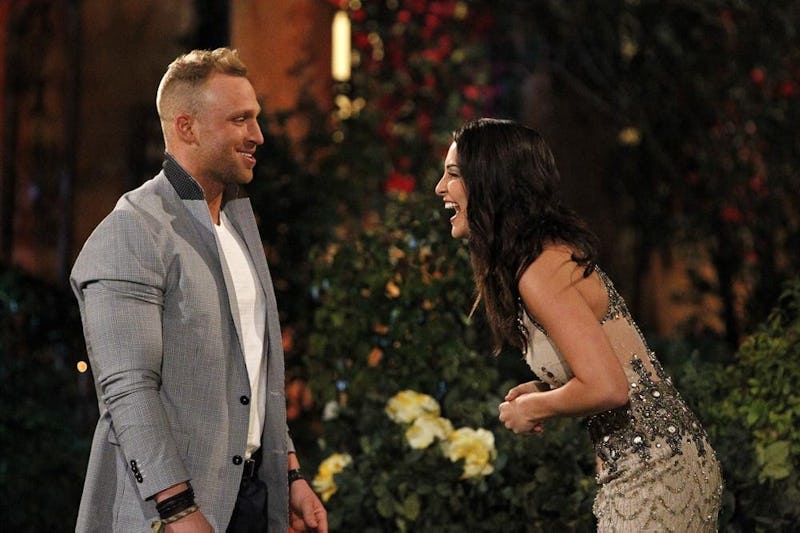 After many glorious years following the trials, tribulations, and sometimes failed relationships of The Bachelor and The Bachelorette franchise, we all know exactly how the game works. We go in to each season with certain expectations — one of which is that we will be equally delighted by and filled with secondhand shame during the limo introductions. Nailing your introduction on that first night can be crucial, but so few contestants are able to pull it off. With a new season of The Bachelorette to look forward to, it seems only fitting to take a look back at those lucky few who did nail their intros in past seasons: the revered gentlemen who, as Chris B. Harrison might say, had the best limo introductions in all of Bachelorette history.
After Chris Soules' season of The Bachelor came to an end with his proposal to Whitney Bischoff, we were allowed about two seconds of down time before ABC threw quite the twist at us — the next season of The Bachelorette will feature Kaitlyn Bristowe and Britt Nillson.
To the lucky gentlemen who will pursue the hand of either Kaitlyn or Britt (I'm still not really sure how that one's going to work) I would take some notes from these fine fellows who regaled us all with their charming, creative, and downright impressive limo introductions.
DeAnna Pappas (Season 4)
Jason
Jason greeted DeAnna in Greek, earning him some obvious points with DeAnna. Simple but unique, his approach opens the door for more conversation with her.
Ryan
Right off the bat, Ryan shares with DeAnna that he always has a smile on his face and that he is dedicated to his faith. He's also a professional athlete, so that doesn't hurt. Although he does say, "I'm a hugger..."
Jillian Harris (Season 5)
Jake
Despite Jake's questionable decisions on both The Bachelor and The Bachelorette, he made a killer first impression on Jillian here. He told her about his career as a commercial pilot and then presented her with a pair of wings. Simple, thoughtful, and intimately tied to his own passions.
Juan
Juan is tall, dark, handsome, and way more attractive than the rest of the dudes in Jillian's bunch. Jillian's season was pretty slim pickings and Juan's Spanish-speaking, combined with his simple, charming greeting, put him at the front of the pack.
Mark
Mark is a pizza entrepreneur. A PIZZA ENTREPRENEUR. While his initial discussion with Jillian (about pizza toppings, obviously) wasn't necessarily the most captivating, he seemed fun and, in case you missed it, he's a pizza entrepreneur. Which is amazing.
Ali Fedotowsky (Season 6)
Roberto
Roberto wins best impression on Ali's season (or any season) because he is the perfect man. He is sincere and warm in his introduction and, in Spanish, invites Ali to dance. Roberto's approach is simple with a bit of flair and he turned a basic introduction into an unforgettable one. Also, dimples. Honestly, there is nothing that Roberto could have done to make a bad first impression, in my opinion. I think Roberto may have been my first love, if we're being honest.
Chris L.
From the start, Chris L. had Ali laughing and he just seemed so genuine and warm. I'm not sure if "bubbly" is a term you'd apply to a man, but I think Chris L.'s bubbly personality really got him off to a strong start.
Ashley Hebert (Season 7)
Ben C.
Ben C. tells Ashley that he's happy that she's the Bachelorette, but he tells her it in French (which Ashley also speaks). As far as limo intros go, fluency in another language wins some strong points, especially when it's the language of love.
Ben F.
I have to give Ben mad props for his introduction to Ashley. He brings her a bottle of wine from his vineyard and toasts to her, an intro that is unique while also giving Ashley some background information into Ben's career and lifestyle.
Constantine
Constantine is a little meh but he ties a dental floss bow around Ashley's finger, which is just cute enough without turning into the "look, I'm making a dentist joke!" gimmick that many of the other men tried on Ashley.
Ryan P.
Besides being super hot, Ryan P. is also passionate and charming, telling Ashley that Brad's loss is her gain. Ryan's introduction, coupled with his chat with Ashley later about his solar company and desire to better the planet, earns him the first impression rose. Did I mention that he's super hot?
Emily Maynard (Season 8)
Kalon
He may have been the villain of Season 8, but Kalon's entrance just goes to show that arriving in anything other than the limo is usually a pretty killer move as far as intros go, particularly when you touch down in a chopper. Although, arriving by helicopter could be read as overcompensating for something...
Doug
Despite the fact that Doug lead off his introduction with "I'm a hugger," he redeemed himself with his sweet discussion of his son and his genuine interest in Emily's daughter and how she was handling Emily's absence.
Desiree Hartsock (Season 9)
Drew
Drew pulled off the balance between nervous and charming juuuuust right and though he didn't pull any crazy gimmicks (like, a suit of armor, per se), his introduction was clearly genuine and very well done. Also I just think he's really cute.
Brandon
The one thing I remember about Brandon is him pulling up on a motorcycle in a suit. Done and done. Great first impression. More Bachelorette contestants should take the James Bond entrance route.
Ben
The kid card is always a good one to play upon first impression but Ben having his son, Brody, precede him out of the limo was adorable and clearly impressed Desiree (and further melted my heart towards hot single dads.)
Andi Dorfman (Season 10)
Eric
Eric was just adorable in general and his touching introduction certainly got Andi's attention. Eric explained that he was a world traveler and gave Andi a set of dolls given to him by a young Peruvian girl who told him to give the dolls to his next girlfriend. That is so sweet and thoughtful that it completely sounds made up, but I swear this happened. Sadly, Eric tragically died in a paragliding accident after his time on The Bachelorette and Andi's season was dedicated to his memory.
Craig
Craig may have had a little too much fun during his time on The Bachelorette, but Craig's first move was to pop a bottle when he stepped out of the limo, which is pretty epic.
Patrick
Patrick shows up with a soccer ball and Andi's immediately like, "Oh crap, another soccer player." But Patrick reassures her that, despite his career, he is no Juan Pablo and gives the ball a swift kick off into the distance. Amazing.
Nick S.
Nick S., golf extraordinaire, arrives in a golf cart, cementing my theory that rolling up in any mode of transportation that is not a limo (or any type of weird animal) is an excellent way to make a memorable first impression.