'X-Files' Fans, Get Ready For The Best News Ever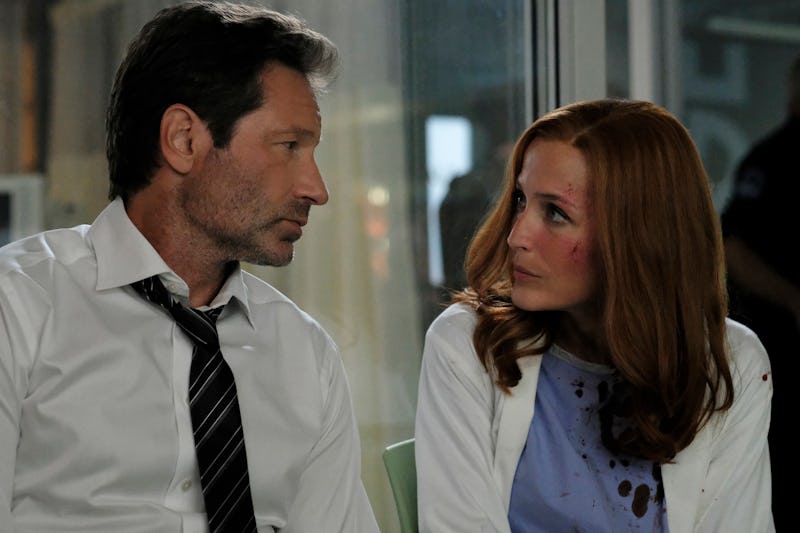 FOX/FOX Image Collection/Getty Images
While saying this news is unexpected is a major understatement, that's not to say it's not the greatest thing we'll all hear today: According to Fox, legendary sci-fi series The X-Files is officially returning. The network made the announcement today that Chris Carter, the series creator — along with stars Gillian Anderson and David Duchovny! — are joining forces for six new episodes of The X-Files. As in MULDER AND SCULLY ARE RETURNING FOR MORE EPISODES.
As Carter wrote in a statement: "I think of [the show being off the air] as a 13-year commercial break [...] The good news is the world has only gotten that much stranger, a perfect time to tell these six stories." Filming will begin this summer, though a release date for the show has yet to be announced. Thankfully, Anderson and Duchovny will be reprising their roles as FBI agents Dana Scully and Fox Mulder. I mean, Did you REALLY think Mulder was finished searching for the truth? C'MOOON.
When we last left Scully and Mulder in the series, the paranormal-chasing, will-they/won't-they pair had reunited for one last investigative hurrah. The series ended with Mulder declaring, "Maybe there's hope." Maybe?! Mulder — with his, "I want to believe" and "the truth is out there," schtick — left us with "maybe there's hope." Gah! No wonder Carter wants to bring the show back.
Though the show originally aired before the age of Tumblr (from 1993 to 2002, that is), The X-Files garnered one of the largest most, dedicated fan bases ever. The return of the series really feels like a love letter to the fans who — now armed with an Internet full of their conspiracy theories and "Scully and Mulder Forever!" fanfics — are more vocal than ever. As Fox execs Gary Newman and Dana Walden said: "The X-Files was not only a seminal show for both the studio and the network, it was a worldwide phenomenon that shaped pop culture—yet remained a true gem for the legions of fans who embraced it from the beginning."
I just hope they don't change the opening.
Here's how all of us X-Files fans are feeling about this stellar news:
When We Think About Agent Fox Mulder, FBI
Fox with a capital FOX, amiriiiiiight?
When We Think About Agent Dana Scully, FBI:
OH MY GOD.
When We Think About All of That Chemistry
SIZZLING.
When We Think About All of That Freaky Paranormal Activity
Flashing lights in a corn field NEVER bodes well.
When We Think About The Truth
It's out there! (At least, for six more episodes.)
Images: Fox (2), iheartthexfiles, theresstillheroesinthisworld; iheartthexfiles; perfectopposite/ Tumblr