'X-Files' Fans Will Appreciate This...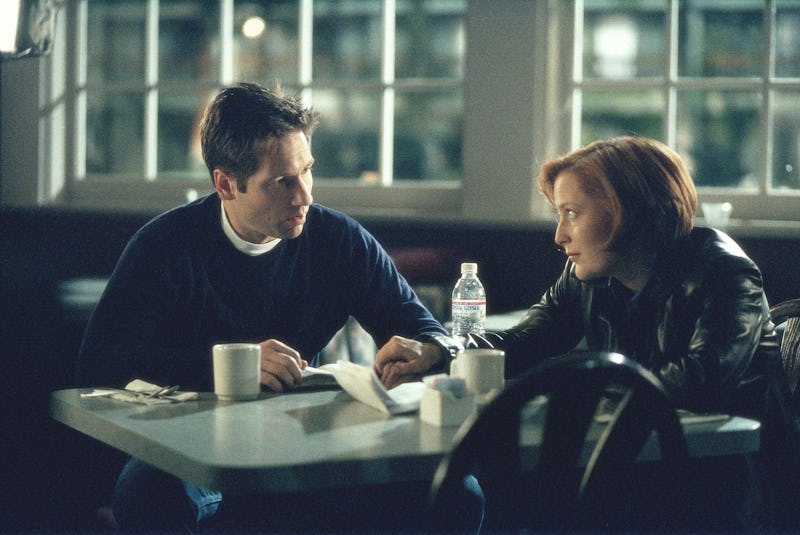 FOX/FOX Image Collection/Getty Images
The '90s was a confusing decade. It was the best of times and the worst of times, just like that old-timey writer guy once said. We had a great economy, but we also had a bj-loving president. We made huge leaps forward in tolerance, but we also had Don't Ask Don't Tell. We had Seinfeld and Nirvana, but we also signed off on Home Improvement and Creed! We were, as a people, a complete hot mess.
We clearly needed some guidance. And thankfully, we found it— courtesy of a skeptical rationalist FBI agent and the naked guy from Red Shoe Diaries. The X-Files ran from 1993 to 2002, for nine seasons (five of them perfect, two of them so-so, and two of which we've mostly blocked out with the aid of therapy and some powerful prescription medications). Over the course of those nine years riding shotgun with Mulder and Scully, we learned some important lessons that we would carry with us for the rest of our lives.
In fact, the lessons we learned watching those two crazy F.B.I. kids chase aliens and haunted dolls are just as relevant today as they were on the day they first aired. The world is just as confusing as it was during Mulder and Scully's reign, our lives are still full of contradictions, and unexplained chupacabra sightings remain at an all-time high. So maybe it's a good time to reflect back on the things we learned as X-Files fans. Because there are some truthes only we can truly understand. Things like...
you know that LOCKED DOORS WON'T KEEP YOU SAFE
If you take away only one lesson from The X-Files, let it be that if someone wants to get you and eat your sweet, sweet liver meats, a locked door won't stop them. They can just come in through a vent, because they're a shape-shifter, or the internet, because they're a malevolent computer program that has attained sentience, or your own mind, because they have eerie psychic powers!
and that THERE'S ONLY ONE surefire WAY TO LOCK DOWN A LIFE PARTNER
Series creator Chris Carter, who had always previously insisted that he didn't plan for Mulder and Scully to end up together, recently admitted that he was a total Mulder and Scully 'shipper like the rest of us — which completely validates "letting sexual tension quietly simmer for the better part of a decade" as a romantic strategy.
you know JACK BLACK IS way CUTER THAN people think
He had an early-career role as an adorable grunge muppet who hangs around Giovanni Ribisi in the 1995 episode "D.P.O.."
...though LUKE WILSON IS LESS CUTE THAN YOU THOUGHT
Wilson turned up all funny-looking in the 1998 episode "Bad Blood." I mean, I know the teeth are fake, but they put a lot of things into perspective, you know? This show is about expanding your horizons, okay?!
AND RYAN REYNOLDS WAS ONCE A SOFT-JAWED LIL' BABY.
Awww! Look at him in the 1996 episode "Syzygy"! Don't you just wanna give him a noogie and then feed him some Goldfish crackers?
NO MATTER WHAT 'THEY' TELL YOU, THE SHOOTING LOCATIONS ARE OUT THERE
Yes, most of the show was filmed on Vancouver or Los Angeles soundstages, or in spots that have since been demolished — so, sadly, you can't spend an AirBNB night in Scully's very-comfortable-seeming condo. But there are still a few spots from the show that you can check out in real life; like Vancouver's Ovaltine Cafe, noted for its late hours and pie selection in 1996's "Jose Chung's From Outer Space."
you know that EVERYONE AND THEIR MOTHER HAS PARODIED the show...
From an episode of The Simpsons to the opening credits of an episode of Supernatural, to a sequence on the forgotten kids show Eek! the Cat, for a solid decade or so, no one could resist referencing Mulder and Scully when anything geeky or freaky happened.
...INCLUDING THE X-FILES ITSELF
The 2000 episode "Hollywood A.D." (written and directed by the Duchovenator himself) starred Garry Shandling and Duchovny's then-wife Tea Leoni as actors portraying the pair in a film based on their exploits.
ONCE YOUR TATTOO STARTS TALKING TO YOU, you know IT'S TIME TO CALL IT A NIGHT
Settle down, Jodie. I think you've had enough!
and that THE BEST WAY TO EXPRESS YOUR LOVE OF THE X-FILES IS THROUGH SONG
References to The X-Files turned up as a reference in songs by the Bloodhound Gang, Barenaked Ladies, and everyone else you put on a mix tape in 1998. A few dedicated musicians went above and beyond, penning full song tributes to the show's stars — like Bree Sharp's "David Duchovny" and Catatonia's "Mulder and Scully."
Oh and remember Eve6?
They were such big fans, they named their band after one of the show's infamous deranged clones.
you had these shirts, seen here in Can't Hardly Wait
you believe that GENIUS IS NEVER APPRECIATED IN ITS OWN TIME
Oh, yes, we need you to go work in the basement, Mulder, because we need the upstairs at the FBI to work on important things, like human murders and forgeries and crimes that never involve beings that have gills where gills should not be! Ooh, look at us, we're the FBI!
you FOLLOW THE POST-X-FILES CAREERS OF DAVID DUCHOVNY AND GILLIAN ANDERSON ...
...EVEN WHEN IT TURNs OUT TO NOT NECESSARILY BE THE GREATEST IDEA
and YOU NEARLY LOST YOUR MIND WHEN you heard THAT RUMOR ABOUT them DATING IN REAL LIFE
But the truth on that one? You did not want it to be out there.
Because this kind of persistence should pay off eventually, right?
YOU WERE HIP TO VINCE GILLIGAN'S AWESOMENESS A DECADE BEFORE BREAKING BAD...
From the pizza joke in "Bad Blood" on out, it was clear that this man was destined for the greatest of heights.
...AS WELL AS THE AWESOMENESS OF HALF OF THAT SHOW'S STARS
Yup, Heisenberg, Jesse, and the man who brewed Schraederbrau all showed up as guest stars during The X-Files series' run. Which of course begs the question: Were all those aliens just a blue meth-induced hallucination?
THE EPISODES WE HAVE ARE GREAT, BUT THE EPISODES WE NEVER HAD MIGHT HAVE BEEN EVEN BETTER
Few shows have as storied a list of unproduced episodes. One written by Stephen King AND directed by George Romero?! One with Mulder in Moscow?! ONE WITH LINCOLN'S GHOST?!
i mean, the most famous unproduced episode went on to become Final Destination
YOU KNOW THAT THERE'S ALWAYS A RATIONAL EXPLANATION...
Could these alien abductions actually be caused by an overly-chlorinated local water supply, perhaps?
BUT HONESTLY, IT WAS PROBABLY ALIENS.
I mean, unless you have a better idea...?
AND that WHEN YOU CAN LET BOTH OF THOSE EXPLANATIONS CO-EXIST, YOU'LL FINALLY BE HAPPY
WAIT, THERE WAS SOMETHING ELSE THAT YOU WERE SUPPOSED TO DO... BUT WHAT WAS IT?
Eh, it'll come to you.
Image: Fox