Ashish Gupta's Celeb Sequin Sweats Are Now On Sale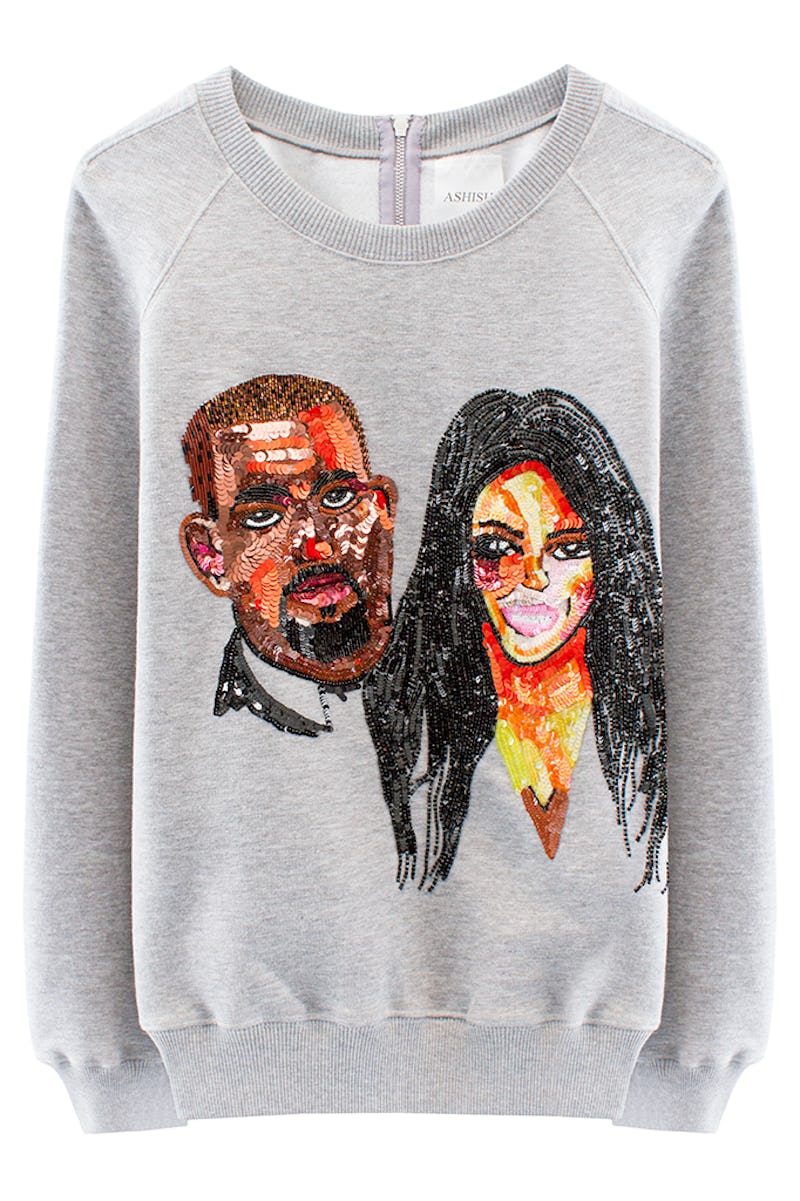 If find yourself watching a Keeping Up with the Kardashians marathon on E! for the third time this week or spending your days lounging in your head-to-toe One Direction band merch, it's time to add some sparkle to your celeb obsession. Ashish Gupta's sequined Kimye sweatshirt that debuted during London Fashion Week in September is finally available for purchase. Unfortunately, at $1,585 a pop, you might actually have to be a member of the Kardashian-Jenner family to afford one.
Gupta's sparkly ode to celebs such as Kim Kardashian, Kanye West, and Miley Cyrus sounds like something out of the ultimate pop culture junkie's dream: sequin visages of some of the world's most famous faces covering sweatshirts, jackets, and jeans. Want the One Directions boys staring out from your pant legs with glittery eyes? How about Miley Cyrus's trademark tongue-out pose in all its glory plastered across your chest? Well, all that can now be part of your world as Gupta's Spring 2015 collection is for sale. The only thing saving you from a lethal overdose of celeb obsession is that sticker shock.
At $2,465 for a Kimye motorcycle jacket, $2,185 for a pair of One Directions embellished jeans, and $1,190 for a jewel-encrusted Miley sweatshirt, those hefty prices aren't exactly affordable — unless you plan on living off of ramen for the rest of your life. But if you have the cash (seriously, what do you do for a living?) and you don't mind your friends' concern that you've taken your Kimye obsession to unacceptable levels, head on over to VFiles.com to get your hands on this shimmery, glimmery celeb homage collection.
Images: VFiles.com