Why Does No One Care About 'The Royals' Rape Plot?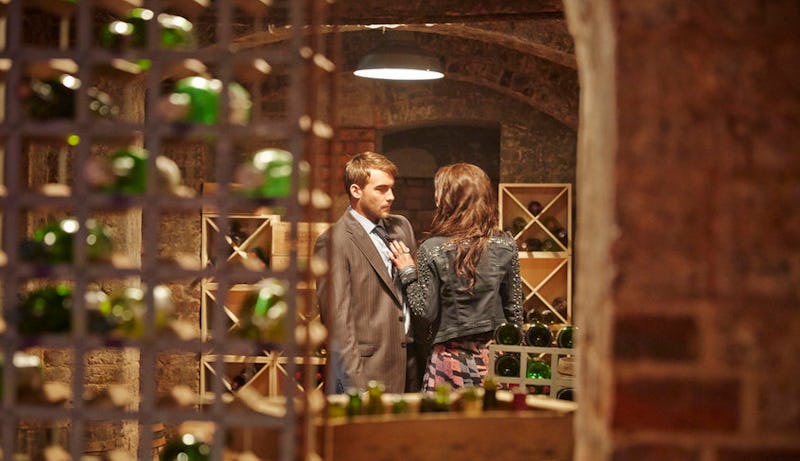 When The Royals premiered on E! earlier this month, and was quickly picked up for Season 2, I was ready to dive into some seriously soapy stuff. I was eager for fancy hats and intrigue, drama and drink-throwing. And oh my, did The Royals ever deliver. But more than anything, I was ready for some good old fashioned romance. Unfortunately, The Royals' date rape-blackmail plot between Eleanor and Jasper isn't delivering, for obvious reasons.
In my many years of TV watching, I have loved a lot of different 'ships. Some were destined to go down in history as the greats (Scully and Mulder made my preteen heart beat faster) and some were based on mutual deviousness (there is no greater evil OTP then Chuck Bass and Blair Waldorf. Come at me). What I'm trying to say is, I'm a very accepting person, and I can usually get on board with just about any combination of good looking people hooking up. But I just cannot even fathom what is happening in The Royals fandom with Jasper and Eleanor (that's Jeleanor, to some).
Despite, well, basically everything, we've got ourselves a romantically-inclined date-rape turned blackmail plot on our hands here. I would think that would be enough to throw some cold water on everyone who was so excited about the Jasper & Eleanor pairing in the beginning, but it turns out people are completely on board with it. One only has to peruse Twitter to see there is a crazy outpouring of support for this "couple":
Oh, and this gem:
What is happening here? How are people interperting this horrible abuse of power and trust for a grand romantic act? Is this what a post 50 Shades of Grey world looks like? If so, I am not fan. Really, for as much as the show gets right (and it gets so much so deliciously right) it doesn't seem to take the date rape that seriously. The emotional fallout of being violated is never addressed, and they end up falling right back into bed again (this time both fully conscious). I want to be on board with this; I love a good tawdry romance, but I just cannot get there with the assault problem lingering. Eleanor and Jasper seem to be playing a game of one-upmanship, with Eleanor even making a crack about "blackmail sex" like it's your average weekend activity. Take a look at this tweet from Alexandra Park, who plays princess Eleanor with such strength and vulnerability:
That seems a little flip, considering the reason why Jasper is ordering her around. How are more people not horrified by this? He sexually assaulted her (if he's telling the truth and if he's not, that's a problem too), and continues to do so using the sex tape scandal as leverage and people seem to be pretty into it. Is this what modern romance looks like? No, seriously, someone please explain this to me because when I see Tweets like this:
It makes me feel like this:
Images: Paul Blundell/E! Entertainment; narnia--freak/Tumblr, giphy