25 Movies For Nights When Going Out Sounds Awful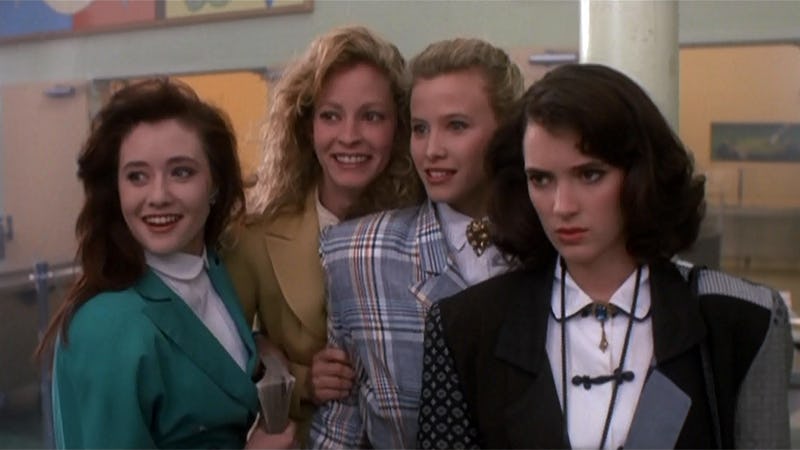 Sometimes, finding new movies to watch on Netflix instead of meeting up with all your friends really is the best decision. I mean, going out seriously takes so much effort. You've probably already spent a full day at work and now you have to go home, change clothes, redo your makeup, fix your hair, figure out dinner, and probably even wear heels. The lure of your couch, Netflix, a bottle of wine, and Seamless can be so strong, and there's no shame in giving in. You deserve it. Sometimes a night of total vegging, whether you're solo or chilling with friends, is just what the doctor ordered — and a killer movie lineup is key. Next to a full stockpile of snacks, of course.
A completely self-indulgent night in is not the time to go for something depressing, overly demanding (not tonight, David Lynch), or creepy murder documentaries (unless you're accompanied and that's what you're in the mood for). As far as I'm concerned, these are nights for old favorites, guilty pleasures, and movies that have been sitting on your must-watch list. These 25 picks run the gamut from super mainstream to sort of obscure (don't worry, you'll be a Christopher Guest fan in no time), but have all maintained a spot in my go-to arsenal for years. So put on your comfiest sweats, get your top knot on, uncork, and take your pick.
I have two words for you — DRACULA MUSICAL. For some reason, Forgetting Sarah Marshall never gets old. Maybe it's Jason Segel's undeniable charm and unfailing humor or Mila Kunis' ultimate cool-girl vibe, but this one will leave you smiling every time.
What do you think it's like to have Colin Firth and Hugh Grant fighting over you? Make yourself some blue soup and vodka, and don't forget your absolutely enormous panties.
Why can't I get enough of this movie? Is it pre-faux-breakdown Joaquin Phoenix, the songs, or Reese Witherspoon's best performance ever? I don't even care; we're going to Jackson and never comin' back.
When Harry Met Sally asks the eternal question — can men and women really ever just be friends? Let's contemplate this thought at home alone instead of out in the world interacting with members of the opposite sex.
The Social Network has three of cinema's most crucial elements: Andrew Garfield, Justin Timberlake, and a truly phenomenal soundtrack. Celebrate your anti-social behavior with social media's patriarch, Mark "not an asshole" Zuckerberg.
Heath Ledger. And also Heath Ledger. Did I mention Heath Ledger? Plus, Bianca's crop top prom ensemble is truly legendary.
You are either 100 percent on board right now or have zero idea what this is. Christopher Guest's 1996 comedy followed his cult classic This is Spinal Tap and preceded better-known titles like Best in Show and A Mighty Wind. You'll thank me later.
Nobody can resist some prime Audrey Hepburn. Sabrina is supremely endearing, relatable, and the costumes are a-m-a-z-i-n-g. Breakfast at Tiffany's is great, but Sabrina is for trueheads.
If you don't know all the songs yet, you will soon. This is the kind of film that seems sort of cheesy, but is so effortlessly performed, catchy, and heartfelt that you'll be smitten with every character in the first 10 minutes.
I guess I have a thing for fake bands? Live vicariously through little William Miller, tragically hip Penny Lane, and the Still Water dudes for a couple hours. And keep an eye out for Eric Stonestreet's appearance as a hotel desk boy.
Carey Mulligan's breakout performance made an impact for a reason. This is one of the most beautiful coming-of-age movies there is, and even if it breaks your heart a little, you'll come out on top. The A+ soundtrack doesn't hurt, either.
The singalong movie to top all singalong movies! Now all you need to decide is — the little Gucci dress, or the little Gucci dress? Sorry, neighbors, this demands full volume.
The Zoolander sequel is officially on it's way, and you are overdue for a re-watch of the original. Just keep your enthusiasm in check and resist gasoline fighting.
Spoiler alert: Don't watch it with your parents. And yes, it's a prosthetic. But seriously, this is a great film that you should watch if you haven't.
Remember when Matt Damon and Ben Affleck were young and vibrant and full of hope? This is what happens when you peak early, but peak really, really well. You'll laugh, you'll cry, you'll contemplate therapy, and you'll briefly wonder if you could have been a math genius.
CLICK HERE TO WATCH
Somehow Can't Hardly Wait has flown under the radar as one of the greatest teen comedies ever. This is '90s meets high school nostalgia at its best.
Give me a makeover movie or give me death. Can you believe that underneath those glasses, ponytail, and painting smock there was a stunning Rachel Leigh Cook? Movie magic, people!
Damn the man, save the empire! Why go out with your real friends when you can hang at home with the Empire Records crew? Every day is Rex Manning Day.
What's your damage, you don't want to watch Heathers for the 47th time?
If you have not yet made Mermaids a part of your life, do so immediately. This film has everything — sassy feminist Cher in retro getups, an ultra angsty teen Winona Ryder, and the cutest little Christina Ricci you ever did see. Oh, and Jake Ryan (Michael Schoeffling) plays the love interest.
Let's go back in time to the '90s when Tom Cruise wasn't that bonkers and Renée Zellweger wasn't getting Twitter hate for her face. Did you know that bees and dogs can smell fear?
Some people may try to tell you that Love Actually is a Christmas movie, but that is straight up blasphemy.
I'm not here to tell you that these are great pieces of American cinema, but I am telling you to gather a few girlfriends and watch four straight hours of these loonies. You can even mix some cosmos if you're feeling ambitious.
Elle Woods is a female icon, national treasure, and possibly the greatest role model to ever grace a rom-com. You too can ace law school, and you can do it in a pink bunny bustier. What, like it's hard?
What better way to avoid the Tinder-ing, Instagram-ing masses out on a Friday night than sitting at home watching this classic email romance unfold?
Images: Heathers/New World Pictures; Giphy (25)