What Does "Statement" Actually Mean In Fashion?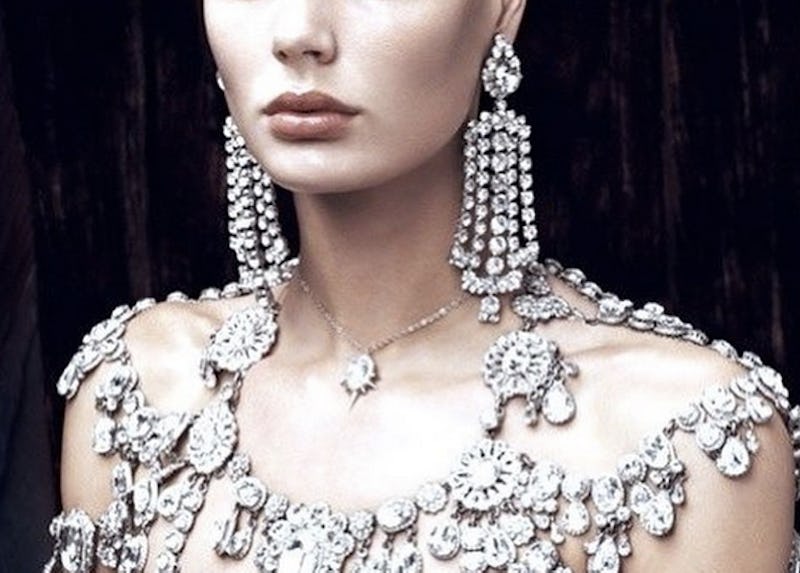 The term "statement" is one of the most oft-heard (and maybe slightly overused) words in fashion, whether it's via an email subject line that promises "10 Statement Necklaces To Fall In Love With Right Now" or coming out of your own mouth when talking to a friend about what to wear tomorrow night. "Statement piece" is a buzzword for sure, but what does "making a statement" in fashion actually mean, and when did "statement" pieces become such a thing?
The first time I heard someone refer to something they wore as a statement piece was in 2009. A friend had come over to my house to do nothing but lounge, and she was wearing what you might expect of a close friend who had no plans but to watch TV on your couch: A pair of boyfriend jeans, a gray pullover, and a sports bra whose neon stripes were peeking out of her shirt. Except one thing. She had on a chunky, silver chain necklace. The addition not only exuded a sense of style, but it also took the look from plain to noteworthy. Without the necklace, you wouldn't notice her outfit if she were to walk past you on the street. With it, you would.
The concept of "making a statement" in fashion can be attributed to the ubiquity of street style blogs. Street style is the simple concept of seeking inspiration not from the runway but from the street. Well-established in places like London and Tokyo in the late '90s (Harajuku style didn't start with Gwen Stefani, people), it didn't make a hit stateside until Scott Schuman started taking photos of stylish New Yorkers he passed on the street and posting the photos to his blog, The Sartorialist, in 2005.
Schuman's blog has expanded from its Blogspot site domain to two coffee table books, and taken him from the sidewalks of lower Manhattan to Paris, Milan, and quite frankly, all over the world. Despite Schuman's skyrocketing success, the common denominator of his subjects remains the same: They dress themselves in a way that captures attention.
Wearing something attention-grabbing is not new. However, getting photographed because you're wearing something bold, and having that photo viewed by thousands of people on the internet, is. It's how trends start — we imitate the looks we like. Similarly, statement pieces have always been around, but street style photography gave them a name because they're what captured the photographer's, and the internet audience's, attention.
So is making a statement in fashion important, especially if you aren't a blogger leaving a fashion show with the hope of getting photographed? Yes, no matter what industry you work in and whether you care about clothes or not.
First and foremost, statement pieces, be they jewelry, shoes, or a jacket, pull an outfit together, which matters if you dress for yourself or if you dress for others. For instance, right now I'm wearing head-to-toe Uniqlo. My black jeans and black sweater make an ordinary outfit that would bode well for a high school set design crew. Before leaving my apartment this morning, I added a crystal brooch that I made into a necklace by putting it on a chain. I put the necklace on not because I wanted to stand out or because I wanted others to notice my outfit, but because I had felt naked without it a little oomph. Nothing gets me down like when I'm wearing a boring outfit, and the necklace helped turn things around. Clothes are a form of self-expression, and how we dress impacts how we feel about ourselves, and vice-versa. So if adding something bold makes you feel better, then voila, proof that making a statement isn't a shallow "look at me, look at me" concept.
Statement pieces define your personal style. They give an identity to your personal brand. Think of bloggers and fashion editors at one end of the spectrum whose personal style is portrayed for the world to see. They all have go-to pieces that define who they are fashion-wise, like Anna Wintour's sunglasses or French Vogue editor Emmanuelle Alt's array of jackets. Then think of yourself and the items in your wardrobe: There are certain pieces you wear that stand out no matter what you pair them with.
Most of my statement pieces are jewelry that I wear with monochrome outfits like the one I'm wearing today. I have three necklaces that I rotate: the crystal brooch, a blingy gold nameplate, and a heart-shaped necklace with rainbow gems. I treat shoes as statement pieces by wearing a bright pair of sneakers or embellished boots with a simple outfit. Of course, statement pieces don't have to be limited to accessories. I admit to buying certain dresses because of their boldness, and I wear them when I want to stand out in a crowd or if I want to wear something that will put me in a good mood. Statement pieces may have risen to trend status in fashion because street style blogs put them on the map, but they've maintained a staying power because of their ability to pull outfits together.
Images: Instagram/callitbold; Getty