Ranking The Slimiest Slimes From The 2015 KCAs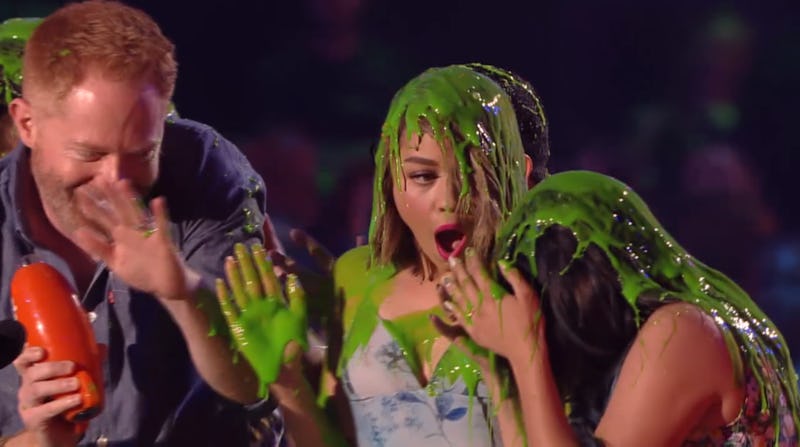 The Kids' Choice Awards and slime go together like 5 Seconds of Summer and screaming fans. I know that because I watched fans covered with the reminiscence of multiple slimings cheer for 5SOS, also covered in slime, as the last performers of the night at the 2015 Kids' Choice Awards; additionally, years' worth of evidence watching celebrities get slimed at the Kids' Choice Awards. It's practically a Hollywood rite of passage to get hit with a bit of the green goo at some point in your career, and tonight was no different for the likes of kids' pop culture newcomers like Shawn Mendes, voice-of-Olaf Josh Gad, and the whole crew of the Nickelodeon show The Thundermans. Of course, for big name winners like Emma Stone, opting in on your own accord is a fun-loving but slightly more graceful approach: Stone just stuck her hands right in the slime streams arching overhead as she went to accept her Favorite Movie Actress award, because even when a star isn't getting slimed at the KCAs, they're always slime-adjacent.
Host Nick Jonas — don't worry, he got his later — was brought to the stage by Jennette McCurdy for a game of "Truth or Dare," which turned into a game of "Dare or Dare," which really meant that he had to drink a whole cup full of slime. Sure, he was given the option of doing five kid-ups (push-ups with a kid on your back) instead, but when you're at the Kids' Choice Awards, there's really only one destination... Slimetown, population: you.
There were plenty of stars who left the KCAs a little greener than they came, so let's rank the night's slimings from slimier to slimiest.
6. Shawn Mendes
When Nick Cannon is pacing around you in a red suit and fedora, telling you to push a big button, you've really only got one thing coming to you, and that is an upside down slime shower. Shawn didn't get the biggest dose of the night, but he still took it like a champ... straight up the nose.
5. Josh Gad
Adam Sandler's sliming of Josh Gad is only docked points for the slightly obvious build-up — what's that? No, these "light cannon" guns from our new movie aren't full of slime — because what followed was Sandler straight-up blasting Gad's glasses off his face. What the stunt lacked in subtlty, it made up for in almost accidental blindness.
4. The Cast of Modern Family
Getting slimed in mass is always preferable to getting slimed alone. Accepting the first award of the night, the Modern Family kids, plus resident chaperone Jesse Tyler Ferguson, had to know there was some slime coming their way, but props for the excellent reaction faces to a good old fashioned bucket o' slime straight out of the ceiling.
3. The Cast of The Thundermans
The most high-tech sliming of the evening was absolutely the Human Slime Car Wash, the victims of which were voted on throughout the evening. With over seven million votes, the cast of The Thundermans were the lucky crew voted to take a ride through the slime wash with no slime insurance — both in drive and reverse.
2. Nick Jonas
Host Nick Jonas saw (and drank) his fair share of slime throughout the evening, but after being handed the blimp for Favorite Male Singer by Jennifer Lopez and delivering a heartfelt speech, he deserved an extra-personal sliming, and boy did he get it! J-Lo cued up the blimp overhead to hit him with a pretty steady slime stream, but after a little "that's all you got?" taunting, Nick got hit with the truly powerful floor slime rockets. May you never be slimeless again, Nick Jonas.
1. 5 Seconds of Summer
And Nick would have the top spot if this very scientific ranking was judged on slime-to-human ratio alone, but the 5 Seconds of Summer sliming had that inexplicable rockstar factor that cannot be ignored. Not only did the band and the entire audience get a sliming from the heavens after 5SOS closed out the show, but the guys clearly got pre-show-slimes, as their set graphics showed Luke, Michael, Callum, and Ashton taking artsy slime hits to the face. Wait to take five seconds of slime for the team, guys.
Images: screengrab/Nickelodeon (3)