Lindsey Wixson is Chanel's New Spring Star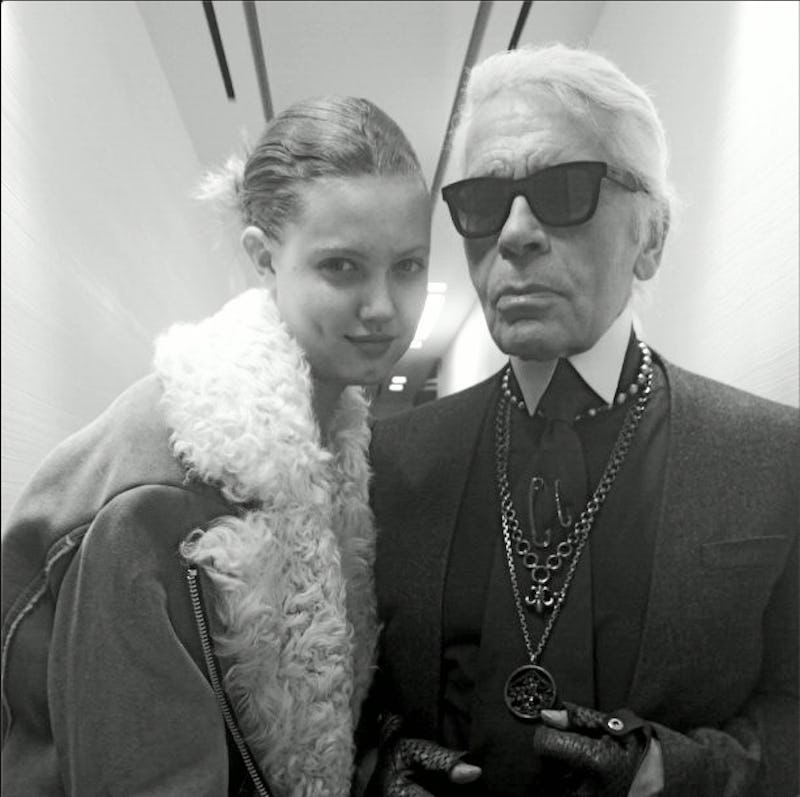 Nineteen-year-old Wichita native Lindsey Wixson will be the face of the Chanel Spring 2014 campaign. According to Vogue Nederland, Wixon was spotted being photographed by Karl Lagerfeld himself on the streets at Chanel's studio on Rue Cambon in Paris.
This news comes as no surprise — she seems to be a Chanel favorite. Wixson has walked the runway for the last several shows, and also appeared in Chanel's Fall/Winter 2012 campaign. She also recently Instagrammed a photo of her and the Kaiser, revealing their close friendship (or, you know, however close you can be with KL).
Wixson seems to be living up to Vogue's 2011 prediction that she would be "the modelling world's biggest rising star."
In celebration of what we expect will be a beautiful campaign, we've rounded up three of our favorite Chanel campaigns past.
1. Chanel Spring/Summer 2011 featuring Freja Beha Erichsen
Who would have ever thought a classic Chanel suit would look so good with a pair of moto boots? Karl, of course. In their Chanel's Spring/Summer 2011 campaign, Chanel favorite Freja Beha Erichsen brought edge to the feminine silhouettes of Chanel's structured wool jackets and skirts.
2. Chanel Spring/Summer 2010 featuring Claudia Schiffer
Even at age 41, former German supermodel Claudia Schiffer looked as youthful as ever starring in Chanel's Spring/Summer 2010 campaign. With a bolero hat on her head, Schiffer brightened the old streets of Buenos Aires in lacy dresses, fluffy blouses, and that signature smile.
3. Chanel Spring 2004 featuring Kate Moss
With nothing but the stark white backdrop behind her, Kate Moss carried the Spring 2004 collection on her own. Moss had us dreaming of owning a Chanel chain belt and a quilted bag more than ever in this simply-shot, yet super-powerful campaign.