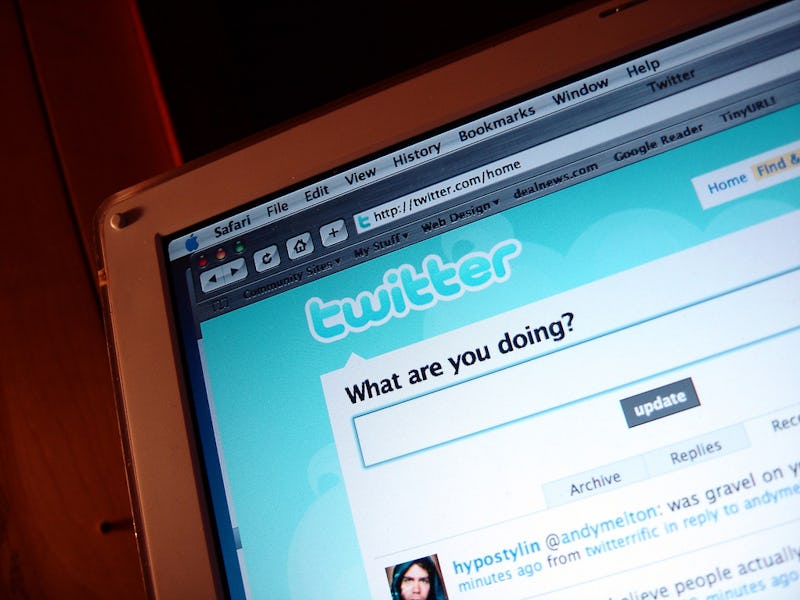 There are tons of online dating services that promise to help you find a worthy partner who shares your hopes and dreams (or at least your love of Homeland and pickle chips). Too busy to actually fill out a profile? Try Tinder. Hate anyone who isn't "quirky and interesting"? Sign up for LoveFlutter. Ghost seeking ghost? Covered (I've got my eye on funtime_phantom).
However, in an age when young people spend up to 40 hours a week on the internet, it seems strange that daters rarely utilize the sites and apps more closely related to their "real" lives when seeking a potential mate. Just this week, Cornell University released a study in which researchers used a computer algorithm to correctly identify a Facebook users' relationship partner 60 percent of the time, based only on the "dispersion" of their friend landscape (how certain individuals connect social groups). The craziest part? Scientists also successfully predicted which partnerships might be...well...doomed.
The link between our real love lives and our networking lives is undeniable. Think about it: if you meet someone the old-fashioned way, you'll probably bump into them at a party or get introduced through an acquaintance, which means your future bf/gf/make-out partner probably already exists somewhere in your digital network. So why not make that friend-of-a-friend connection online?
TWITTER
The number one rule of meeting people on Twitter: be your smart, witty self. Twitter is the perfect forum to showcase your sense of humor, political leanings, and general point of view. The best part? Following and interacting with strangers isn't frowned upon at all — it's what Twitter's all about. So check out users who seem to be in your circle (and whose feed makes you ROFL). Start off favorite-ing and replying, and if you hit it if off, you'll have a DM in your inbox lickity split.
MEET-UPS
Already active on Twitter? Great. Now merge your digital world with reality by attending meet-ups. Lots of social network users regularly organize real-life get-togethers to unite likeminded people who already share a digital connection, so search for gatherings in your area and invite your friends and followers (who, hopefully, will invite their friends and followers, too).
Now you can chat with @CuteDude in real life! And who knows what could happen. Last year, HuffPo ran a story about a couple who met at a Twitter "tweet-up," reconnected at a FourSquare birthday party, and wed after a Pinterest proposal. Aw.
INSTAGRAM
Instagram already features pretty much every element of a dating tool. You've got self-curated photos (probably tastefully filtered #selfies) that offer a glimpse into where you live, what you do with your time, and who your friends are. The only downside? It lacks a direct messaging feature. To meet someone on Instagram you have to get a little extra creative, but one friend swears it's foolproof ("it's never not worked").
Step 1: Creep around your friends' profiles, folllowers, likers, etc. Look for intriguing users who don't just take photos of sunsets and duck faces.
Step 2: Did you find a cute possible match? Follow them. They'll probably follow you back (because you're cute too).
Step 3: Slowly initiate some Insta-flirting. Double tap photos you actually like, and mix it up with some comments. They should reciprocate with some likes/banter of their own.
Step 4: Ready to make THE MOVE? Come up with a talking point (probably something you have in common) and scroll through their photos. Click on a photo that wasn't taken in the last week, but isn't far enough back to make you look stalker-ish (this way people looking at their recent images won't see your note). Then write something like this:
You're going to the Ampersand typography convention too? Want to meet up? Here's my e-mail: helveticalover99@gmail.com
I love No Name Bar! Do you live in the neighborhood? Want to grab a beer IRL sometime? 555-555-5555
Yep, it's ballsy. But doesn't the quest for love always involve some risk taking?
Image: trekkyandy via Flickr