The U.K. Has Definitely Seen This Mary Magdalene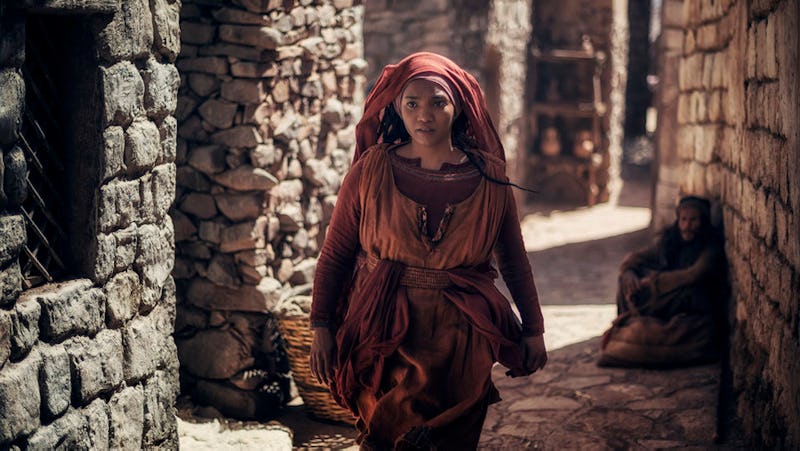 If you've been walking around this Easter singing "I Don't Know How to Love Him" on a loop, maybe you've seen Jesus Christ Superstar one too many times. You might be ready for a new Mary Magdalene. Thankfully, NBC is ready to deliver; this Easter Sunday, April 5, it'll debut its miniseries A.D. The Bible Continues. Picking up where History Channel's previous miniseries, The Bible, left off, it starts just after the crucifixion of Jesus. But who is picking up one of the few female parts in this biblical story? Who plays Mary Magdalene in A.D. The Bible Continues ?
The actress' name is Chipo Chung, and she's definitely been seen around — if you watch a lot of British television. The actress has been on a bunch of series and miniseries there, including Camelot, The Politician's Wife, and even an episode of Sherlock, among others. Even though she's playing a biblical character this time out, she still seems to want to approach Mary Magdalene in the same way that she approaches her other characters. "What we're trying to do is create characters who are fully human — real human beings," she told Access Hollywood. Here, some more things to know about Chung.
She's No Stranger To The Tardis
Chung has had made two appearances on Doctor Who, with two different doctors. She played the alien Chantho— though you might not have recognized her — in "Utopia" with David Tennant, and then was a mysterious fortune teller in "Turn Left" with John Barrowman. "[I had] hoped perhaps to make an entry as someone else, a third character," she told Digital Spy. It hasn't happened yet, but you can never say never.
She's Active In The Act For Change Project
The Act for Change Project seeks to promote greater diversity in live and recorded entertainment.
She Went From The Desert To The Arctic Circle
While A.D. The Bible Continues filmed in the heat of Morocco, Chung's other 2015 project, Fortitude, was out on the cold — in Iceland, to be exact. The series is about a murder in a small town up in the Arctic Circle. "I don't think we've ever seen this landscape on television," she told the U.K.'s Express. "It's very cutting edge. I'd never really read anything like it before, I don't think there's anything similar to it. I know a lot of people have said the Twin Peaks thing, and I got a bit of that when I read the first script." Twin Peaks in the bitter cold? Sign me up.
She Didn't Take Her First Selfie Until 2013
And I thought actresses were all self-obsessed.
Images: Joe Alblas/LightWorkers Media/NBC; Giphy