Jack Off Jill Are Reuniting After 15 Years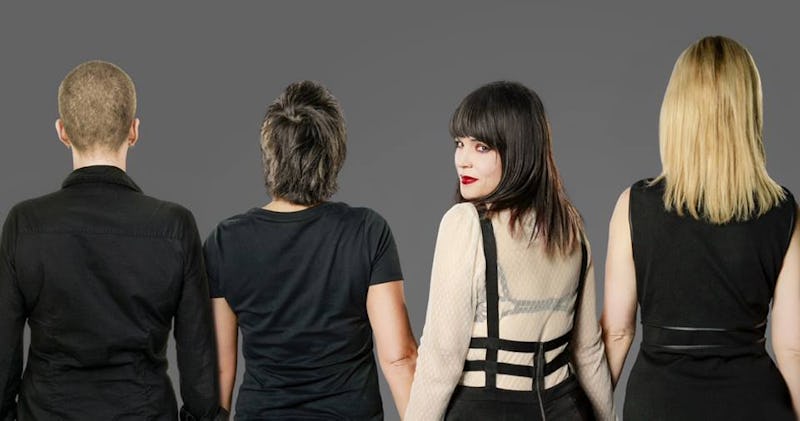 If you've been crying black inky tears since riot goth girl band Jack Off Jill broke up in 2000, I have some good news. Jack Off Jill is reuniting for one show. And, yes, this show will be comprised of original members JessicKa Addams, Tenni Ah Cha Cha, Michelle InHell, and Helen Storer. No, this isn't some cruel April Fool's joke, targeted to a weirdly specific demographic of women who wore black-and-pink striped tights to high school. I would never kid about anything so serious.
Here's the deal, folks. On July 18th, 2015, Jack Off Jill are reuniting for one show at the Orange Peel Theater in Asheville, North Carolina. This is all part of a special three day event, which will include an autograph signing and the unveiling of a Jack Off Jill mural done by Camilla Rose Garcia.
And Jack Off Jill won't be the only riot grrrl alums there. JD Samson, the riot guy of Le Tigre, and Minneapolis rockers Kitten Forever are opening for the band. Both Lori Barbero of Babes in Toyland and Allison Wolfe, former front woman of Bratmobile, will be guest DJing. In short, it's 1995 all over again, and I love it.
As every '90s alt girl knows, this was the year of the Riot Grrrl reunion. Sleater-Kinney acted as leader, announcing a new album and world tour. Babes in Toyland was next, announcing a handful of reunion shows for 2015. And finally L7 put up a Kickstarter for a documentary AND a list of reunion shows. So, as I predicted earlier, it was only a matter of time before Jack Off Jill got the band back together.
Like many of their musical peers, Jack Off Jill was never afraid to push boundaries. With an early mentor in Marilyn Manson (the Wizard of Fort Lauderdale to JessicKa's demented Dorothy), Jack Off Jill never failed to put on shocking shows, including a cutting act that earned JessicKa the moniker of the "Patron Saint of Self-Injury." They sang about cats and sadists with a possessed child's air, and put words on their tee-shirts that I cannot repeat here. But, in short, Jack Off Jill famously did not give a crap about what people thought about them, and I am so glad they've found their yellow brick road and made their way back home.
Of course I'd love it more if they went on a full tour, or at least stopped by the general New York area (HINT HINT). But Iet's take what we can get, and wait with baited breath until tickets are announced.
I guess the only other question is, why would they make this announcement on April 1st specifically, to the distrust of any former and current gothling? You've got me there. Their Facebook post left little explanation of the why, and more explanation of the who. As if we would've forgotten...
Read the band's full "essay" and The Breakfast Club homage (it's one of JessicKa's favorite films) below!
Images: Facebook/Jack Off Jill (1), Giphy (1)