How To Recreate Carrie's 5 Signature Hairstyles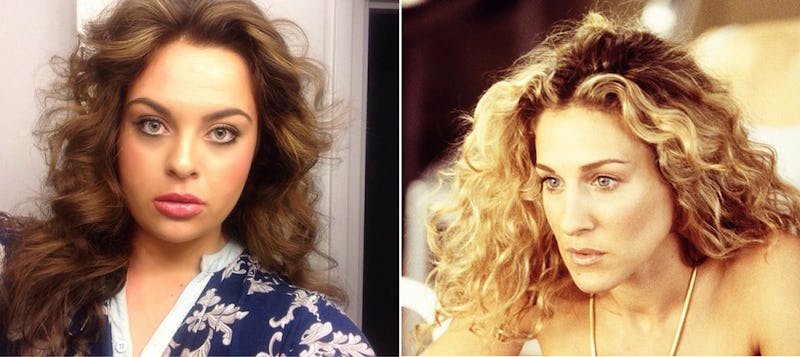 Long before Kim Kardashian and Beyonce perfected the art of glamorously undone wavy hair, there was Carrie Bradshaw's hair, HBO's original poster girl for curls. When pin straight locks were the standard for the 1990s and early 2000s, the Sex And The City front woman burst onto the scene with untamed curly hair, wrapped in frizz, untouched by any flat iron or straightening product within a ten block radius. In Season 3, the girls even attributed her failed relationship with long-time love, Mr. Big, to his inability to handle her big hair (cu-cu-cu-cu-curlllyyy!). Bradshaw let fellow curly-haired women break free by transforming a previously undesired genetic trait into the year's hottest new craze.
She continued to set hair trends throughout the series, drastically chopping her long infamous locks to a shoulder-length bob in Seasons 4 and 5, experimenting with variations of blonde and brunette highlights, lowlights, and ombres (before ombre even had a name), and playing around with hundreds of eccentric do's, including top knots, messy buns, bouffants, and even Princess Leia buns.
No matter how out of the box, Bradshaw managed to make every look chic and cutting-edge. But can any ordinary person pull off these looks? I decided to try out her five signature styles on myself and to be quite honest, I thought they looked every inch of fabulous as Carrie Bradshaw herself.
1. Carrie's Frizzy Curls
Carrie's signature curly locks look like the result of a perm or naturally curly hair. Since I was born with hair as flat as a board, I immediately took to a curling rod to achieve this look. I picked a two inch tapered curling rod that is thicker at the top and thinnest at the bottom and went to work by wrapping sections of my hair around the entire rod until the whole strip of hair was hot.
I parted my hair down the middle of my scalp, began at the top of my crown and worked my way down the back of my head, curling chunks of hair and letting them fall and cool. Next, I curled the side sections of my head, making sure to curl AWAY from the face. As Carrie's curls are generally tight, I kept my curling sections small. Once my whole head was curled, I brushed through all of the curls with a paddle brush to achieve that undone, frizzy look. Don't be afraid to do a little dance in the privacy of your bedroom, shake your head upside down, and thrash your curls around. You want to make these curls look as slept-in and natural as possible.
I suspect these curls would look best after a night of sleeping on them (or partying) so feel free to style them at night, go to sleep, and wake up with Bradshaw-worthy locks.
2. Carrie's Defined Curls
Through the last season of SATC, Carrie started sporting far more defined curls compared to the frizzier counterparts she rocked in earlier seasons. For this look, you want to start with straight hair. If I were to guess how fictional Carrie did her hair every morning in her bathroom, I suspect she blow-dried her hair straight first and then curled to avoid frizz and achieve a level of polish and definition.
For this look, I again used a curling rod, this time opting for a three inch straight rod without any taper. I followed the same steps for curling my hair, parting it down the middle, starting with the crown, and then working on the sides, always curling my hair away from my face .
Instead of brushing out this look, you want to gently separate the curls with your fingers to avoid creating any unnecessary frizz. Feel free to finish off with a light spritz of hairspray and you are all set to meet your Petrovsky for a night out in Paris.
3. Carrie's Runway Bouffant
When Carrie is asked to walk in a fashion show in Season 4, the hairstylist backstage crafts this gloriously sky-high, Brigitte Bardot-inspired bouffant to compete with the infamously high heels that send her crashing on the catwalk in front of Heidi Klum. While everyone instantly forgets about Carrie's runway faux pas, we can never forget how gorgeous her hair looked.
To remake this style, prepare to tease aggressively. I set aside a paddle brush and a teasing comb with a rat tail end and went. to. town. Grab the section of hair at your crown and separate it by layers — the top, middle, and bottom. Tease, tease, and then tease each section some more until you have achieved your desired level of stiffness. Smooth over the top layer with your paddle brush and begin pinning with bobby pins until you get a shape similar to the ones you see above. If you notice any holes in the pinned section, use the end of your rat tail teasing comb to lift hair from your scalp upward to fake the appearance of a solid bouffant.
Make sure to leave out two wispy pieces of hair in the front of your face for when you are done and let them fall naturally or use a round brush and a hair dryer to blow them out to the sides of your face. Finish the look by running a flat iron on your bottom pieces of hair, give a few light spritzes of hairspray, and you're runway ready.
4. Carrie's Oversized Bun
Carrie Bradshaw flaunted many variations of a bun throughout the six seasons of Sex And The City. From top knot to ballerina, the woman knows how to work a bun. Still, her most iconic, in my opinion, is the kind of bun you see above, messy and voluminous in all its glory.
This look is incredibly simple to put together and a go-to if you're working with second (or third or fourth...) day hair. Pull all of your hair into a high ponytail and secure with an elastic, making sure to smooth out the hair close to your head with a paddle brush or comb. Next, split the ponytail into a couple of sections and tease each section until each piece is thick and textured. Next, begin to wrap each section around and pin with a bobby pin until you get a bun-like shape.
Don't worry about everything looking uniform or for every flyway or baby hair to be sprayed down. Carrie Bradshaw embraced her imperfections in life and hair and you absolutely must as well.
5. Carrie's Princess Leia Buns
At the rehearsal dinner for Charlotte and Harry's wedding, Carrie shows up with not one, but two buns — ala Princess Leia, but with a voluminous Bradshaw twist. Similarly to a single Carrie bun, this look involves pulling your hair into two ponytails, smoothing the hair and securing with elastics.Then, as you would with the single bun, tease the hair of the ponytail and wrap the pieces around until you have two small buns. Secure with bobby pins and voila! If Carrie Bradshaw can rock double buns, so can you.
Images: HBO; Samantha Schnurr (5)